The Man, The Myth: Alabama's Jaylan Davis



The University of Alabama's Jaylan Davis is a champion cheering on champions from the sideline. With a strong passion for his school and his squad, Davis is sure to accomplish great things in the cheer world. We asked him where he's been, what he's been up to, and where he's headed. And the good news is, you can also watch him compete LIVE at the 2017 UCA & UDA College Cheerleading and Dance Team National Championship January 14-15! (More details on how to watch below!)


Get to know the man, the myth, the legend, Jaylan Davis!

Where are you from?
I was born in Dothan, Alabama, but I'm a military brat so I've moved around a lot. I've lived in Alabama, Georgia, Texas, Mississippi, Kansas, and Virginia.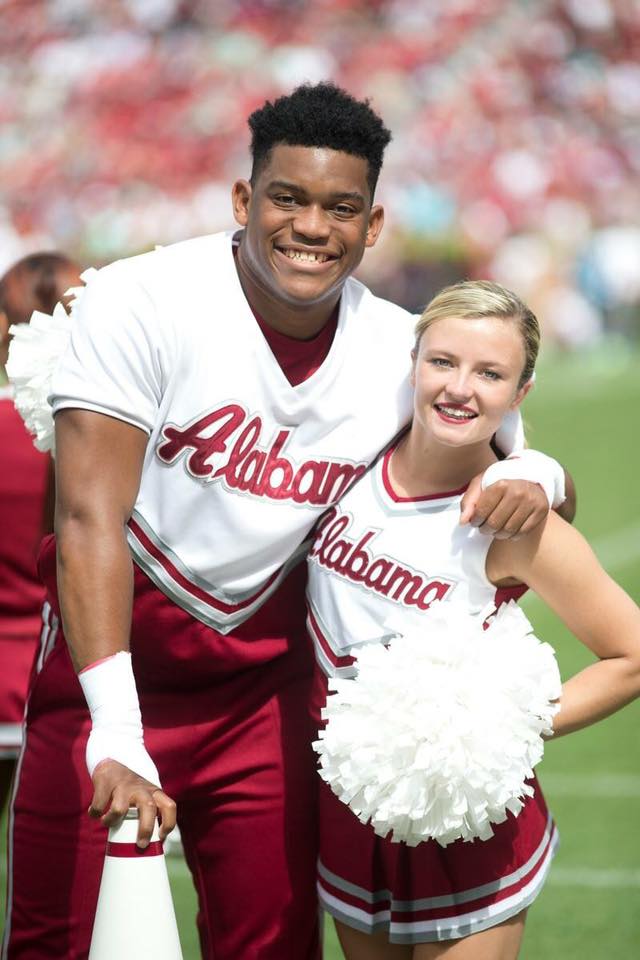 Michaela Riley

What are you going to school for?
I'm in school studying criminal justice with a minor in communications. I want to attend law school and eventually become a defense attorney.


How did you get into cheerleading?
My middle school Spanish teacher coached the team and invited me to an open gym. I went to play around and really wanted to learn how to tumble. I ended up filling in at the end of the year for a someone at a competition. I've been cheering ever since!




Where have you cheered?
Powerhouse Cheer and Fitness (Belton, TX)
Harker Heights High School
Currently: University of Alabama

What's your favorite part of cheerleading?
My favorite part of cheerleading is game day and cheering at football games. Cheering for the No. 1 football team in the nation is unbelievable. I love cheering in front of 104,000 fans, leading them in the classic "Roll Tide" chant.




What's it like cheering for a national championship cheerleading team and one of the best football teams in the nation?
It's the greatest and most humbling thing ever. I cannot be thankful enough for the unbelievable experiences I have had the opportunity to be a part of. Cheering for one the top D1A college teams is amazing but also being able to cheer on the No. 1 football team is even better.



Do you have a signature stunt?
Extended hand-in-hands are my go-to!




What keeps your motivated during the grueling practices of nationals season?
'DI4TA' Do it for the A
IB⬇️ I won't back down
I write these phrases on my tape when we practice for nationals, because it reminds me to never give up and to remember why I'm cheering. Do it for the "A" means you give it your all, because you're representing the script "A" on your chest. "I won't back down" is just a constant reminder to never give in to pressure and rise to the occasion.




What are your future cheer goals?
It is a absolute dream of mine to cheer on Team USA. Ever since I was young, it's been a dream of mine to represent my country in cheerleading. Also now that there is a chance it could be in the Olympics, it is a goal and dream of mine to compete in the Olympics. Also it is a goal of mine to coach cheerleading on the collegiate level. I would love to coach Alabama in the near future.







How To Watch UCA & UDA College Nationals LIVE:
Find out who's a contender in 2017 and stay up-to-date on the entire 2017 UCA & UDA College Cheerleading and Dance Team National Championship by tuning in LIVE on Varsity TV on Jan 13-15.

Join FloPRO now to get exclusive access to the live stream!

ON TV: Available on Roku and Apple TV 4 (via FloSports app)
STREAMING: Available only on Varsity TV

A FloPRO subscription includes access to all FloCheer and Varsity TV live streaming competitions and events, original documentaries and premium content! JOIN NOW