Event Hub
Level 5 Small Senior Coed: It's Anyone's Game
This season has been full of jaw-dropping unexpected moments but no one expected the surprises the Level 5 Small Senior Coed division would bring.

Brandon Senior Black was a fan favorite to dominate the division again this season after coming off a 2016 Worlds win. It was a shock to see the amount of teams who would challenge their top spot in the new year.

Senior Black kicked off the year strong with a big win at The MAJORS in Indianapolis but when CHEERSPORT came around, it looked like there may be room for more Small Coed teams at the top.


Cheer Athletics RoyalCats and Brandon Senior Black were neck and neck after Day 1 of CHEERSPORT Nationals; Brandon was holding on to the top rank by only .06!

Brandon had their first stunt drop in a competition since April 27th…of 2015 which left the door open for the RoyalCats to 'hit zero' and claw their way to a close second. Being only their third year as a team in this division, no one was expecting the RoyalCats to sneak into the top and make the competition so close.


The biggest surprise of the season so far has been Twist & Shout Diamonds from Tulsa, OK. The Diamonds have been on the rise all season after placing third at America's Best and second at the Cheer Alliance Championship.

At CHEERSPORT the Small Senior Coed division was so large it was split into groups A & B. Twist & Shout Diamonds held the top rank in Group A both days with the final score of 97.77…that's 1.69 higher than Brandon in Group B with a final score of 96.08!

When NCA All-Star came around the competition got even more intense. The entire Small Senior Coed division was FIRE and the championship was anyone's to claim!

The California All Stars Smoed, a crowd favorite and seasoned four-time World champ gave an impressive performance that earned them fourth after Day 2. Prodigy All Stars Midnight , who came in second at The MAJORS, held on to their spot in the winner's circle with a third place NCA finish. 

Senior Black had an uncharacteristic Day 1 performance at NCA that dropped them down to seventh place heading into final day. After their impressive Day 1 performance Twist & Shout was on everyone's radar as they stood tall in first place. Senior Black came back strong on Day 2 with a zero deduction routine, but it just couldn't make up for their Day 1 point difference and the squad earned second place and their first loss of the season. The Diamonds shocked the world as they took home their first ever NCA title and black jackets.


Exclusive Interview with '17 NCA National Champs, Twist & Shout Diamonds:



The next stop is the UCA International All Star Championship, and there is no guarantee who will take home the title this weekend. Don't miss the Small Senior Coed Showdown LIVE on Varsity TV.


Level 5 Small Senior Coed Performance Order for Day 1 of UCA All Star:



L5 Small Senior Coed
KC Cheer - Fierce Five 2:06 PM 2:51 PM
Tumble Tech - Alpha 2:18 PM 2:38 PM 2:53 PM 3:03 PM
Cheer Athletics - Charlotte - RoyalCats 3:15 PM
World Cup - Odyssey 2:42 PM 3:27 PM
Brandon All-Stars - Senior Black 3:39 PM
Florida Top Dog All Stars - Rain 3:51 PM


The Cheerleading Worlds is in the back of everyone's mind and this season is a completely different picture than last year's small coed division and the globe is up for grabs. It's anyone's game now and we'll be keeping you up to date how the division unfolds.


The Cheerleading Worlds 2016 Final Results: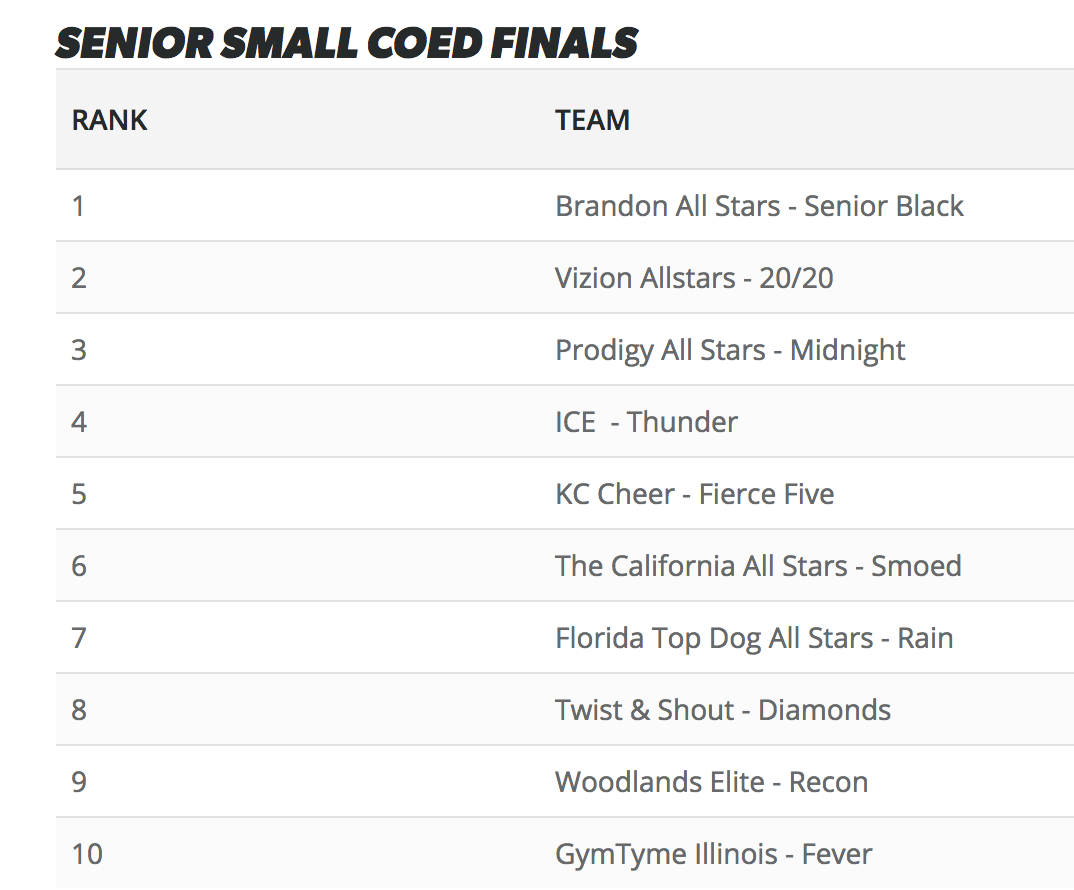 Don't miss out on any of the social media fun at the upcoming competitions, follow FloCheer!

• Follow us on Twitter at @FloCheer_
• Follow us on Instagram at @FloCheer_
• Follow us on Facebook at @FloCheer.tv