New Blue Hens In The House: UD Cheer Team
blue hen: ('blü\ 'hen) n. 1: One who leads; one with aspirations of championship caliber. adj. 2: to be strong, focused and dedicated; to be passionate and inspiring; to be part of a family.
Sixty-five cheerleaders were invited to Newark, DE, to attend the University of Delaware's final tryout for the upcoming season. A new group of talented, enthusiastic, and experienced athletes will be joining this prestigious program, and they are no strangers to competing in the HP Field House.

Delaware spirit coordinator Rob Ellery said that he is excited to have a variety of incoming talent from both all-star and school cheer backgrounds. With Ellery's background as a former University of Kentucky cheerleader and World Cup coach, we can all agree that this year's routines will have an entertaining flow with a traditional UD collegiate look!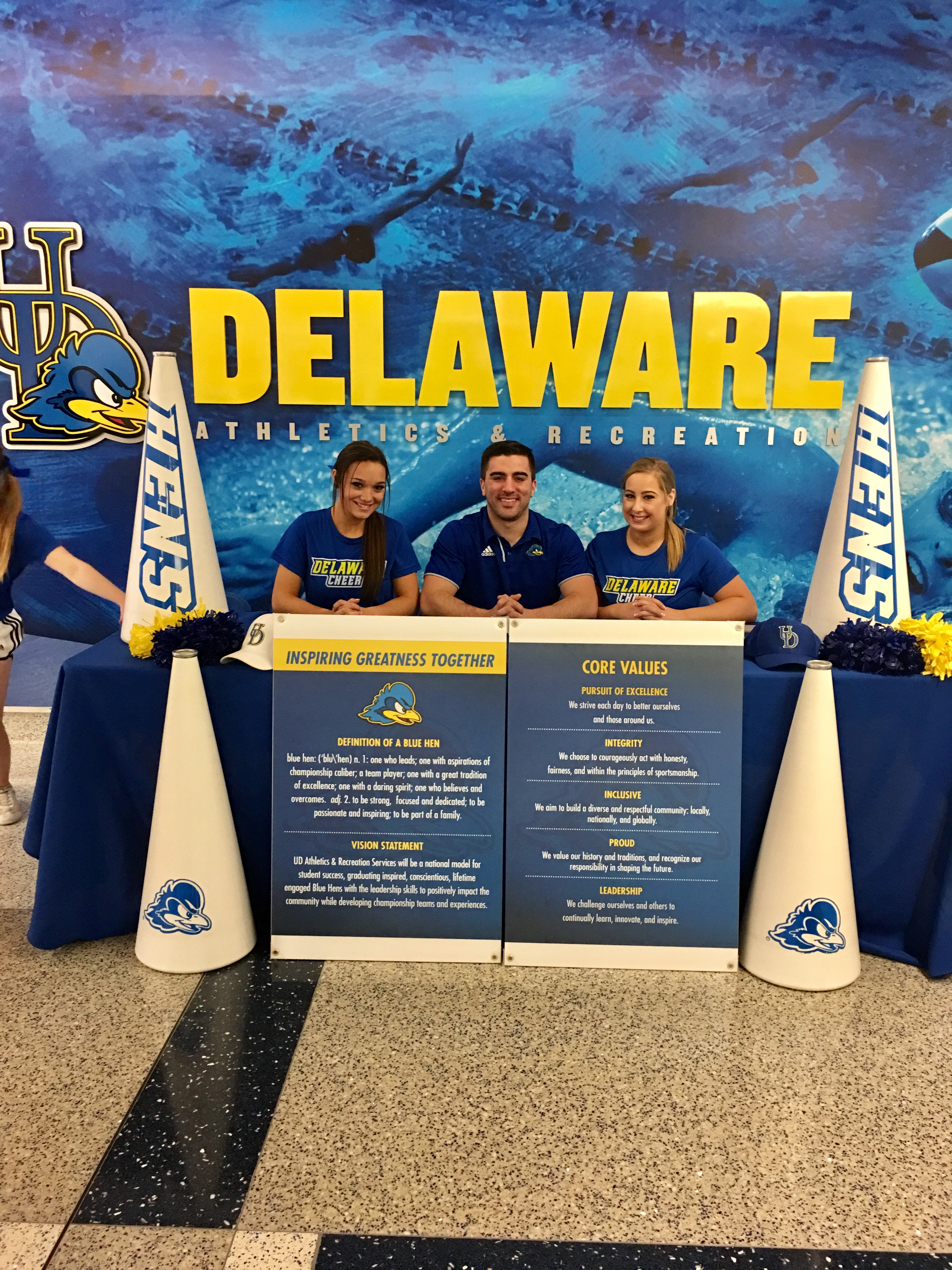 Coach Ellery with new team members shortly after the team was announced.

New to the team this year, a few stand out recruits from World Cup and Sachem North will help to keep UD on the map as they head into their new season. After tryouts the coaching staff was ecstatic to welcome a new team of seasoned veterans and promising rookies.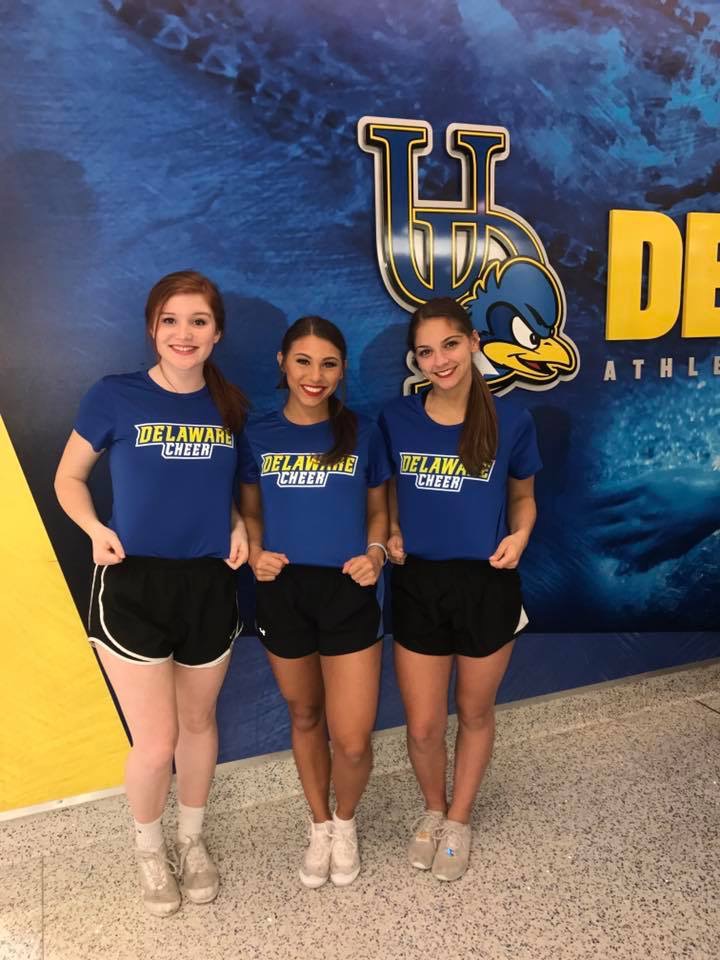 New team members posing in their new UD cheer gear!

We were fortunate enough to catch up with Ellery to hear what is in store for the Blue Hens' upcoming season!


What can we expect to see from the UD program this year?
As I enter my fourth year at Delaware, I could not be more excited for the opportunity to work with an outstanding group of student-athletes as we support our university and department in its pursuit of excellence. Our returning cheerleaders have made a commitment to building great relationships with their teammates, which will be the foundation for our success this season.

Our focus is on the little things. After tryouts, we placed a major emphasis on our department's mission statement, core values, and the definition of a Blue Hen. The University of Delaware cheerleaders are present at hundreds of games, campus, and community events each year.


Are you making any changes to the program?
This year, we decided to break our cheerleaders into three groups -- Blue (coed), Gold (all-girl), and White (coed and all-girl) to create more consistency for games while allowing each cheerleader more opportunity to develop at his or her own pace. We will re-evaluate all cheerleaders in the fall as we form the coed and all-girl competition teams for nationals. We look forward to building upon the great traditions created by our coed and all-girl cheer alumni.


As members of a college spirit program, it is important that our student-athletes represent well locally before they can represent well nationally.
What are your core values?
Pursuit of Excellence
Integrity
Inclusive
ProUD
Leadership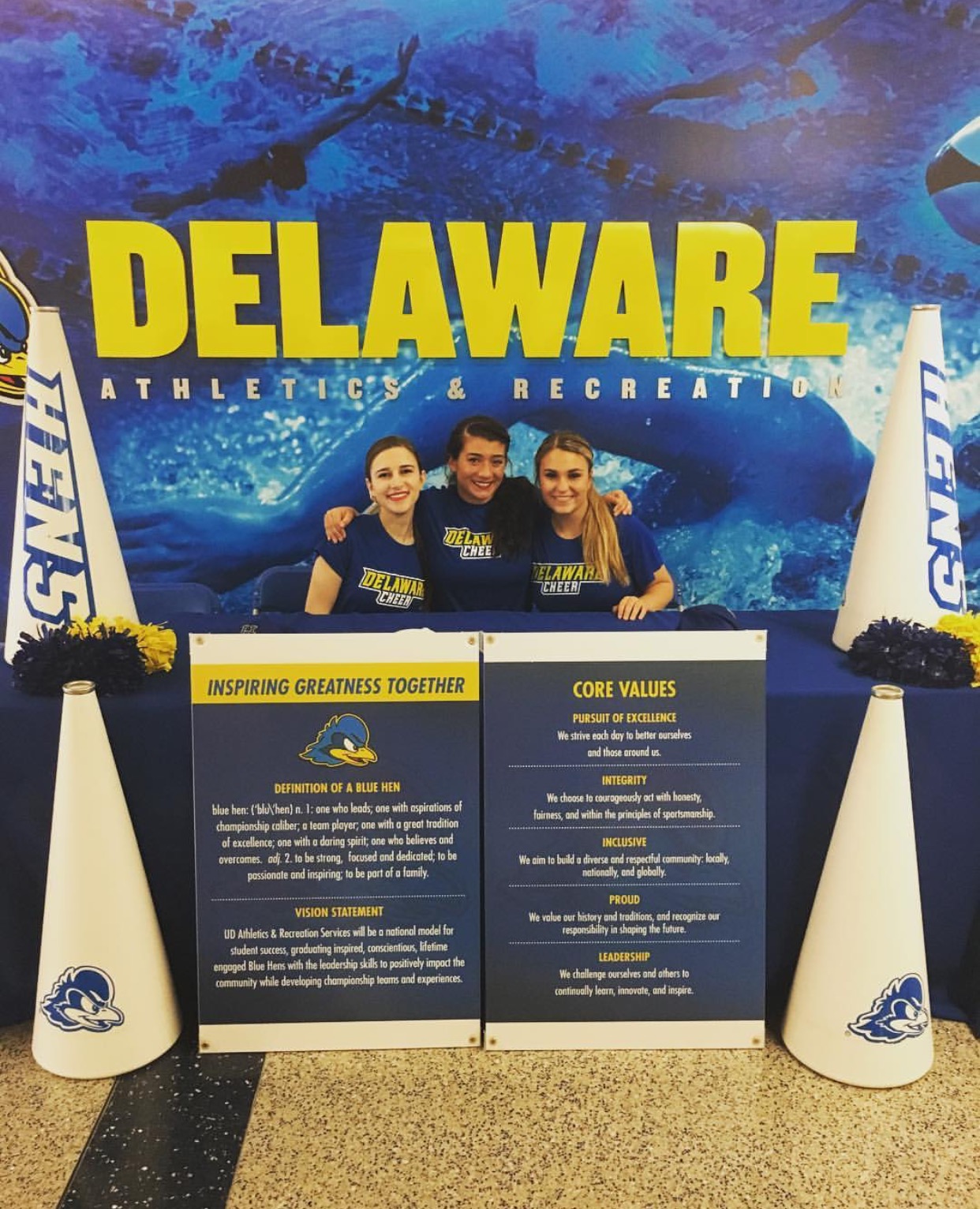 Team photos in front of the athletic mission and core values.


2017-2018 coaching staff:
Spirit Coordinator & Head Cheer Coach: Rob Ellery
Asst. Cheer Coach: Ashley Cormier
Volunteer Assistants: Aaron Davis, Lindsay Batts & Tony Goldston


2017-2018 UD Cheer Team Members:
Alexa Pinnavaia
Alina Serbina
Allison Hemsing
Allyson Ottomano
Alyssa Lawton
Anastasia Dolan
Andre Flowers
Andy Morgan
Angelo DeNick
Anna Calcutta
Brian Matthew Hawkenberry
Briana Naomi Filippini
Brianna Anderson
Caila Nardone
Cole Clendenning
Danielle Bimonte
Danielle Graziano
Destiny Charleus
Dietrich Loeffler
Elizabeth Cristello
Emily Susan Mentuck
Gabriella Trupo
Hannah Cackowski
Jake Kelly
Joe Wolford
Johnna Brooks
Jordan Allen
Joseph Wahl
Justina Downey
Kaleigh Paige Krakower
Kate Lynn Sawina
Katie Padin
Kiley Anne Eckler
Kirsten Torrey
Kirstin Leahy
Lisa Cecchini
Marissa Butrico
Matthew Follis
Nicholas Vitolano
Quinn Hickey
Samantha Sidorsky
Sara Ferraro
Sarah Bradley
Sarah Gross
Skeye Boyd
Sydney Beltz
Taylor Joachimowski
Victoria Mayer