#ThrowbackThursday Fierce 5 Wins First-Ever Globe
Three short years after making the top 10 at The Cheerleading Worlds in 2014, KC Cheer Fierce 5 climbed the Worlds podium and took home their first-ever globe as well as a bronze medal in the Senior Small Coed 5 Division.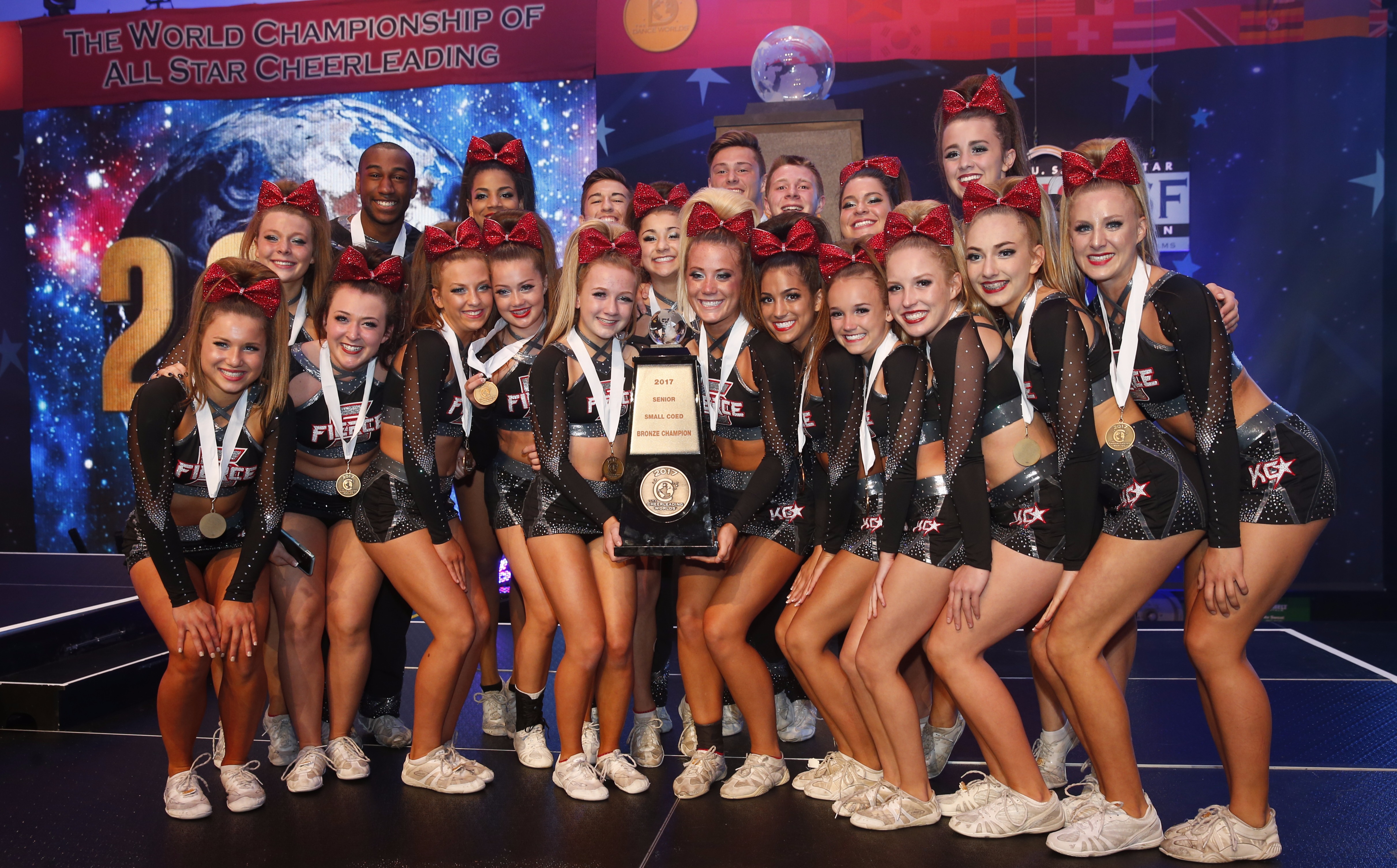 The athletes of KC Cheer Fierce 5 pose for a photo with their medals and globe after the Small Senior Coed 5 awards ceremony. Photo By: Jamie Christian.

"This team has evolved over the last five years into something that every young athlete in our gym hopes to be part of someday," said Kristi Whitney, who is the co-head coach of the Fierce 5 along with her husband, Michael. "In the Midwest, KC Cheer Fierce 5 is a team that many have recognized for years."  

However, it wasn't until the last five years that Fierce 5 turned the corner into the "Big Leagues" as one of the top contenders in the world in the Small Coed Division.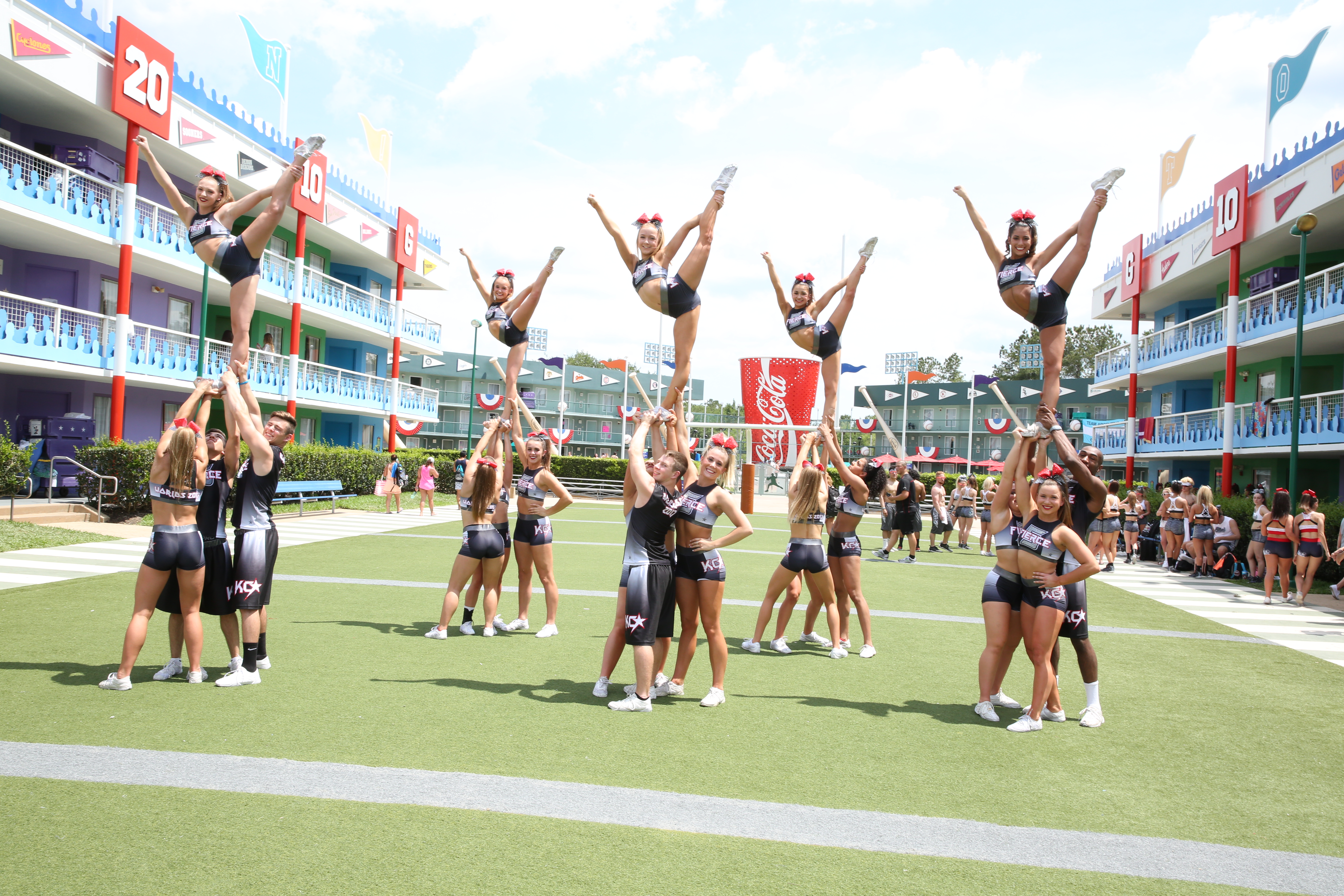 Fierce 5 puts the finishing touches and shows off their skills on the All Star Sports Football Field before taking the mat at Worlds. Photo By: Jamie Christian.

After their breakout success in 2014, the team's athletes realized how close they were to bringing home a globe and were determined to return to finals. The following two seasons, Fierce 5 placed fifth at Worlds.


See how Fierce 5's road to a globe began when we caught up with KC Cheer at America's Best!


Fierce 5's journey to Worlds was not easy, but the squad's talent was undeniable.  

"They wanted to finish what many athletes before them had started. Many visits from the alumni of Fierce 5 encouraged this team to hold on to what they knew they could do," Whitney said. "Experiencing the disappointments and having to work together as a team to find ways to continue to move toward our goal was one of the most important lessons these athletes could have ever encountered."


Watching the confidence of the team grow as they encouraged each other to push harder, stay strong, and never give up was one of the best parts of the entire season.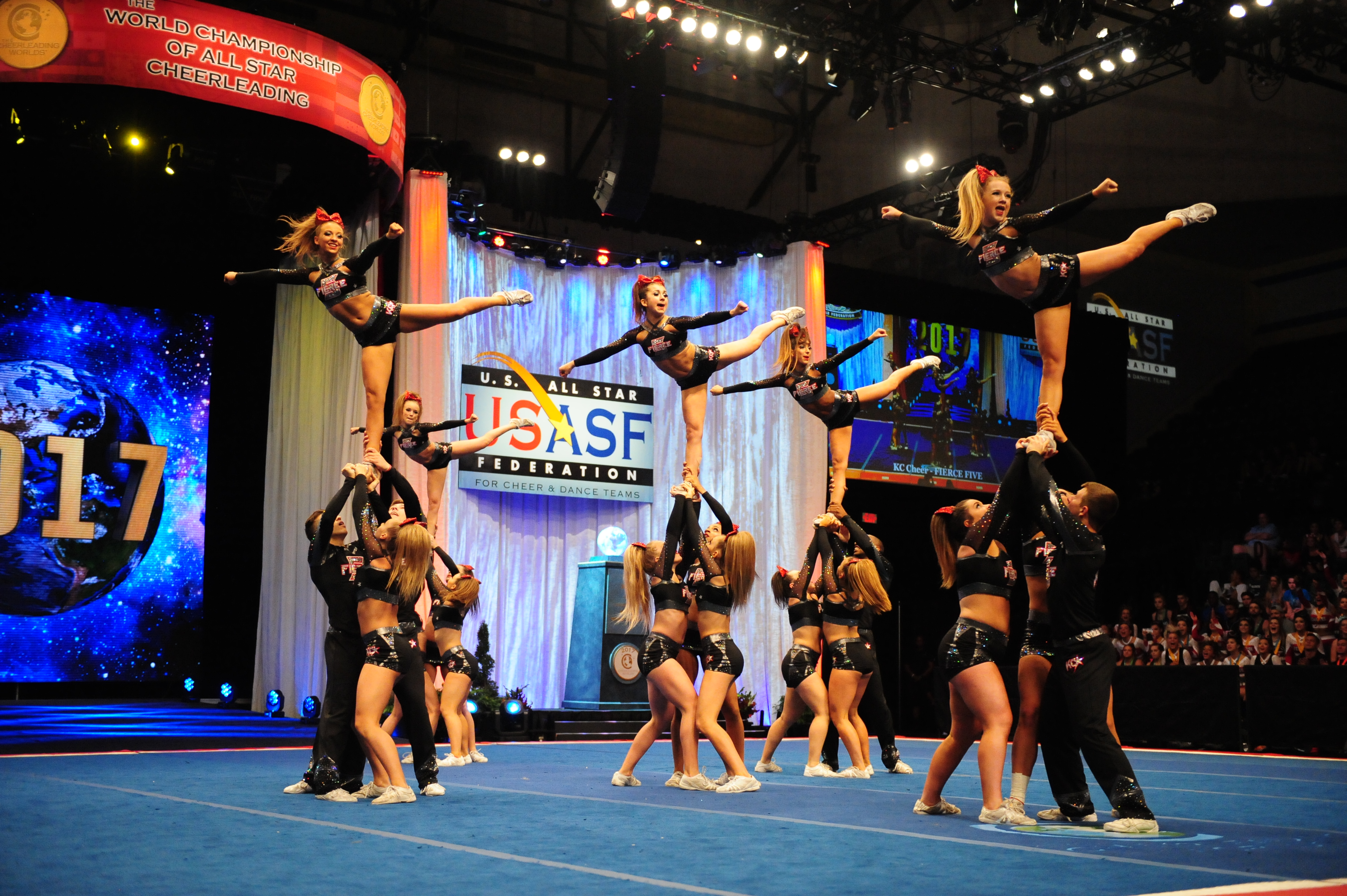 Fierce 5 displayed a performance of a lifetime to earn their first-ever Cheerleading World's globe. Photo By: Jamie Christian.

Head coaches Michael and Kristi knew they had a talented team with the potential for medaling at Worlds, if everything went right. 


Our practices were full of positive words, motivating contributions by every team member and lots of outside encouragement from past Fierce 5 team members.
"After semifinals at Worlds, we knew we had performed well," Kristi said. "However, we were close to the beginning of the division and they weren't announcing scores so there was still a bit of uneasiness as we waited for the finals announcements."  

Fierce 5 advanced to finals for the third year in a row. They were ranked sixth with room to improve. Fierce Five athlete, Ashleigh Whitney, couldn't have been more confident in her team as they took the mat.


The energy from start to finish was through the roof during our Finals performance. Every person on the team was pumping each other up backstage and we knew exactly what was going to happen when we stepped out on the mat. There was never a moment where it was silent on the floor. We were constantly cheering and yelling for one another while we were competing and it just kept getting us to a higher and higher point mentally which really made our performance so special.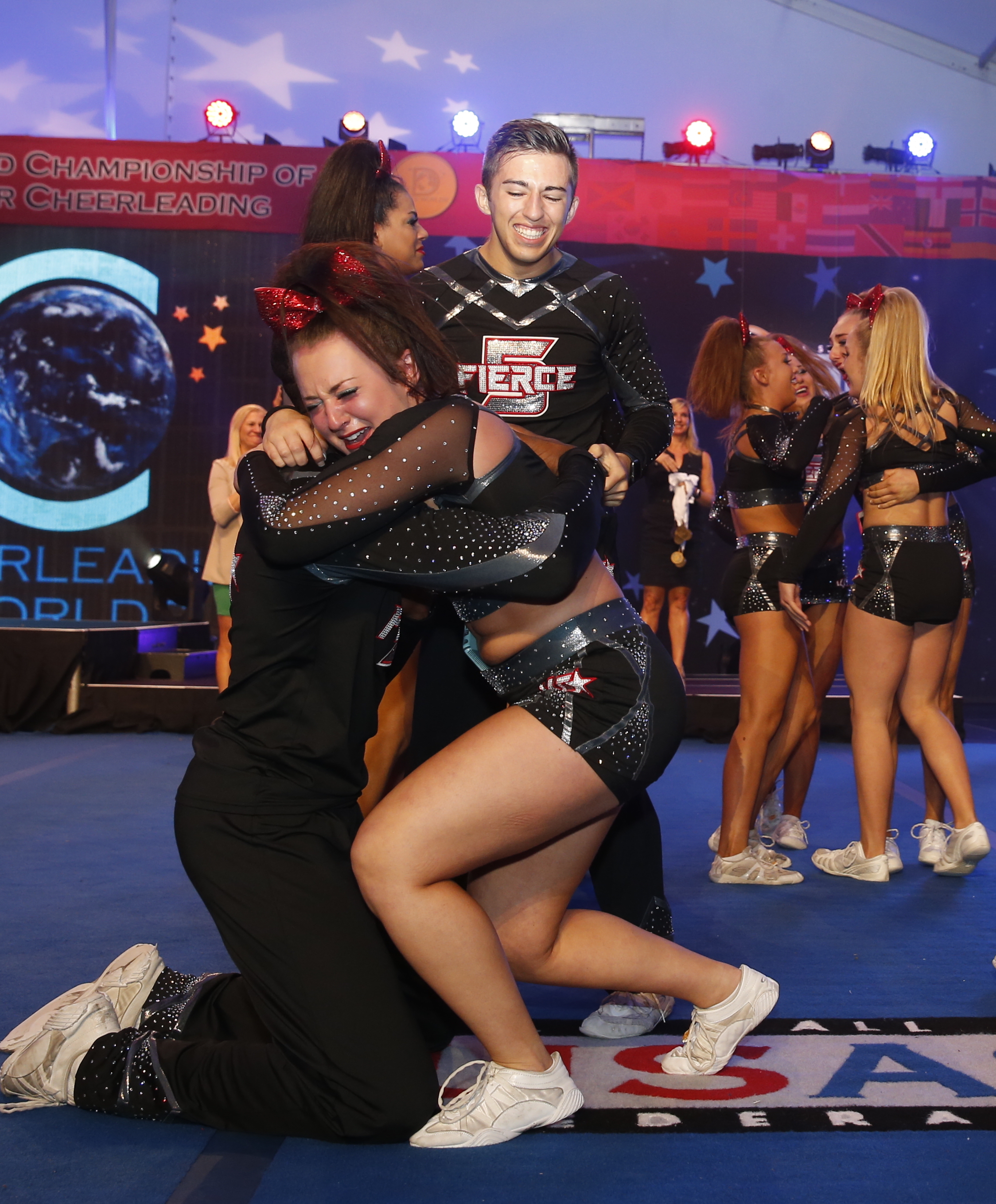 Fierce Five members embrace with joy after being crowned bronze medalist at The Cheerleading Worlds. Photo By: Jamie Christian.

The team rallied and wasn't going home without being in the top 5. Fierce 5 took the floor in finals with confidence and delivered a bronze medal-winning routine. 

"After being so close to earning a globe for the previous three years, we went into awards feeling proud of being in finals in one of the largest, most difficult divisions at The Cheerleading Worlds," Kristi said. "The awards ceremony was one of the most amazing experiences I've had the pleasure of experiencing as a coach because the teams in this division are all outstanding and being in the company of some of these programs is something to be proud of in my opinion."


The joy, pride and shear happiness that came from being announced in third place was incredible. It wasn't first place, but it felt like it to us!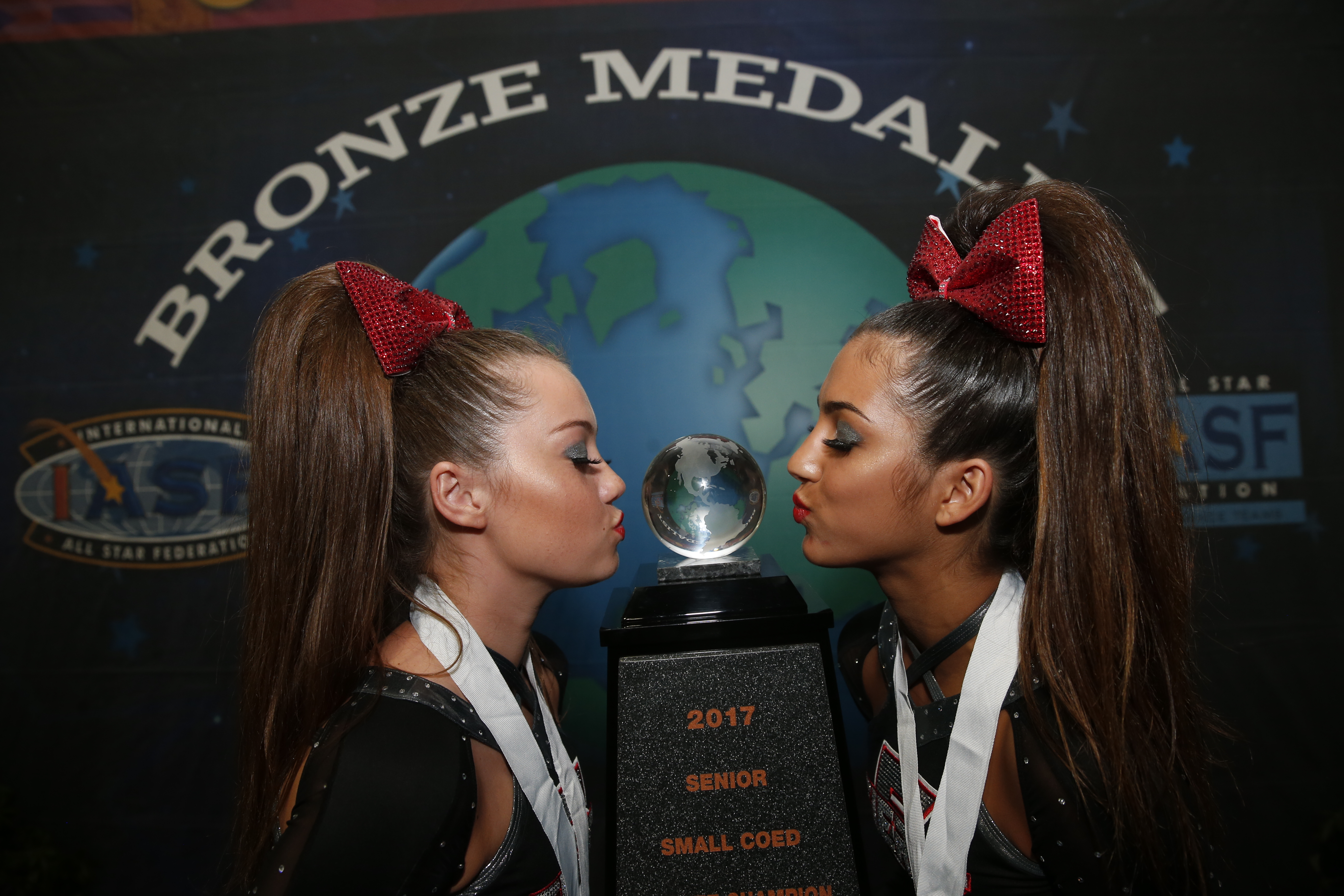 Watch the routine that earned KC Cheer their first-ever Worlds globe!