Before Hurricane Harvey hit Houston with the most catastrophic storm to hit the United States in recent memory, the cheer teams from LSU and BYU were ready to travel to the city this weekend to play each other in one of the first football games of the season. While the country mourns, the cheerleading teams from both LSU and BYU are ready to step up and represent their universities at the rescheduled game in New Orleans this weekend.

BYU head coach Jocelyn Allan said that their team was heartbroken to hear about the conditions that were happening in South Texas. The Cougars plan to continue praying for the victims of Hurricane Harvey and will travel to New Orleans this weekend for the new location of the game.

[instagram url="https://www.instagram.com/p/BYW4takl0FA/?taken-by=byucheer" hide_caption="0"]
This scenario hits home for many members of the LSU cheer team. In 2016, Baton Rouge experienced detrimental flooding that damaged the entire LSU campus and community.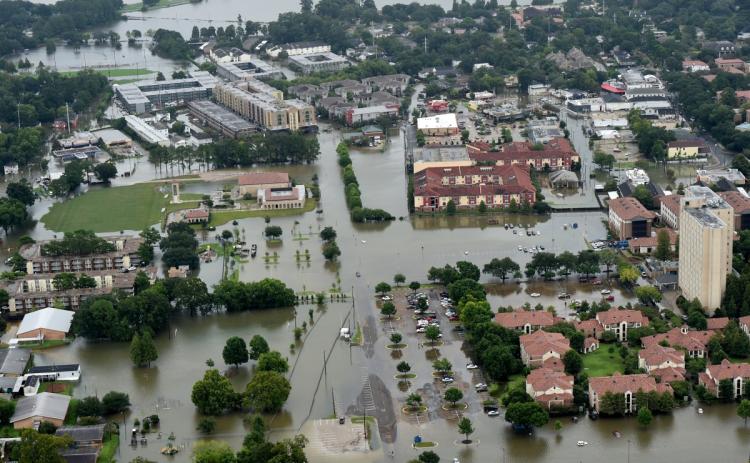 ​LSU's campus under water during the catastrophic Louisiana flooding in 2016
Photo by nydailynews.com

Senior cheerleader Allie Thorpe pointed out that many of the current team members are from Texas -- and specifically the Houston area. The team will stand together again as they did last year to help bring up morale while cheering the Tigers on this weekend.


I'm from Houston so this really hit home for me. We are devastated that the city is going through such a tragedy but we are very excited that the game was moved to New Orleans.
[instagram url="https://www.instagram.com/p/BYYmJHilddA/?taken-by=lsucheer" hide_caption="0"]
Be the first to know! Get breaking news, exclusive interviews, team features and more of your favorite content from FloCheer - delivered straight to your inbox.