The time of year we've all been waiting for is almost here! The Cheerleading Worlds 2019 is the most anticipated competition of the season and although you've been following your favorite teams throughout the year, anything can happen on the Worlds mat.
FloCheer is going to break down all 22 divisions so that you will know what to expect in Orlando, Florida!
International Global Coed Level 5
---
The Level 5 International Global Coed division will be nothing short of historical and exciting!
Teams will go head-to-head to compete to be named the first ever International Global Coed Level 5 World Champions! Routines in this division will consist of routines that align with the ICU routine format.
The music portion will be up to 2:30 of the routine and 30-40 seconds of each routine will consist of a cheer.
Season Recap
---
Here's a look back at some of the winners from the International Global Coed Level 5 division from some of this season's major events! Will these teams medal at The Cheerleading Worlds 2019? We can't wait to watch these incredible teams take the Worlds mat!
CHEERSPORT Nationals 2019
Rockstar Cheer Rolling Stones have made it very clear that they are ready to own success in this brand new division. They swept the competition at CHEERSPORT, NCA and UCA which lead them to earn the Varsity Triple Crown title.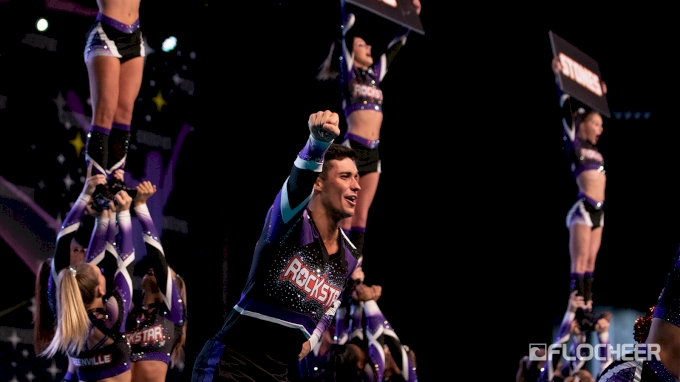 No matter what level the team is, if you see a Stingrays team, you know they're going to be sharp, clean and innovative. It was no surprise to see The Stingray Allstars Electric make the switch over to this new division.
While Stingray Electric put on two incredible routines in Atlanta, the Rays took second place behind Rolling Stones at CHEERSPORT.
NCA All-Star Nationals 2019
Rolling Stones have competed and performed many times this season which has given them many opportunities to practice consistency. They've have hit an impressive number of zero deduction routines. They're a must watch team that you don't want to miss at Worlds 2019.
After falling short to Rolling Stones at both CHEERSPORT and NCA, something tells us that the Electric Rays will come to Orlando with new tricks up their sleeves and determination to end the season on the Worlds podium!
Tribe Cheer VooDoo took third at NCA followed by Cheer Athletics Austin OnyxCats in fourth.
UCA International All Star Championship 2019
Rockstar Cheer attended IASC for the first time this season and the trip proved worthwhile because Rolling Stones claimed their first Varsity All Star Triple Crown!
Another fan favorite team in the International Global Coed Level 5 division is The California All Stars Ghost Recon.
This team is stacked with talented athletes and many Black Ops alum which means one thing...they know what it takes to earn the globe! Yell "Go Cali Go" as you watch them compete to bring the gold back with them to the golden state!
Ghost Recon took second at UCA with a Final score of 95.5346 and earned their bid to The Cheerleading Worlds!
Other notable International Global Coed teams to mention are KC Cheer FIREBALL and Natural Venom All Stars Snipers. Both talented teams are heading to Worlds on At-Large Bids!
Looking to watch all of the action? Tune in LIVE April 27-29 to watch history be made as the first International Global Coed Level 5 team is crowned World Champions!
---
How To Watch
Join FloCheer now to watch The Cheerleading Worlds & Dance Worlds anywhere, on any device!
TV: Download the FloSports TV app on Roku and AppleTV 4
Mobile: Download the FloSports iOS app
Web: Bookmark FloCheer.com in your favorite browser
Written By: Emily Schmidt