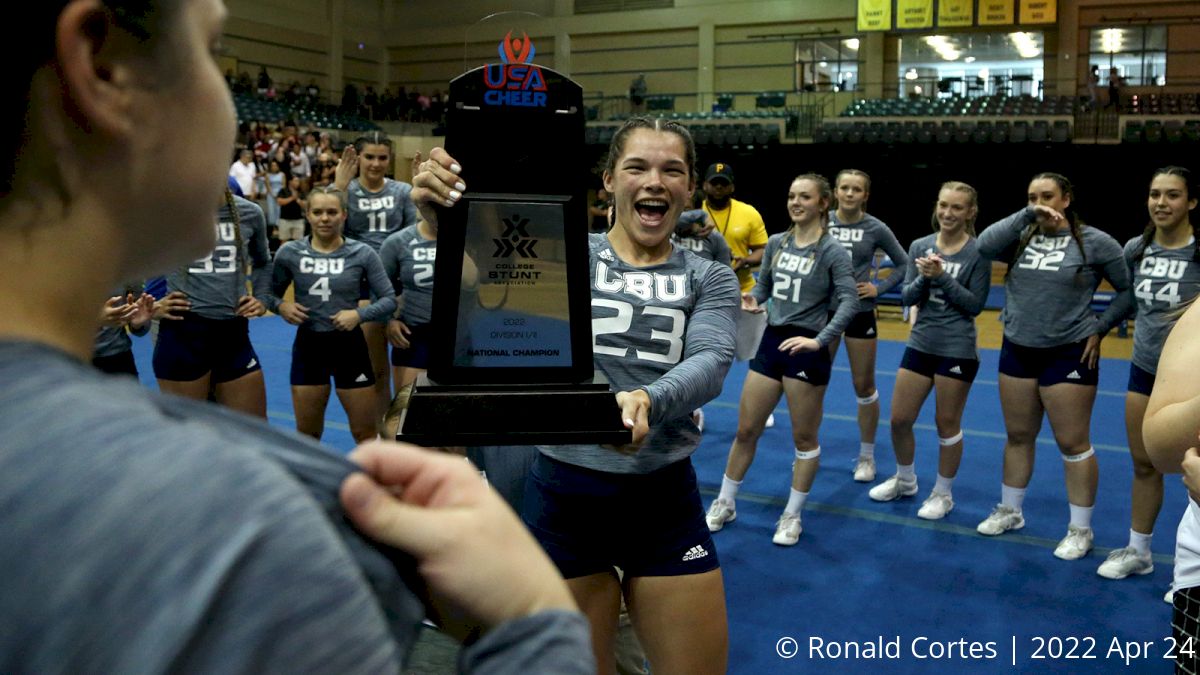 This week's new College STUNT Rankings are out! We are counting down the days until the 2023 USA College STUNT National Championships and as we get closer to the exciting events, we will be keeping a close eye on the weekly rankings to see who will be battling it out at the championships in April.
How The Rankings Are Decided:
Rankings will be updated weekly until the end of the season. Rankings are based on multiple factors, including but not limited to the 2022 end-of-season ranking, current win/loss record, the strength of schedule, head-to-head games, common opponent outcomes, and points allowed.
Click Here To View USA Cheer's Official Rankings
March 14th Rankings: The Details
The reigning DI College STUNT National Champions, California Baptist University, hold the top spot in DI for the second week in a row.
Davenport University makes the jump over Oklahoma Baptist University to retake the top spot in DII. Also making waves in Division II is Dallas Baptist University, the Patriots are ranked 4th for the second week in a row - their best ranking since the program started as a STUNT team back in 2019!
Alma College holds the top rank in Division III for the second week in a row.
In the NAIA, there was a shift in the top three. Jessup University holds the top rank for the second week in a row while Vanguard University moves up to the second place spot and Hope International University falls to number three.
The powerhouse STUNT program from Oklahoma State University has held the number-one spot in Club for back-to-back weeks.
---
DI
California Baptist University
University of Kentucky
UT Martin
DII
Davenport University
Oklahoma Baptist University
Concordia University, Irvine
Dallas Baptist University
Ashland University
Maryville University
St. Mary's University (TX)
Texas Woman's University
Drury University
Tiffin University
UT Tyler
Ursuline College
DIII
Alma College
Hiram College
Muskingum University
Olivet College
Buena Vista University
Fontbonne College
Austin College
NAIA
Jessup University
Vanguard University
Hope International University
Oklahoma City University
Missouri Baptist University
Concordia University, Ann Arbor
Central Methodist University
Ottawa University Arizona
Aquinas College
Arizona Christian University
CLUB
Oklahoma State University
Arizona State University
Texas Tech University
Cal Poly
Michigan State University
Central Michigan University
University of Texas
Grand Canyon University
University of Michigan
UC Davis
Has not played:
Sonoma State University
Saint Mary's College (CA)