Before They Were Famous: 25 Celebrities Who Started As Cheerleaders
Before They Were Famous: 25 Celebrities Who Started As Cheerleaders
Find out which celebrities were cheerleaders before they found their stepping stone to stardom.
Sep 30, 2015
by Leanza Pieroni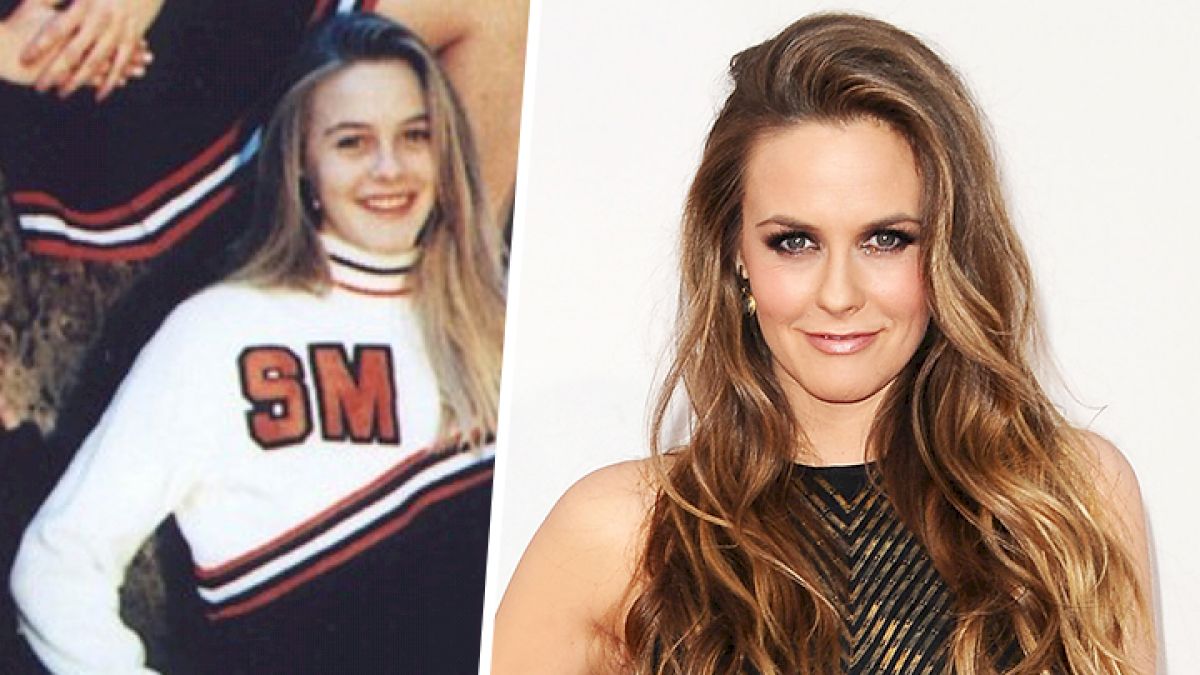 Celebs and cheerleaders have more in common than you think. Cheerleaders are typically high-spirited girls with a lot of personality and charisma that make them the leader of the spirit pack. And celebs have that special something that helps them stand out in a crowd. That may not always be a cheerleading uniform, but for some it once was.
Some of the most famous and successful actresses, singers, and media personalities in the world today were once pom pom pumping cheer team members.
Here's a look at 25 female celebrities that cheered their way to stardom.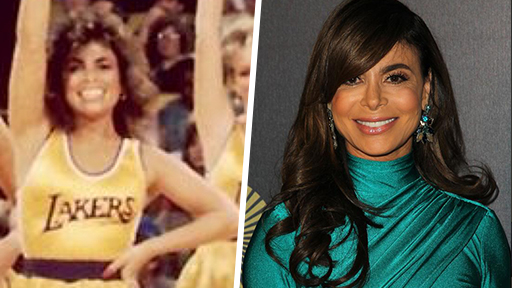 Paula Abdul
As an 18-year-old freshman studying broadcasting at Cal State Northridge, Paula Abdul became a Los Angeles Laker Girl, selected as one of 700 entrants in a competition. Within a year, she became head choreographer of the Laker Girls and was discovered by The Jacksons. She went on to choreograph the Jacksons' "Victory" tour as well as Janet Jackson during her "Control" era as well as the giant keyboard scene with Tom Hanks' character in Big. Abdul used her savings to make her own singing demo tape and in 1988 released her pop debut album Forever Your Girl, which hit No. 1 on the Billboard Top 200. She has found further success in the 21st Century as a judge on television shows American Idol, The X Factor, Dancing With the Stars and So You Think You Can Dance.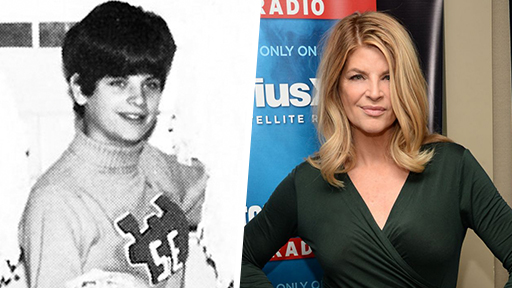 Kirstie Alley
Long before she made her way into outer space or behind a bar in Boston, Kirstie Alley cheered on her classmates at Wichita Southeast High School in
Kansas. After a brief stint at Kansas State University, the green-eyed, brunette dropped out and moved to Los Angeles to pursue Scientology and a Hollywood career. She made her film debut in 1982 as the Vulcan Starfleet officer Lieutenant Saavik in Star Trek II: The Wrath of Khan. Five years later, she replaced Shelley Long on the cast of Cheers, earning four Emmy nominations and one win for her role as Rebecca Howe. She has played over 25 roles on film, most notably in the Look Who's Talking series, and more than 40 on television, most recently in reality shows around her life.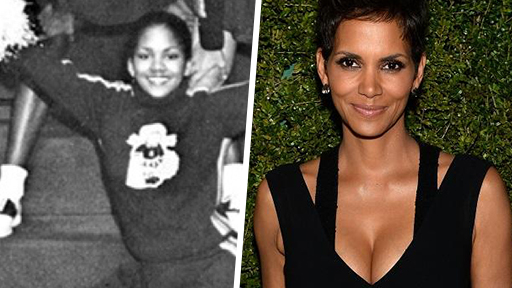 Halle Berry
The daughter of a psychiatric nurse and hospital attendant, Halle Berry did it all at Bedford High School in Cleveland, where she was a cheerleader, honors student, editor of the school newspaper and prom queen. After attending Cuyahoga Community College, Berry entered a number of beauty pageants. She won Miss Teen All American in 1985 and the following year won Miss Ohio and finished first runner-up in Miss USA. She made her television debut in 1989 and two years later broke out on the silver screen in Spike Lee's Jungle Fever. In 2001, she became the first African American to win the Academy Award for Best Actress for her role in Monsters Ball. Coincidentally, she earlier that year won an Emmy and Golden Globe for her portrayal of Dorothy Dandridge, the first African American to be nominated for a Best Actress Oscar. Berry, who has starred in more than 30 movies, won a Razzie for worst actress for Catwoman. She accepted the award holding her Oscar in the other hand.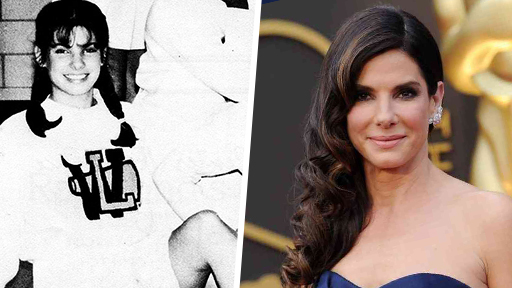 Sandra Bullock
Before she was Miss Congeniality, Sandra Bullock starred as a cheerleader and in theater productions at Washington-Lee High School in Virginia after spending the first 12 years of her life growing up in Nuremburg, Germany. The daughter of an Army vet and German opera singer, Bullock earned a Bachelor of Fine Arts degree in Drama from East Carolina University in 1987 and moved to Manhattan to pursue acting, supporting herself as a bartender, cocktail waitress and coat checker. In 1994, she broke out starring alongside Keanu Reeves in Speed and the following year earned a Golden Globe nomination for While You Were Sleeping. In 2009, Bullock reluctantly played the role of Leigh Ann Tuohy in The Blind Side, and went on to earn a Golden Globe, a Screen Actors Guild Award, Broadcast Film Critics Association Award and the Oscar for her portrayal. Today, she is the highest-paid actress in Hollywood.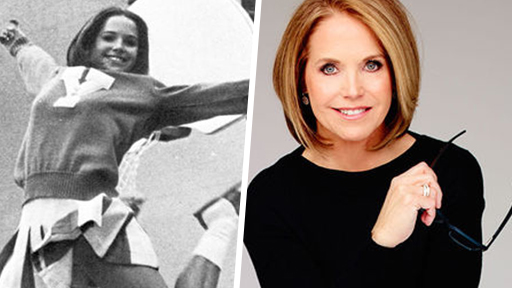 Katie Couric
A product of the Arlington, Virginia public school district, Katie Couric had her first leading role as a cheerleader for Yorktown High School, during which time she also interned at WAVA, an all-news radio station in Washington D.C. She followed in her father's footsteps and attended the University of Virginia, where she was a Delta Delta Delta sorority sister, and held several positions on The Cavalier Daily newspaper. In 1979, she got her first job at the ABC News bureau in Washington before joining CNN as an assignment editor. In the late 1980s, she won an Associated Press award and an Emmy working for NBC's Miami affiliate, before joining NBC News as a deputy Pentagon correspondent. She spent 15 years at NBC, working on Today and NBC Nightly News. In 2006, Couric moved to CBS and for five years anchored the CBS Evening News. In 2011, Couric went to ABC News as a special correspondent and in 2014 she took over as global anchor of Yahoo! News.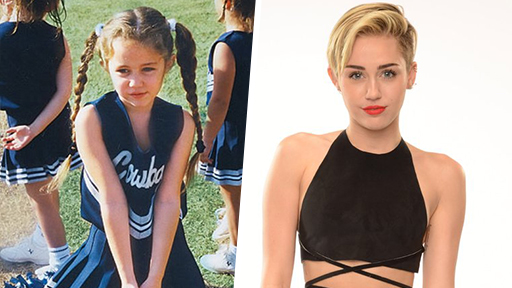 Miley Cyrus
You might say that performing is in Miley Cyrus' blood. Born the daughter of singer Billy Ray Cyrus, Miley was a cheerleader for the Tennessee Premier soccer team in her hometown of Franklin before moving to Toronto, Canada when she was eight. It was there that her father took her to see a production of the play Mamma Mia! And she was inspired to pursue acting. Shortly thereafter, she began taking singing and acting lessons and in 2006 landed the title role on Hannah Montana, a Disney Channel TV show about a schoolgirl living a secret double life as a teen pop star. Her fame skyrocketed from there. In 2008, she signed a four-album deal with Hollywood Records. After completing Hannah Montana: The Movie in 2010, Cyrus began transitioning to more adult content. She now has a deal with RCA Records and has since generated controversy for cultivating a sexually-explicit public image.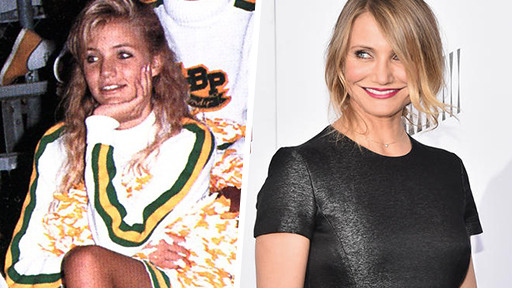 Cameron Diaz
Born into a Cuban family in Southern California, Cameron Diaz got her performance start as a cheerleader at Long Beach Poly High. In a Yahoo! Music article, classmate Snoop Dogg recalled Diaz running, "with all my little cheerleading homegirls," and described her as being "fly." He wasn't the only one to take notice. At age 16, she began a career as a fashion model, working for the likes of Calvin Klein and Levi's. She graced the cover of the July 1990 issue of Seventeen and shot a commercial for Coca-Cola in Sydney the following year. At age 21 in 1994, she starred alongside Jim Carrey in The Mask and her sex symbol star was launched. In 1998 she starred in There's Something About Mary, earning a Golden Globe Award. Her memorable list of performances includes movies like Being John Malkovich, Any Given Sunday, Charlie's Angels, Vanilla Sky, Shrek, and My Sister's Keeper. In 2010, Forbes ranked Diaz the richest Hispanic female celebrity. In 2013, The Hollywood Reporter named her the highest-paid actress over age 40.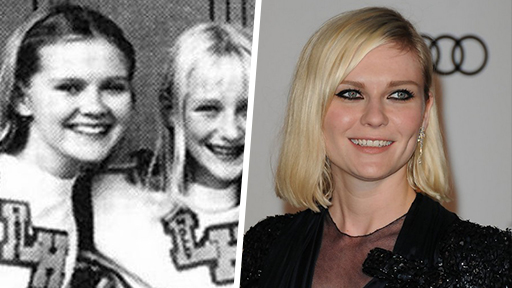 Kirsten Dunst
Art definitely wound up imitating life in the case of Kirsten Dunst. Born in New Jersey, Dunst was signed to the Ford Modeling Agency as a 3-year-old and appeared in over 100 TV commercials. Film roles soon followed, first a bit part in Woody Allen's short Oedipus Wrecks, then alongside Tom Hanks in The Bonfire
of the Vanities, then on Star Trek: The Next Generation. Her parents divorced in 1993 and 10-year-old Dunst moved to Los Angeles with her mother. The following year, she broke out alongside Tom Cruise and Brad Pitt in Interview with the Vampire. She then starred in Little Women, Jumanji and as a child prostitute on ER (George Clooney taught her how to drive!) All the while, Dunst found time to be a cheerleader for Laurel Hall School and later Notre Dame High School. In 2000, Dunst got the role of Torrance Shipman in the cheerleading comedy Bring It On.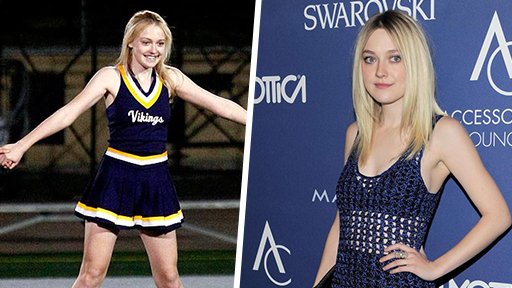 Dakota Fanning
In the case of Dakota Fanning, acting came long before cheering. Childhood roles in plays at the Towne Lake Arts Center in Georgia and a Tide commercial blossomed into television guest roles on ER, CSI: Crime Scene Investigation, The Practice, Spin City, Ally McBeal and The Ellen Show. In 2001, Fanning starred alongside Sean Penn in I Am Sam, and at age 7 became the youngest actress ever nominated for a Screen Actors Guild Award. Hollywood roles continued to pour in after that for films including Taken, Trapped, Uptown Girls, The Cat in the Hat, Man on Fire, Hide and Seek, Charlotte's Web, Fragments -- Winged Creatures, Push, and The Secret Life of Bees. Perhaps her most lucrative role has been as Jane in the Twilight Saga. With an acting career solidly built, Fanning has focused on her education. She participated on the varsity spirit cheerleading squad at Campbell Hall School -- she was also named homecoming queen -- and has attended NYU.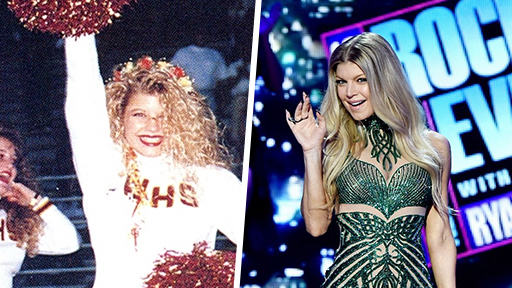 Fergie
Growing up, Fergie was the it girl. Born Stacie Ann Ferguson in Hacienda Heights, California, she was a Girl Scout and a spelling bee champion. Later, she attended Glen A. Wilson High School where she was a cheerleader and a straight-A student. After high school, Fergie studied dance and began doing voiceover work as Sally in Peanuts cartoons and shows, and she starred on the TV show Kids Incorporated for six of its nine years. In the early 1990s, she fronted the all-female band Wild Orchid, which started off hot but fizzled commercially by the end of the decade. In 2003, The Black Eyed Peas were recording their third album, Elephunk,
when will.i.am invited Fergie to try out for a song called "Shut Up." She got the gig and immediately hit it off with the rest of the group. Shortly before the album's release, Fergie replaced departed Kim Hill's vocal duties. Elephunk spawned "Where is the Love," and the group's subsequent album, Monkey Business, introduced the world to Fergie's iconic vocals on "My Humps." She has found continued success, with her 2006 debut solo album The Dutchess, as well as with The Black Eyed Peas.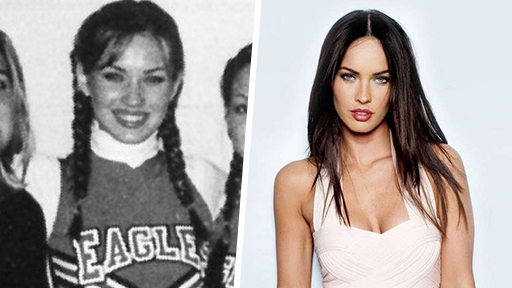 Megan Fox
Hers is a story of cheerleading not necessarily translating into high school popularity. Megan Fox was born into a strict Pentecostal family in Tennessee.
She began her training in dance and drama at age five and sang chorus and swam for her elementary school. When her family moved to Florida, Fox attended Morningside Academy in Port St. Lucie, where she was a member of the cheerleading team, but also was bullied. After moving to L.A., Fox made her acting debut alongside the Olsen twins in Holiday in the Sun in 2001 and three years later starred opposite fellow cheerleader Lindsay Lohan in Confessions of a Teenage Drama Queen. In 2007, Fox landed the lead female role of Mikaela Barnes in Transformers, a role she reprised in Transformers: Revenge of the Fallen. In 2009, Fox portrayed a possessed cheerleader in the black comedy Jennifer's Body. Her more recent films include The Dictator, This is 40 and Teenage Mutant Ninja Turtles.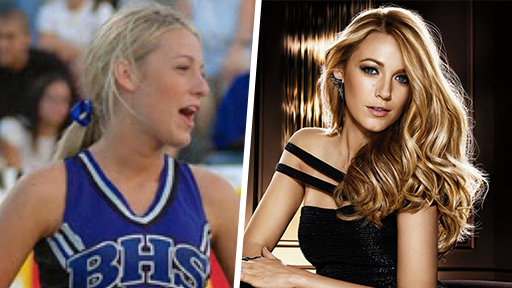 Blake Lively
When talking about being able to balance it all, you have to bring up Blake Lively. With an actor/director father and talent scout mother, she may have
seemed predestined for a Hollywood career but she was initially not interested in performing at all. She came around after several years of acting lessons and watching her parents in action, and by the time she got to Burbank High School she needed to find time not only for schoolwork and cheerleading but also to film her scenes for the movie The Sisterhood of the Travelling Pants. In 2007, Lively was cast as Serena van der Woodsen in The CW's Gossip Girl. She has also earned acclaim for her roles in The Private Lives of Pippa Lee, Green Lantern and The Age of Adaline.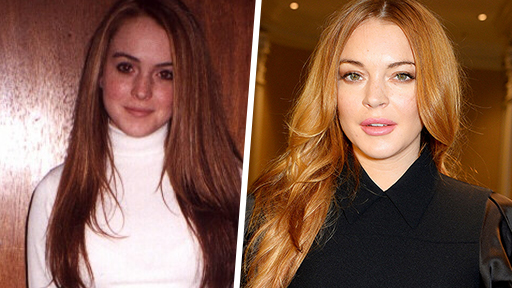 Lindsay Lohan
Success found Lindsay Lohan quickly. The daughter of a former Wall Street trader and singer/dancer, Lohan grew up on Long Island in New York, and was immediately thrust into the spotlight by showbiz parents. She began her career as a child model at the age of 3, representing brands like Calvin Klein, abercrombie, Pizza Hut, Wendy's and Jell-O (yes, she did a spot with Bill Cosby). At age 10, she joined the cast of the soap opera Another World. Two of her first movie successes came in remakes, first being The Parent Trap in 1998 and then 2003's Freaky Friday. It was around this time that Lohan participated in cheerleading, first for Cold Spring Harbor High School and then Sanford H. Calhoun high school, before opting for homeschooling.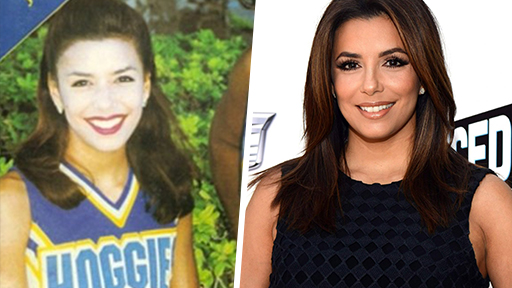 Eva Longoria
In the case of Eva Longoria, cheerleading was an activity that she enjoyed but not one she directly parlayed into a Hollywood career. Born and raised in Corpus Christi, Texas, Longoria was a cheerleader for Roy Miller High School and continued to cheer collegiately at Texas A&M-Kingsville, where she earned a degree in kinesiology. Around this time, in 1998, Longoria won the Miss Corpus Christi pageant, was discovered during a talent contest, and was signed by a theatrical agent in Los Angeles. While auditioning for roles, she worked as a headhunter for four years. While attending a political reception in L.A., Longoria met executive producer Gary Ghiaey, who put her on his TV show L.A. In A Day. She went on to guest star in an episode of Beverley Hills 90210 and General Hospital before landing a two-year role on the soap opera The Young and the Restless. After leaving that show and appearing in two short-lived projects, Longoria landed her biggest role, as adulteress Gabrielle Solic in ABC's Desperate Housewives.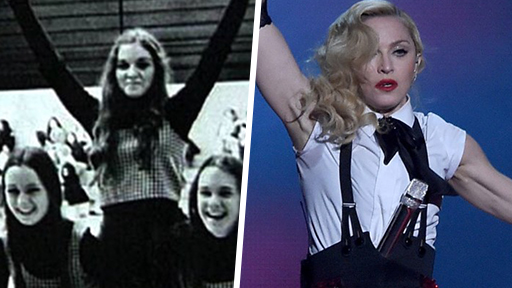 Madonna
Long before becoming the Material Girl, Madonna grew up as the child of Italian-American immigrants in a blue-collar family dependent on the Detroit auto industry. After her mother died of breast cancer and her father remarries, she resented her father and began to rebel. While attending middle school she became as known for her high grades as for her unpredictable behavior, which included performing cartwheels and handstands in the hallways between classes and dangling off the monkey bars by her knees during recess. At Rochester Adams High School, she was a straight-A student and member of the cheerleading squad. She received a dance scholarship to the University of Michigan, but dropped out and moved to New York City in 1978. It was there that she toiled to develop into a pop music icon. It took six years for her to release her first hits, "Borderline" and "Lucky Star."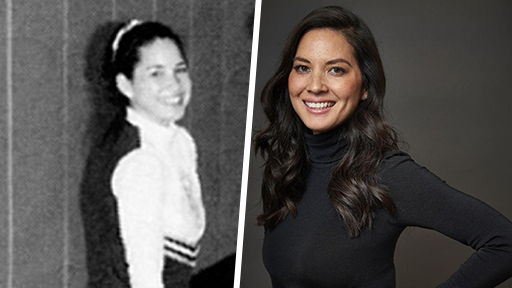 Olivia Munn
Although raised primarily in Japan, where her stepfather was stationed in the Air Force, Olivia Munn's roots are in football hotbed Oklahoma, so it should come as little surprise that cheerleading is a part of her background. When her mother and stepfather divorced, Munn moved back to Oklahoma City where she was a cheerleader for Putnam City North High School. After getting her degree in journalism at the University of Oklahoma, Munn interned at NBC's Tulsa
affiliate before getting a job in 2004 as a Fox Sports sideline reporter for college football and women's basketball. A year later, she moved to Los Angeles and began getting small acting roles. In 2010, she earned praise from Robert Downey Jr. for her improvisational skills in Iron Man 2 and later was hired by Jon Stewart as a correspondent on The Daily Show.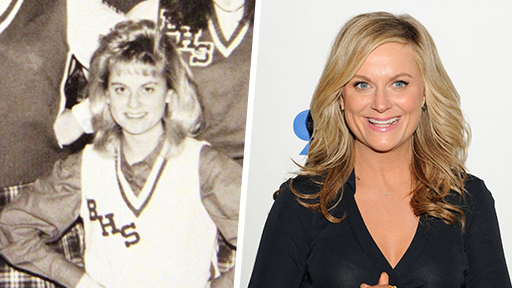 Amy Poehler
Before she started making America laugh, Amy Poehler was energizing crowds at football games. She was born in the Boston suburb of Newton but spent most of her life growing up in nearby Burlington, where she was a cheerleader for Burlington High School from 1986-89. After graduating from Boston College with a degree in communications and media -- and time spent with My Mother's Fleabag, America's oldest college improve comedy troupe -- she moved to Chicago, where she continued honing her improve skills with Second City. Her comedy chops took her from there to a sketch writing gig on Late Night With Conan O'Brien, then to Saturday Night Live, 30 Rock, and Parks and Recreation.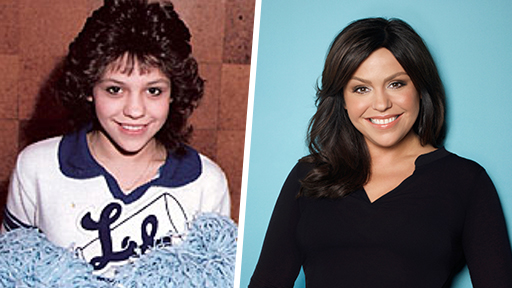 Rachael Ray
Years prior to introducing E-V-O-O (that's extra virgin olive oil) to the American foodie lexicon, Rachael Ray spelled out clever cheers for her upstate New York high school. Born in Glen Falls, Ray moved with her family to Lake George when she was 8-years-old. I was there that she attended Lake George High School (Go Warriors!) and further perfected her cheerful vocabulary. After college, she moved to Manhattan where she worked the candy counter before managing the fresh foods department at Macy's. She eventually moved back upstate where she became a buyer at Cowan & Lobel, a gourmet market in Albany. It was there that she taught a course to reluctant cookers called 30 Minute Meals. Before long, she landed a weekly segment on CBS affiliate WRGB, a spot on the Today show and her first Food Network contract in 2001. In addition to her Food Network shows, she hosts a syndicated daytime talk show, and has been nominated for 11 Emmy Awards with three wins.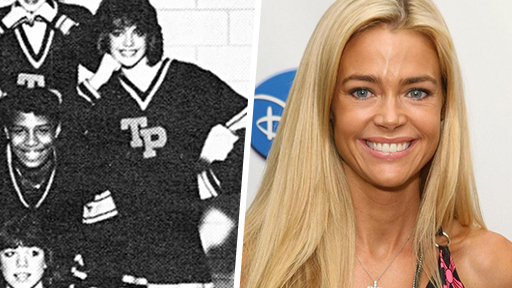 Denise Richards
One-time tomboy Denise Richards grew up in Illinois as an athletic child -- she was the only girl on her local baseball team -- before turning heads in California. In 1986, her family moved from Downers Grove to Oceanside where she was a cheerleader for El Camino High School. She spent the majority of the 1990s taking on roles in lower-budget productions such as Saved By The Bell, and Married… with Children. She later made guest appearances on Beverly Hills 90201, Seinfeld, Lois and Clark and Melrose Place. Her breakout role came in the 1997 movie Starship Troopers. She followed that up with a memorable turn as a manipulative high school villainess in Wild Things. In 1999, Richards was cast as nuclear physicist Christmas Jones in the James Bond film The World Is Not Enough. Two years later, she met former husband Charlie Sheen on the set of Loaded Weapon 1. Given her cheer background, we have a good idea who taught him to spell W-I-N-N-I-N-G.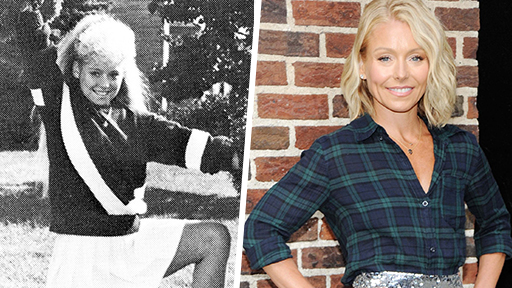 Kelly Ripa
Although she showed an affinity for performance at a young age, it wasn't until high school that Kelly Ripa recognized her true calling. Ripa began ballet
lessons at the age of three and also learned to play the piano growing up in Southern New Jersey. It wasn't until she got to Eastern Regional High School, became a cheerleader and was encouraged by her drama teacher Jim Beckley to pursue acting that she finally got it. Ripa dropped out of Camden County College ad moved to New York City to begin pursuit of an acting career. She landed her first major role on the soap opera All My Children, and spent 12 years on the show. In 2001, Ripa replaced Kathie Lee Gifford alongside Regis Philbin on Live! With Regis and Kelly. When Philbin retired in 2011, Ripa became the headliner and now co-hosts Live! With Kelly and Michael alongside Michael Strahan.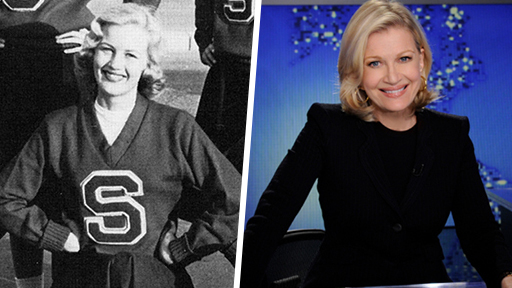 Diane Sawyer
As a teenager Diane Sawyer has said she often felt insecure and overshadowed by her older sister. It was as a cheerleader for Seneca High School in Louisville, Kentucky that she started to break out of that loner stage. Her cheer background, coupled with experience as editor-in-chief of the school newspaper helped her win the America's Junior Miss scholarship pageant. After spending three years touring in promotion of the Coca-Cola Pavilion at the World's Fair, Sawyer earned a degree in English from Wellesley College, spent a year studying law, before turning to journalism. A brief stint as a weather person in Louisville, was followed by a move to Washington D.C. and a job as assistant to Jerry Warren, Richard Nixon's White House press secretary. In 1978, she joined CBS as a general assignment reporter and spent 11 years at the network before moving to ABC News, where she remains today.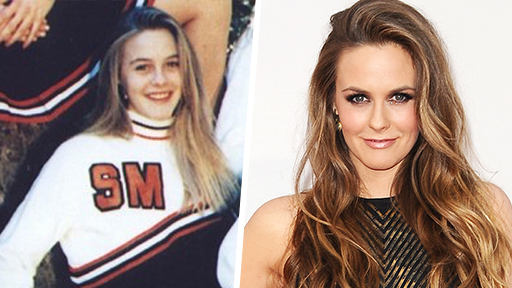 Alicia Silverstone
She probably never would have guessed that some early-life acting and cheerleading experience could lead to a career renowned for its beauty queen roles. Alicia Silverstone was born to British parents in San Francisco. Photos taken by her father helped earn her a modeling contract at age six and casting in television commercials. At San Mateo High School, she furthered her performance chops by cheering on her fellow Bearcats. After high school, Silverstone landed her first acting gigs, first in The Wonder Years and then in the movie The Crush. Her performance in the latter caught the eye of director Marty Callner, who cast her in the videos for Aerosmith's "Cryin'," "Amazing," and "Crazy." A year later, she landed the role of a lifetime: Cher Horowitz in Clueless.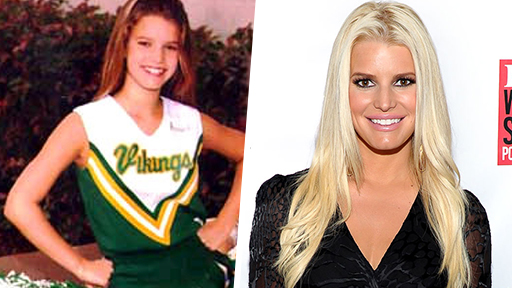 Jessica Simpson
The daughter of a Baptist minister and psychologist, Jessica Simpson's first brush with performance came as a singer at her local church. As an eighth grader, she participated as a cheerleader for Richardson North Junior High School in the Dallas suburbs. It is around this time that she unsuccessfully auditioned for The Mickey Mouse Club, freezing up during the tryouts. The following year, her renditions of Dolly Parton's "I Will Always Love You" and "Amazing Grace" at a church camp grabbed the attention of a gospel music record label. Three years later, she impressed then-Columbia Records exec Tommy Mottola, who signed her immediately. Simpson dropped out of J.J. Pearce High School and embarked on a career as a singer, songwriter, actress and businesswoman.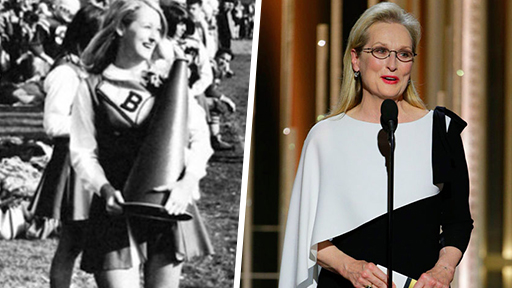 Meryl Streep
Performing as a cheerleader for Bernards High School in New Jersey in the 1960s seems like a blip on the performance radar screen for three-time Academy Award winning actress Meryl Streep. This one-time "gawky kid with glasses and frizzy hair," began acting alongside cheerleading in high school, but didn't really take serious interest in the craft until earning campus-wide acclaim with acting in the play Miss Julie at Vassar College. She went on to get her B.A. in drama from Vassar, study as an exchange student at Dartmouth, earn a masters degree from Yale School of Drama and star in arguably more memorable film roles than any actress in American film history.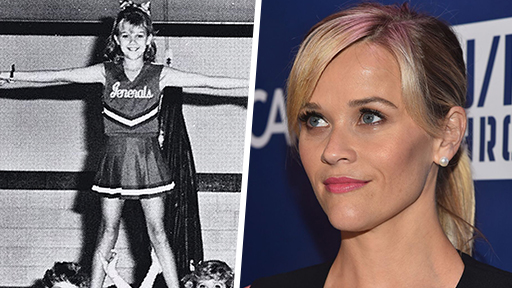 Reese Witherspoon
Does one necessarily need to be a good actress to be a good cheerleader? When you're doing it at the same time, you do. Around the same time that she was topping pyramids for the Harding Academy Generals in Nashville, Tennessee, Reese Witherspoon was also embarking on a then-nascent acting career. Already modeling some at the time, she competed in an won the Ten-State Talent Fair at age 11. The model student went on to graduate from Harpeth Hall School, where she was also a cheerleader, and spent a year studying English Lit at Stanford before dropping out to pursue acting. After some television work, she earned acclaim for her role in the movie Freeway alongside Keifer Sutherland and Brooke Shields. After a short time away, Witherspoon returned in 1998 with Overnight Delivery, Pleasantville and Twilight. The following year saw her shine in Cruel Intentions but global stardom didn't arrive until 2001 and her role as Elle Woods in Legally Blonde.
By Adrienne Normand



Be the first to know! Get breaking news, exclusive interviews, team features and more of your favorite content from FloCheer - delivered straight to your inbox.