On a regular fall Friday night, most communities gather under the bright lights of a football stadium to be a part of the pageantry of high school or college football. It's easy to get caught up in the infectious school spirit.
During most football games, crowds of students and alumni proudly parade the grounds in their school colors while the band belts out familiar upbeat music. But there is something different happening on the sidelines and out on the fields during the month of October.
October is breast cancer awareness month, and all over the United States schools are showing their support by dressing out their football players, cheerleaders, and other sports teams in pink gear.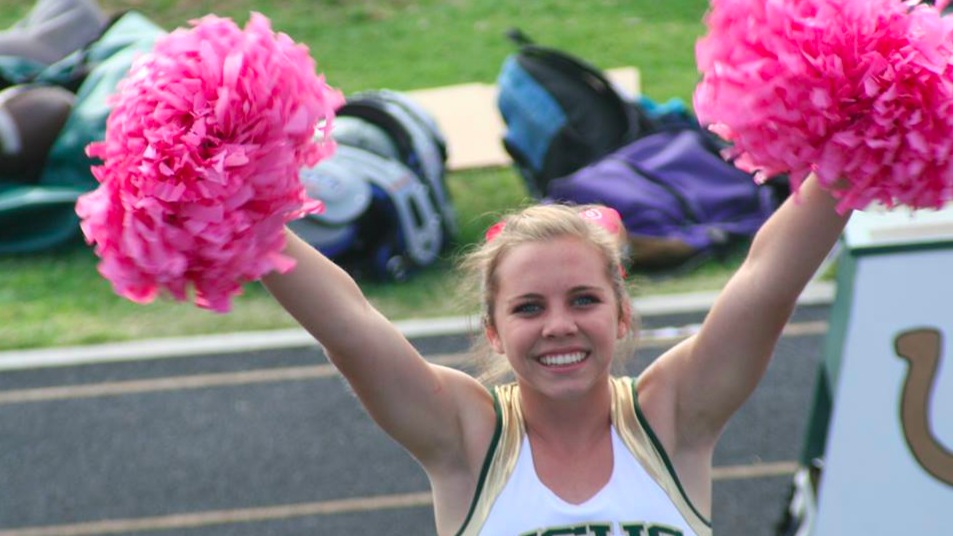 Pink uniforms are prevalent on cheerleaders at many schools through the month of October. Football players also wear pink in the form of ribbons, gloves, helmets, or swatches on their uniforms. Dressing in pink shows support for breast cancer awareness; it's an outreach that has gone nationwide.
About one in eight women in the U.S. will develop invasive breast cancer in their lifetime. According to breast cancer.org, "In 2015, an estimated 231,840 new cases of invasive breast cancer are expected to be diagnosed in women in the U.S., along with 60,290 new cases of non-invasive (in situ) breast cancer. About 2,350 new cases of invasive breast cancer are expected to be diagnosed in men in 2015. A man's lifetime risk of breast cancer is about one in 1,000."
With so many women being diagnosed with breast cancer every year, showing support and raising awareness becomes a very personal effort to a lot of people who are affected by the disease.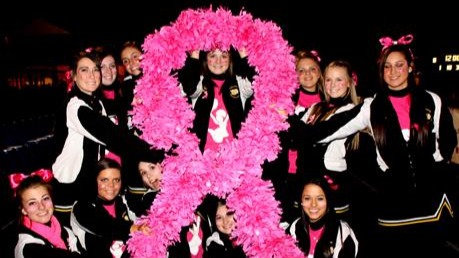 But for cheerleaders in El Segundo, California, pink is not just a color -- it's a way of living.
Long time cheer coach Marney Hagan was well known in her community. She was an office administrator at St. John's Lutheran church and she coached at a local high school alongside her best friend Nicole Martin.
The dynamic duo had big personalities and an even bigger passion for cheer. On November 4, 2013, just 5 days before her 44th birthday, Marney was diagnosed with breast cancer. Nicole, also a cancer survivor, remembers the day her friend was diagnosed.
"It was devastating," she said. "Marney allowed herself to have a pity party on the day she was diagnosed. But on November 5, she woke up and went into full battle mode. She was going to set a treatment plan no matter how aggressive it would be, and fight for her life."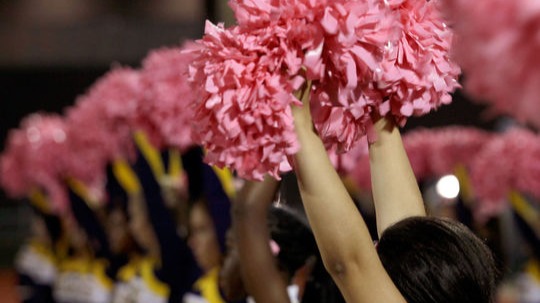 Marney did lots of research about the drugs and treatments that she would endure. She even had a double mastectomy to try and fight her cancer. It was during her mastectomy at Torrance Memorial Medical Center that she met Evelyn Calip. Evelyn is a registered nurse who started Evelyn's BFF (Breast Friends Forever). It is a place for women with breast cancer to relax and share their stories in an informal setting. This group helps under-insured or non-insured women pay for reconstructive surgery to help them regain their sense of self. In 2010, Evelyn was chosen as an audience member on "Oprah's Favorite Things for Ultimate Heroes." Marney and her caregiver Evelyn became fast friends and Marney joined Evelyn in the message of hope.
Marney was determined to stay positive and help others. She was such an influential force in embracing the diagnosis and sharing the importance of taking care of yourself that area high school cheerleaders encouraged their mothers -- some too young to even need a mammogram -- to get checked.
She inspired an entire community of women to be aware and take charge of their health and well-being. Marney was motivated to be tough and strong for her cheerleaders and friends. She continued to raise awareness and money to help battle breast cancer.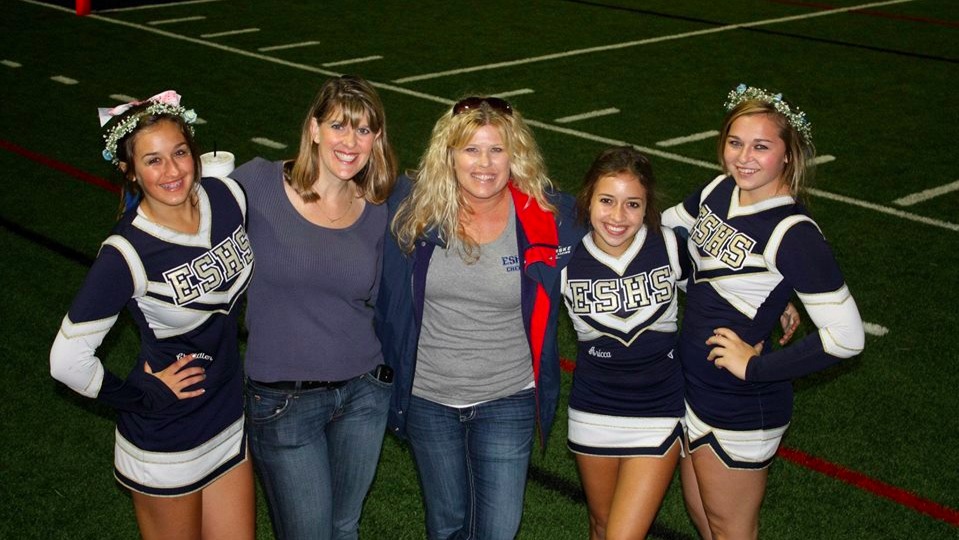 Despite her valiant fight, the cancer soon spread to her brain, and Marney passed away on September 12, 2015. Although she is gone, her memory and fight are carried on by her community, ex-cheerleaders, friends, and family. You can read more of her inspiring story and her words can be found on
http://www.evsbff.org
Every step in this process I have done something positive to outweigh the negative. When my hair started falling out, I threw a "Beers, Shears, and a Little Tears" party and shaved my head in front of a hundred people. . . . That way, when I look back, I remember the good times those days, not the bad.
Marney Hagan
Be the first to know! Get breaking news, exclusive interviews, team features and more of your favorite content from FloCheer - delivered straight to your inbox.