Create a free account to unlock this article!
Get Started
Already a subscriber? Log In
Cheer360
is a sport-specific strength, nutrition, and mental fitness coaching program dedicated to help cheerleaders reach their performance peak.
[instagram url="https://www.instagram.com/p/BUapWZuF40U/?taken-by=cheer_360" hide_caption="0"]
Located in Bohemia, NY,
Cheer360
was created in 2013 to fill a void in the cheerleading industry. Cheerleading is a constantly evolving sport that continues to increase the demands it puts on its athletes, both mentally and physically.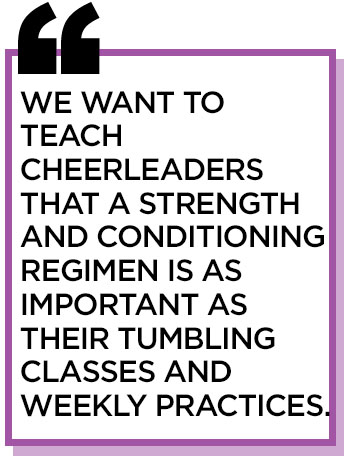 "During practices, athletes work on the skills they need to perform on the mat but they tend to neglect training their body to be stronger and faster,"
Cheer 360
co-founder and director of sport psychology Kristen Perri said. "We have created a community of knowledge and support where cheerleaders feel comfortable and safe to improve themselves."
Cheer360
is the largest strength, mental fitness, and nutritional coaching program in the country designed specifically for cheer athletes, and the gym now serves over 1,500 youth through college-age cheerleaders along the East Coast.


Strong Body, Strong Mind, Strong Athlete.
Cheer360
uses a high intensity interval training, aka HIIT, approach to keep its athletes heart rates up while rotating through a series of exercises during the hour-long class.
"We focus on full-body workouts and use everything from barbells and kettlebells to bosu balls and dyna disks," Perri said. "The style of workouts and the exercises we do vary constantly to keep the athletes engaged and constantly guessing what's next."
[instagram url="https://www.instagram.com/p/BVP5alLl6lL/?taken-by=cheer_360" hide_caption="0"]
Stretching and flexibility is incorporated into almost all the gym's classes as well. It offers specialty flyer and jump flexibility programs to increase its athletes' flexibility for skills.
While most classes at
Cheer360
focus on strength training, they also put a strong emphasis on being mentally tough.
"Let's face it; mental blocks and performance anxiety are a huge problem in the cheerleading world," Perri said. "We work on building up our athletes mentally so they are confident, relaxed when they take the mat and believe in themselves and their skills.
We have witnessed firsthand how cheerleading is just not respected like it should be by the outside world. If you are not in the 'cheer bubble,' you simply do not understand how much goes into being a top cheerleader and the amount of athleticism it requires. Cheerleaders need to be doing strength and conditioning just as any other athlete in another sport would.
Cheer360
's programs are designed to help make you a more explosive tumbler, gain flexibility in your jumps, and have more power for stunting. Not only do they help cheerleaders gain and perfect skills but also put a major focus on injury prevention.
"When your body is conditioned and ready for the skills, it is less likely that to get injured," Perri said. "Most injuries occur when an athlete's body is physically not ready to perform them."
[instagram url="https://www.instagram.com/p/BUIbSgIlc-L/?taken-by=cheer_360" hide_caption="0"]
With the high demands that cheerleading places on the body, being properly conditioned should be at the top of the list when you want to be your best.
Be the first to know! Get breaking news, exclusive interviews, team features and more of your favorite content from FloCheer - delivered straight to your inbox.