You just pulled up to the gym, jumped out of the car, and are ready and pumped for practice! Once you open the door and step onto the gym floor you hear the words, "All right everyone, make sure you warm up."
Warming up seems like a simple concept, but for many this can be a daily struggle to figure out the best method. Hopefully, after this post, you will be able to go beyond your "butterfly stretch routine" and truly transform your warmup for optimal practice performance.
So, put on your leg warmers and let's get serious about warming up!
Begin by increasing your heart rate
The best way to start any warmup is with cardio. This allows the blood flow to start moving into those muscles for stretching.
Jumping jacks
Jogging

2-5 laps around the gym floor.
#cjaracetoorlando pic.twitter.com/lv7D3FjVL9

— Central Jersey (@CJA_allstars) April 19, 2017
Standing stretches
Standing straddle stretch

Reach side to side and through the middle.

Standing hamstring stretch

Pull back one foot at a time and breathe slowly as you deepen the stretch.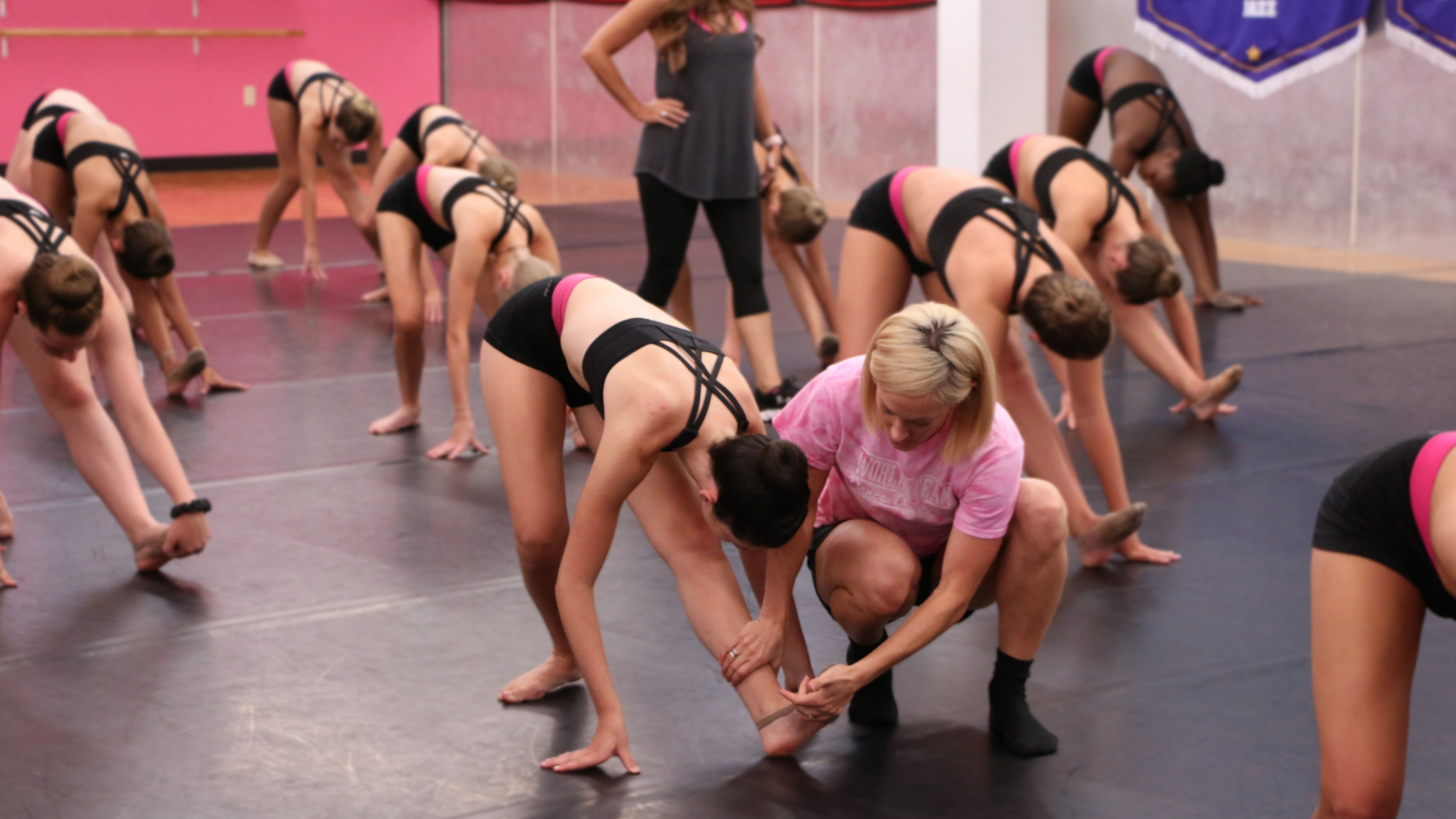 Dance Dynamics coach Lisa Wolff helps perfect team stretches at practice.
Wide stance hip flexor stretch with your hands on your knees

This will help with hip flexibility in jumps and body positions for flyers.

Standing pike stretch

Reach for your toes to get a a good hamstring and lower back stretch.

Runner's lunge

This stretch will help to increase mobility in your hips, hamstrings, and quads. From this stretch, sit back with your front leg straight and reach out for your toes.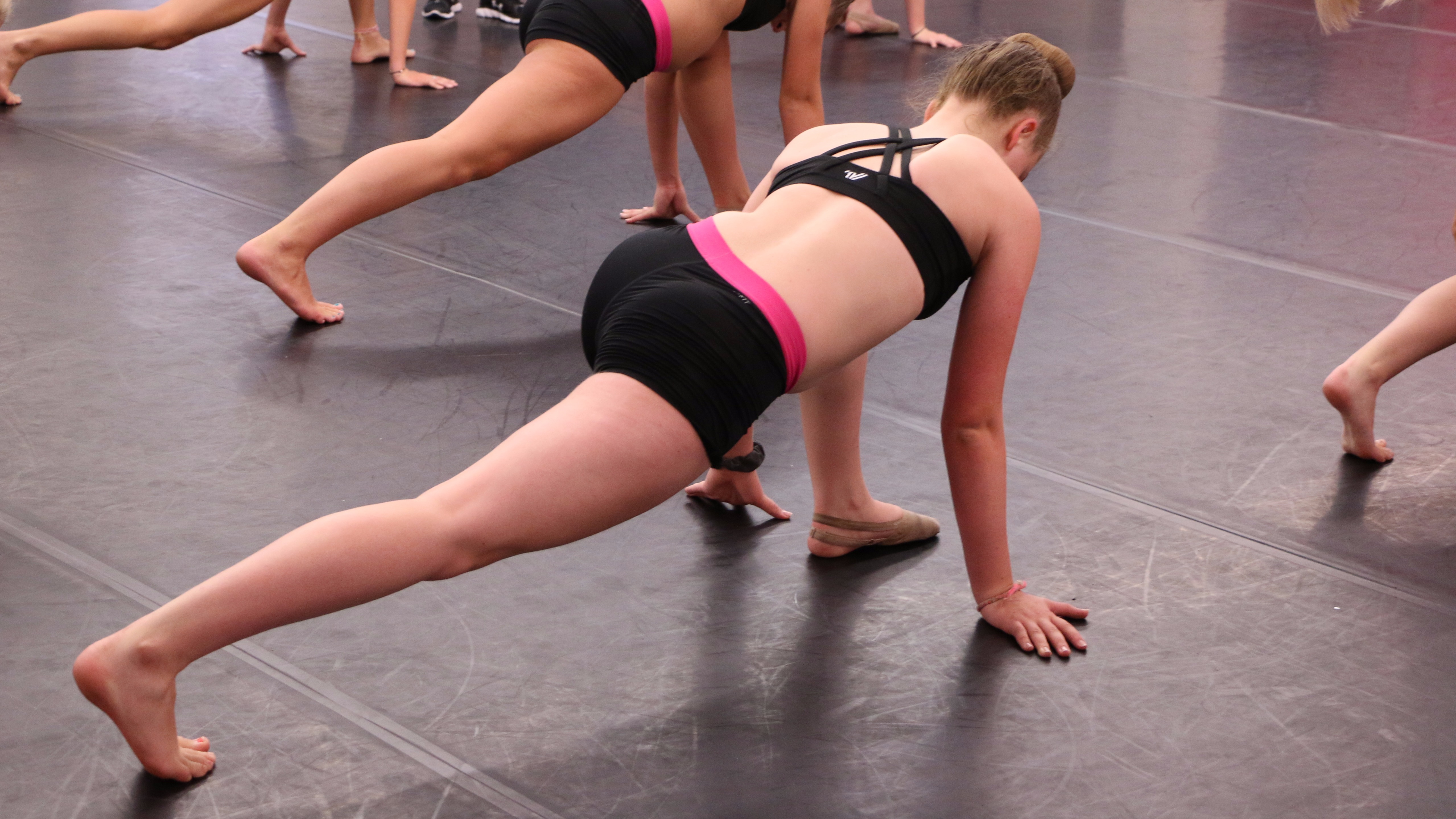 Dance Dynamics Seniors stretch runners lunges before the start of practice.
Floor stretches
The Butterfly

Sit with your feet together knees apart. Bring your feet in and out for a deeper stretch.

Pike stretch

Reach out for your toes, keeping your legs straight and hold for about 30 seconds.

Straddle stretch

Reach side to side and keep a straight back as you reach out away from your body.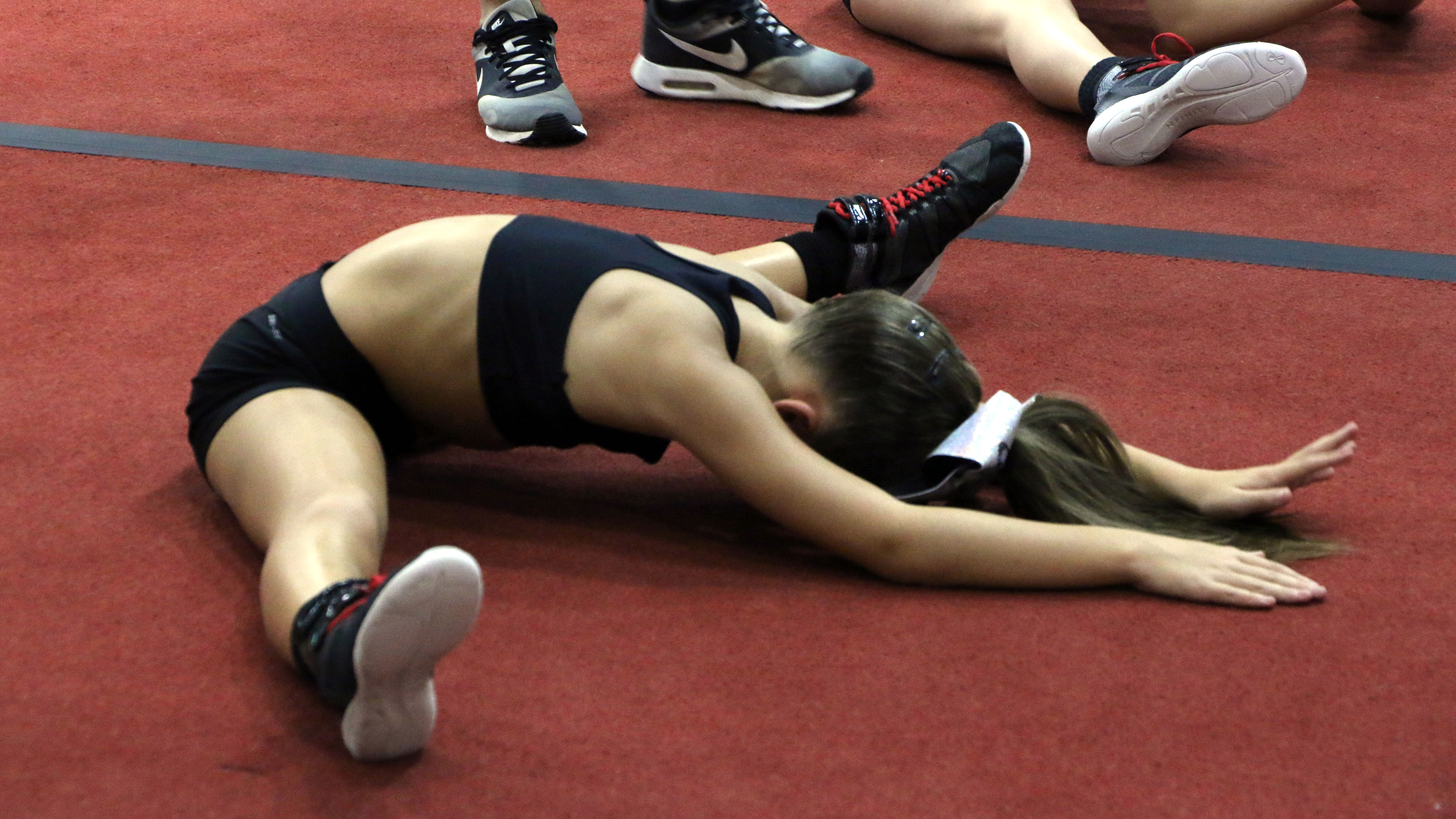 A Southern Athletics athlete stretches her middle straddle before practice.


Splits

Make sure to do right and left leg splits and your middle. It takes time to perfect your splits, but they are crucial for achieving good body position.

Calf stretch

Place your body in push-up position. Then shift to a pike position and stretch out your calves one at a time, pushing your heels down toward to floor. You should feel a stretch each time.

Back bridges

Lie back while placing hands and feet on the floor and pushing the center of your body up to the sky. Rock back and forth slowly for a deeper back stretch.

Back stretch variation

In a pike stretch, cross one foot over the other and twist your body the opposite way and hold.

Roll out your ankles and wrists, to ensure you are ready to tumble and stunt at your best.
Now you're truly ready for a perfectly productive cheer or dance practice!
---
Before beginning any fitness program, you should check with your doctor. By performing any fitness exercises, you are performing them at your own risk.