Dream, Believe, Do, Repeat.
Dance Dynamics
turned their fall ring ceremony into a full day event jam-packed with fun and exciting surprises for the athletes. The 2017 world champion
Open Contemporary/Lyrical
,
Senior Contemporary/Lyrical
, and
Senior Jazz
teams met at the studio in Spring, Texas, where a limo bus was awaiting them to take them on a scavenger hunt.
Their prize? At the end of the hunt the teams would find their coveted
Worlds
rings. Each clue led to a place where they would have to complete a task relating to each of their dances they received a ring for.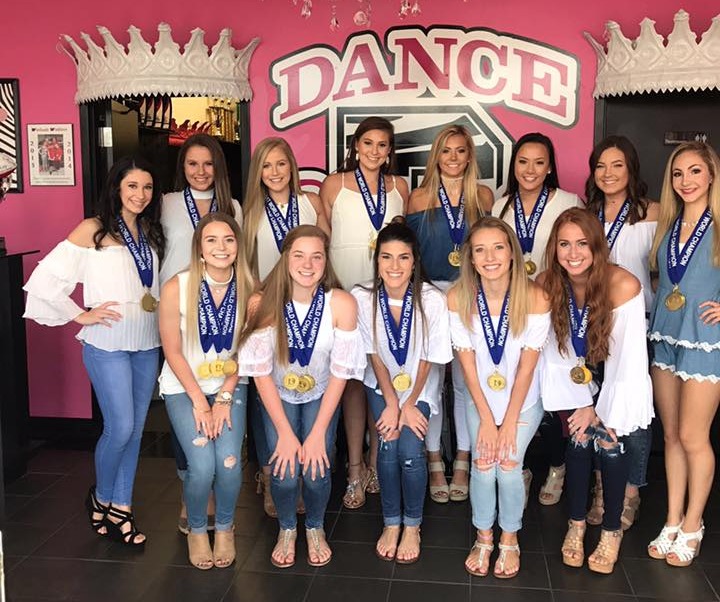 The ladies of Dance Dynamics at their 2017 Worlds ring ceremony.
Could you have solved the Dance Dynamics scavenger hunt?

Clue 1:
Senior Contemporary
"Skin and Bones": "By doing what you love, you inspire and awaken the HEARTS of others." We didn't know how it would work out when PAINTED a HEART on your costumes, but it was ARTRAGEOUS and brought your dance to life!!


They painted individual heart tiles that we compiled into one picture keepsake for the studio.


[instagram url="https://www.instagram.com/p/BXwLX02gHyS/?taken-by=dance_dynamics281" hide_caption="0"]
Clue 2:
Jazz
"Dream On" : When picking your jazz song, we wanted something different but didn't want it to sound like KARAOKE. When we got our first cut of music back, it was a DREAM and we absolutely loved it!


[instagram url="https://www.instagram.com/p/BXwPFcbAa9i/?taken-by=dance_dynamics281" hide_caption="0"]
Clue 3:
Open Lyrical
"This Woman's Work": #ThisWomansWorkWasWorthIt and you proved to everyone that THE SKY IS THE LIMIT when you are dedicated to your goals. We hope that you will always continue to FLY HIGH.


[instagram url="https://www.instagram.com/p/BXwZ0Fogdnx/?taken-by=dance_dynamics281" hide_caption="0"]
Clue 4:
We are beyond proud of you for being the CURRENT World Champions in
Senior Large Jazz
,
Senior Contemporary
, and
Open Lyrical
. Now let's go eat!

 They had a three-course meal at Current Restaurant at the Westin in the Water Way.
[instagram url="https://www.instagram.com/p/BXwqEsFgv_8/?taken-by=dance_dynamics281" hide_caption="0"]
Since Dance Dynamics first visit to
Worlds
three years ago, they have received four gold, three silver, and one bronze.

"Our 2017 Worlds Team is special because this same group of dancers attended Worlds together for the first time 3 years ago as a very young team," explained
Dance Dynamics co-owner Lauren Martin
. "Their first year at
The Dance Worlds
, they were inspired by the level of talent they competed with. They raised the bar the second year and came home with their first Gold medal. It has been amazing to see this exact team of dancers transform into a
World Championship
team over the past three seasons and experience each of these milestones together."
This was the first year for the new Contemporary/Lyrical divisions at
The Dance Worlds
and
Dance Dynamics
was honored as the first ever champions of the divisions.
Watch The Routine Of The First-Ever Dance Worlds Contemporary/Lyrical Champions!
The future is strong for
Dance Dynamics
. Martin said she believes the quote "we are who we are because of those who came before us" truly embodies how
Dance Dynamics
runs their program.
This team, our very first Worlds team, has left a legacy for the younger generation to follow.
"A few days after leaving
Worlds
, we brought our mini team to the Summit with their three dances, where they were champions of all three of their categories," explained Martin. "They look up to our seniors and work hard to follow in their footsteps as our future
Worlds
team."
Dance Dynamics
has already begun preparing for their upcoming season but their ring ceremony was the perfect time to reflect, say goodbye, and honor those who graduated and are going to college.
Dance Dynamics reflects on their success as they begin their 2018 Dance World preparation!
Be the first to know! Get breaking news, exclusive interviews, team features and more of your favorite content from FloCheer - delivered straight to your inbox.