Our hearts are with the city of Las Vegas and everyone affected by the devastating shooting at the Route 91 Harvest Festival on Sunday, October 1.
We are saddened to see the loss and suffering of so many and to hear the news that the cheerleading community has lost an athlete but gained an angel. Riverside Poly High School mourns the loss of Cheer and Song alumna Angela Gomez. She was just 20 years old.
Angela's cheerleading coach and English teacher Lupe Avila shared her memories as she cherishes the life of her former athlete.
[instagram url="https://www.instagram.com/p/BZwLqx4jwOg/?taken-by=polycheersong" hide_caption="0"]
Angela, also known as Angie, was a fun-loving, sweet young lady with a great sense of humor who was always seen with a smile on her face whenever she was on campus. A cheerleader at heart, Angie loved the stage and performing. She participated for many years with Riverside Children's Theater and was involved in choir, both in middle and high school.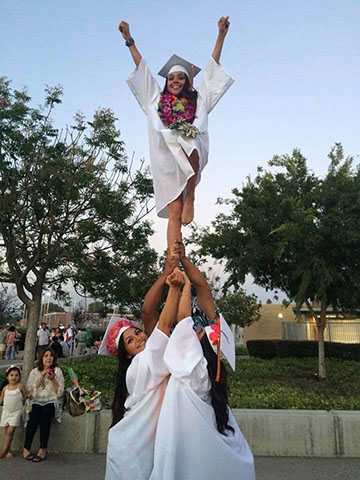 When Angie wasn't performing on stage, she was shining on the sidelines. She loved cheering on the Bears under the Friday night lights, surrounded by her closet friends. Angie shared the sidelines with the Poly Cheer and Song team for three years before her graduation in 2015. Angie was a teammate that everyone loved. She did not need to be the loudest voice; she led with her presence. Her gentle leadership and soft smile made you feel at ease whenever you were around her.If you needed to be cheered up, you could count on her to make you laugh, to do something silly, or just to clown around until you were tearing up from all the giggles. Many of Angie's friends have described her best by saying that she is one that "loved fearlessly," and I could not express this any better. Whether it was on the field, in the gym, or at home with family and friends, Angie loved every moment life had to offer her.
Angie will be forever missed by all those who knew her, and the cheerleading community stands with her friends and family as they go through this time of grief.
For those wishing to offer a helping hand to the Gomez family, you can
donate to the Angel Gomez Memorial Fund here
.
University of Las Vegas Nevada cheerleaders are asking any who can to donate to the
Las Vegas Victims Fund
to help their community. All UNLV cheerleaders who were at the Route 91 Harvest Festival escaped unharmed.
[instagram url="https://www.instagram.com/p/BZy_l2QnSUW/?taken-by=unlvcheer" hide_caption="0"]
Get breaking news, exclusive interviews, team features, and more from FloCheer - delivered straight to your inbox.