It takes a lot of courage and commitment to open up a gym of your own, especially in a small town you aren't completely familiar with yet. But for someone who has a strong passion for the sport, it was in her blood to do just that!
Cheerleading throughout California is huge, but not so much in the small town of Hanford. After coaching cheer in her hometown of Meridian, Mississippi for ten years, Carrie Page moved across the country with her new naval officer husband.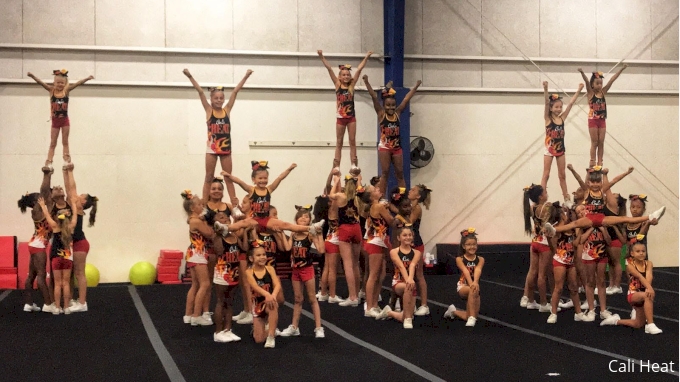 All Carrie ever knew was cheerleading, but she didn't really plan on carrying her coaching abilities to California with her. She had hopes to land a job in marketing. For the first time in 15 years, she decided to take a year off from coaching.
After taking that year off, she began to miss it very much.
"A good friend told me, 'Coaching is in your blood and it is a part of you. You are a good coach and you should stick with it!'" Said Carrie Page. "That is when I decided to share my love of cheerleading and tumbling with the small town of Hanford, California."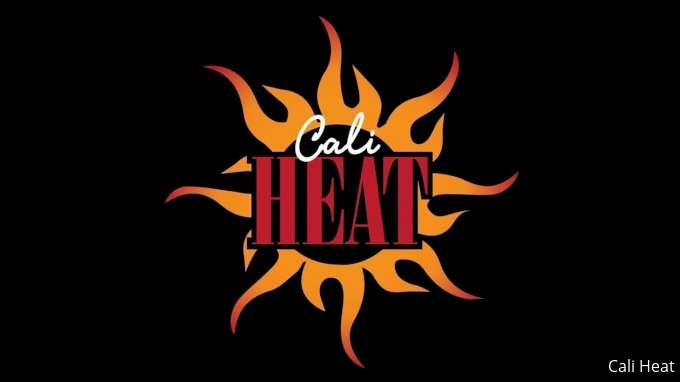 In September of 2013, Carrie opened up a gym with plans to only teach recreational tumbling classes. Not long after being open, all star cheer was added to her program and that was the beginning of Cali Heat!
"I went from only having eight kids at my first registration to now averaging 90 athletes in our program," said Page. "Moving to a town where I did not know anyone and starting a business has been one of my biggest learning experiences of my life."
"I absolutely love what I do and the relationships that I have made doing it!" -Carrie Page
The Cali Heat coaching staff might be small, but each coach adds a special contribution to the program. "They all love all star cheer and making positive impacts in the lives of our athletes," said Page. "Their passion, positive energy and drive for making a difference in the lives of our athletes is what makes our program what it is today!"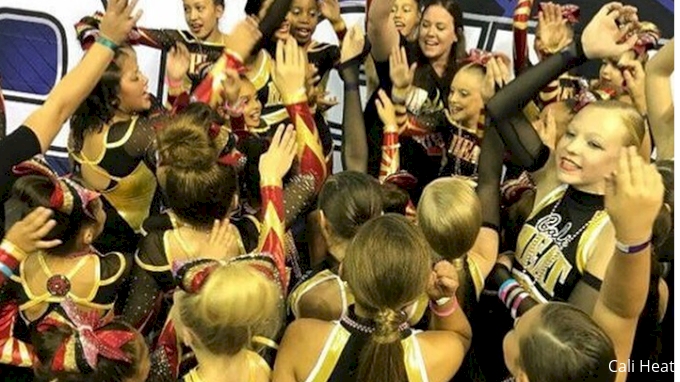 Cali Heat is located in Hanford, California and has been open for five years. The gym currently has five all star teams taking on Levels 1 and 2!
All Star Teams:
- Embers: Tiny Novice
- Blaze: Youth Prep Level 1
- Ignite: Mini Elite Level 1
- Fire: Youth Elite Level 1
- Supernovas: Junior Elite Level 2
Cali Heat will take the mat for the first time this season on October 21st at JAMZ RELOAD in Stockton, California!
This is the first season that Cali Heat is going after bids in hopes of attending the US Finals in Las Vegas, Nevada. "Our goal for this upcoming season is to practice smart, safe and consistently," said Page. "We are a small gym with realistic goals, and we plan to pace ourselves to be successful each and every season."
As for long-term goals, Carrie wishes for the gym to continue to grow in a positive direction. She would like to level up each season while staying competitive, and always impact the lives of their athletes to help them to be better athletes and individuals.
"We will strive to continue to teach life lessons that can be carried with our athletes well into their futures using all star cheer in a structured and positive atmosphere." -Carrie Page
Carrie and her staff are super excited to get the new season started! They are currently finalizing routines, putting on the finishing touches and are beginning to put routines to music. "We are excited for all of our first time members," said Page, "And we can't wait to share this awesome competitive cheerleading experience with them and their families."
Carrie Page took a chance after moving across the country and now she is getting to share her love of cheerleading with younger athletes. "Coaching is something I am very passionate about!" Said Page. "Loving what I do gives me the drive to continue to want to grow and learn more and more about the cheer industry."
"I'd like to thank my athletes and their families for fueling the fire in me to do what I do and allowing me to do what I love!" -Carrie Page