Create a free account to unlock this article!
Get Started
Already a subscriber? Log In
The newest addition to the Dance Worlds is one that will surely "kick" things up a notch. For the first time, the High Kick division will be offered at The Dance Worlds, bringing a style and performance level all its own.
When you hear the term "kick", you might think of the world-famous Rockettes, who literally kick their way into the hearts of millions every year in New York City-based events. That image is a good start but does not even begin to delve into the fascinating new division where anything can happen.
Get ready, Worlds 2019… the High Kickers are coming, and they are fierce!
The Open Kick division will bring a completely new look to The Dance Worlds, highlighted by a few powerhouse programs that have proven themselves many times before.
Although it will be one of the smaller divisions this season, it will be one of the most fascinating to observe! High Kick routines are all about visuals, which makes the choreography such a game changer. At this level, the technique of the kicks will be relatively similar, so it will come down to which teams can utilize the most unique transitions, formations, staging, and kick variations.
One of the frontrunners to watch will be the Energizers Dance Team, out of Hartford, Wisconsin. We spoke with Co-Owner and Coach, Sheila Trost, about what makes this division such an exciting addition to The Dance Worlds.
She told us that the division is filled with rich tradition and history for her program. "We have been competing in the Kick category since our team was founded because we value the strong stamina, discipline, and athleticism that it requires," Trost remarked. Because of that, she noted that the Energizers were extremely pleased when the division was finally being offered at this year's event. Look for their routine to be packed full of creativity, athleticism, and impeccable technique.
One of the best qualities of the Kick division is that it requires the entire team to constantly be intertwined with cohesive choreography for it to work. The focus is less on individual moments, and more on group visuals that require a great deal of discipline to pull off.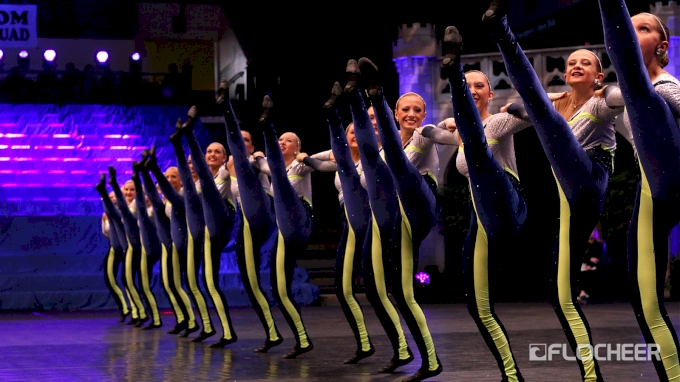 Trost told us "Kick is one of the hardest genres to execute because of the incredible stamina, timing, flexibility, and strength it takes to execute." Her team has engaged in increased levels of training in activities like Pilates, Yoga, and Ballet to prepare. The dance style requires a whole new level of excellence in multiple dance/athletics areas in order to achieve greatness.
Other key players that will be fighting for the gold will be Power of Dance, Dance United, and Foursis Dance Academy.
Deanna Schicker, Co-Owner, and Co-Coach at Foursis told us about her team's anticipation of the division's debut. "We are so excited to compete in the Kick division for the first time ever," she remarked. "Our costumes add to the visual depth of our kick routine…giving you flashes of color every time they [kick]!" Their USA themed routine will be one to keep an eye on in Orlando.
Any time there's a new division at Worlds, it opens up a whole new opportunity to showcase the strengths of different athletes and programs from around the world. With the High Kick division getting new levels of exposure this season, it is destined to become a crowd favorite for many years to come. The unique style is both visually stunning and extremely satisfying to the eye when it's done well.
There's nothing quite like it, and the teams will try to set the bar high in 2019. We can't wait to see them all "kick" it off in style!
Semi-Finals for the Open Kick division will take place on Saturday, April 28th starting at 3:15 PM ET in the Fiesta Ballroom. Tune in to FloCheer to watch the division compete at The Dance Worlds for the very first time!
---
How To Watch
Join FloCheer now to watch The Cheerleading Worlds & Dance Worlds anywhere, on any device!
TV: Download the FloSports TV app on Roku and AppleTV 4
Mobile: Download the FloSports iOS app
Web: Bookmark FloCheer.com in your favorite browser
Written By: Thomas Parrott