Senior Small Coed Level 5 is one of the final divisions to perform at The Cheerleading Worlds 2019 and fans are anxiously awaiting to see how divisions unfold.
The reigning World Champions, The California All Stars SMOED looked strong on Day 1 with a zero deduction routine.
While SMOED's Semi-Finals routine was impressive, their coaches think they still have more to give out on the mat.
[WATCH] The California All Stars SMOED Semi-Finals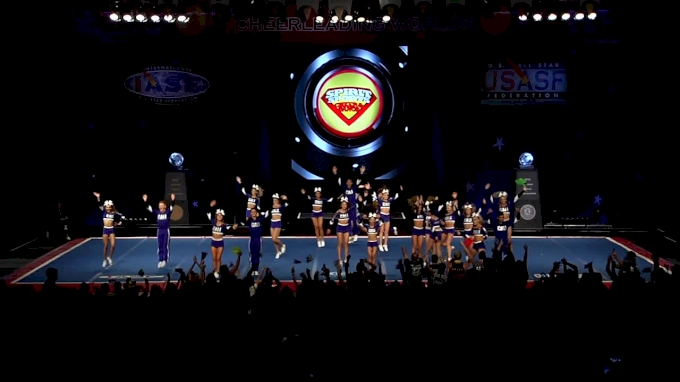 Unlock this video, live events, and more with a subscription!
Get Started
Already a subscriber? Log In
We caught up with one of The California All Stars head coaches, Eddie Rios, to hear his thoughts about Day 1 and to find out what they plan to do to improve their placement in Finals.
"Overall it was a great Day 1," explained Rios. "We've been working really hard, upgrading our routine and performing at small local competitions but this was our first real huge crowd and it was a little nerve-wracking for the kids. We started off really really strong in our pre-warm up and then we could see the nerves start to kick in but overall they fought, they fought throughout the entire routine."
And when at Worlds, a team's fight is everything. Something always goes wrong and a way a team handles the pressure can be the difference between second place and a championship ring.
"They could have easily touched down or brought a stunt down but they fought to stay up in the stunts and keep their hands off the ground. I always tell my kids when you learn to fight you learn to win. And today I saw fighters."
SMOED hopes to take on Finals more focused than ever and put on a performance of a lifetime to hold on to their championship title.
"We hold ourselves to a higher standard," Rios added. "Our biggest competitor is us and we're our toughest critics. We put out great routines and we hit after hit in the gym so to get out in front of a crowd and fall short of that it can get a little frustrating. But it's really important to celebrate the things that went right and acknowledge the things that went wrong so we can learn from it."
Going into Finals SMOED really wants to make sure they feed off the crowd but don't let the crowd dictate their performance.
"We are going to tighten up the technique, we are going to work on visualization and really slowing things down in our head so we don't feed too much into the excitement of the crowd and we really focus on the task at hand which is one skill at a time, one count at a time, one eight-count at a time and really enjoy our last performance together," Rios added.
Watch The California All Stars SMOED perform LIVE in Senior Small Coed 5 Finals in the Arena at 5:25 PM ET!
---
How To Watch
Join FloCheer now to watch The Cheerleading Worlds & Dance Worlds anywhere, on any device!
TV: Download the FloSports TV app on Roku and AppleTV 4
Mobile: Download the FloSports iOS app
Web: Bookmark FloCheer.com in your favorite browser