Team evaluations are happening all over the country right now as all star gyms are finalizing their rosters for the 2019-2020 season.
Deep in the heart of Texas, Woodlands Elite is making some big moves as they plan out their World's teams for the upcoming year. Similar to last year, the Oak Ridge location will have four Worlds Level teams but there are some changes to the teams and the divisions that fans will need to be on the lookout for as they get ready for the season.
Woodlands Elite has introduced their newest Worlds team, Gunsmoke. Generals and Recon have both changed divisions. Black Ops is the only Woodlands Elite team who will not be making any changes for the 2019-2020 season.
"EXCITED TO FINALIZE OUR 4 WORLDS TEAMS THIS WEEK! WE can't wait to get started with WORLD DOMINATION! #WEtakeover2020 #WEstandtogether pic.twitter.com/H4lvA1hUIp

— Woodlands Elite (@WoodlandsCheer) May 18, 2019
With all the changes happening down in Texas, we wanted to reach out to our friends at Woodlands Elite to answer all the questions you might have! Keep reading as we spill all the details about their Worlds teams.
NEW TEAM
Gunsmoke – Senior Open Small Coed Level 6
Gunsmoke is the newest addition to the Woodlands Elite family and they will be taking on the Senior Open Small Coed Level 6 division.
"We really wanted to move into the Open division to give some of our kids who were not quite old enough for a Senior Worlds team the opportunity to compete at Worlds," explained Woodlands Elite Coach & Managing Partner, Lynne Shearer.
"With the age requirement being 14 by December of Worlds year, that actually allows some kids who miss the cutoff for Senior Worlds teams to still be able to compete. We have a lot of Colonels who have been on that team for many years and with the age going up to 13 they have missed moving up for the last two years. With this division, we can also have a home for some of our kids who are aging out and still want to cheer."
"We are very excited to expand into this division and allow more opportunities for a wider range of ages."
Senior Open Coed 6 is soooo talented 🤩 New division we're on a mission #TheyDontWantNoSmoke 🔫💨 pic.twitter.com/10WOohR68C

— D'Andre Dee Williams (@DandreWilliams_) May 23, 2019
With the addition of Gunsmoke, Woodlands Elite has now grown to have three Worlds Level coed teams.
"We are very excited about the growth of the coed program for Woodlands Elite. It took us 10 years just to get our coed program started with Black Ops. So, to have 3 coed Worlds teams and multiple Level 4 and 5 teams with male athletes training for future Worlds teams is super exciting."
NEW DIVISION
Generals – Senior Medium Level 6
Woodlands Elite Generals have previously competed in the Small, Medium and Large all girl divisions. While they are mostly known for their past several years in the Senior Small division, the Generals are changing divisions once again to take on Senior Medium Level 6.
"This year we just had more than 22 deserving athletes for that team and it didn't make sense to not give them that opportunity," explained Shearer. "We are also excited to compete against some different teams since the main powerhouses in Small have not changed much over the last 6 years."
While the division has changed for the Generals, their goals have not. The 5 Star Gens are looking to come out as a top contender in Senior Medium and they have their sights set on an NCA and World Championship title.
"There are 30 athletes on the team, some veteran Generals but also a lot of younger talent that we will be able to groom up and not have to graduate out a majority of the team," explained Shearer. "We are excited to be able to do more from a creative standpoint with stunts being in this division. This team looks incredible already and the stunting that they are already executing is very exciting!"
Groovy first practice 🤩 pic.twitter.com/GZbGxmGXQi

— Generals (@WEGenerals) May 30, 2019
NEW DIVISION
Recon – Senior XSmall Coed Level 6
Woodlands Elite Recon is making the move from Senior Small Coed to Senior XSmall Coed this season.
"Recon this year will have a lot of new faces that have been working hard to become part of the "worlds family" at WE," shared Shearer. "There are kids from our Summit winning Restricted 5 team, S.W.A.T. as well as Colonels and other new faces to the program. This team will be young but eager to prove themselves on the Worlds mat."
NEW YEAR, SAME DREAM
Black Ops – Senior Medium Coed Level 6
Black Ops is known for being a hard-hitting team who always performs to the crowd and this year will be no different.
"We have some new guys from Recon on the team with beautiful tumbling and stunting as well as some new talent from outside the program," explained Shearer. "We have Colonels who have moved up to their "dream team" and the whole dynamic is super exciting."
Black Ops goals for the 2019-2020 season are to claim back-to-back championship titles at NCA All-Star Nationals and their ultimate goal is to take home their first World Championship title.
Since their start in 2013, Blops have won bronze, silver medallions and all that's left on their bucket list is to claim gold.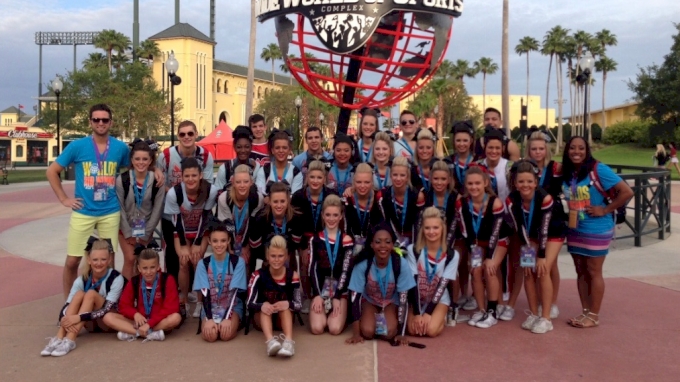 Woodlands Elite Black Ops making their debut at The Cheerleading Worlds 2018, Blops took home 8th place.
Be sure to follow Woodlands Elite Cheer Company on social media @WoodlandsCheer to keep up with all the latest news on these teams!