Jersie Torres is a 10-year-old All Star cheerleader at Pyramid Athletics in Fresno, California. She currently cheers as a flyer on her gym's Junior Level 5 and Senior Level 4 team.
Jersie got her start in All Star cheer at 6 years old on her gym's Tiny team. She fell in love with the hard work and dedication cheerleading demanded and she soon progressed her skills to advance all the way up to Level 5.
"I love everything about All Star cheer," explained Jersie. "I have progressed in my tumbling and could not have learned so much without all of the support from coaches who have taught me so much throughout the years."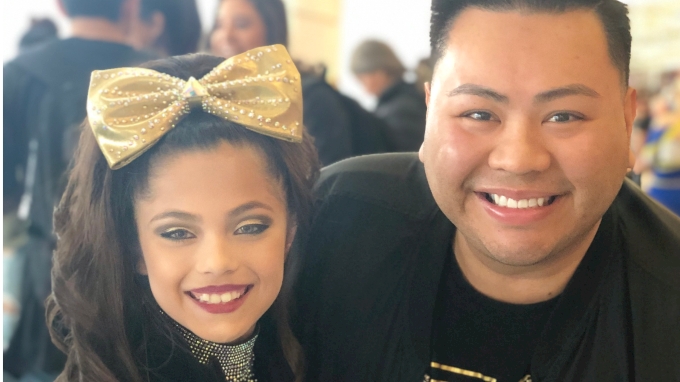 USASF launched a contest this past competition season looking for athletes and programs to rise to the occasion and showcase why they love All Star cheer and dance.
Jersie was one of ten winners selected by the USASF for being an outstanding role model on social media and truly Amplifying what All Star cheer is all about.
"I was honored to be chosen for #ThIsIsAllStar contest. The photo that was chosen means a lot to me because it shows the support of my dad. He is my number 1 fan and is a true cheer dad. I love competing on stage and seeing my parents in the crowd so proud of our entire team."
FloCheer: What does being an All Star cheerleader mean to you?
Jersie: All Star cheerleading means teamwork, determination, and strength. I love my teams and working together at practice to be the very best we can be on the mat and cheering for each other when someone is down. It takes determination and strength to hit our routine perfect and we have to do it all together. No one can do it all by themselves.
What are your future goals in cheerleading?
I plan on cheering in college and hopefully be able to achieve a scholarship to a great school. I want to be a lawyer when I am older and everything, I have learned through my All Star cheer teams has prepared me to work hard until I achieve my goals.
What do you want others to know about All Star?
I think people's perception of cheerleading is that it's easy and not hard work....for those people I would like to tell them that All Star cheer is definitely not easy. It takes hard work and many hours in the gym to be great. My coach pushes us to be awesome and to be our very best and I appreciate that because when you work so hard at practice it becomes easy at competition.
To learn more about USASF's #ThisIsAllStar campaign, visit usasf.net.