Competitive cheerleading is serious business in the south, with a large portion of the world's premier teams perennially hailing from that area of the United States.
Oklahoma is no stranger to cheerleading success with All Star, college, and school teams boasting a long strand of success over the past few decades. Right in the thick of it all in Edmond and Norman, Oklahoma is Cheers & More, a powerhouse that refuses to be overlooked. The program is celebrating their 29th season and are looking to build on their past successes and learned lessons to have another historic year.
In 2019, in addition to a strong cohort of lower-level teams, Cheers & More sent three strong contenders to The Cheerleading Worlds. Two of the three teams made Finals, and all three placed in the top five in Semi-Finals. Revolve, their International Open Coed 6 team just barely missed Finals due to the three-per-country rule.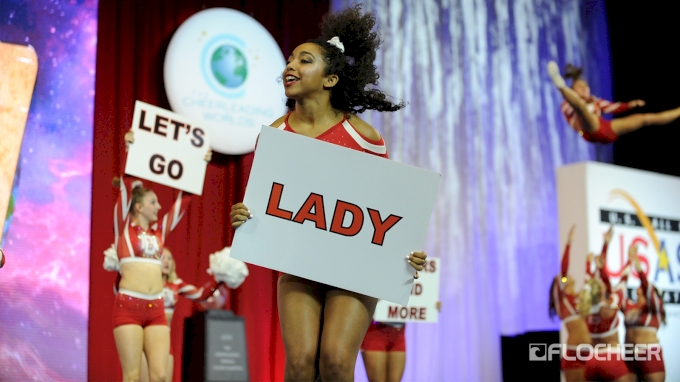 Cheers & More Lady Rouge competing in International Open Global Level 5 at The Cheerleading Worlds 2019.
It was an impressive showing for a gym that is on the smaller side compared to some of the mega gyms that they were neck and neck with. They were proving, with their performances, that they were a force seemingly poised to finally climb on to the podium. Lady Rouge finished a remarkable fourth place in the International Global division. It was now time for the programs' long time Worlds team, Lady Respect, to step into their moment in the Senior Open Division.
Lady Respect has been around for a long time and has been a Worlds threat many times over the last decade. They have placed in the top ten numerous times, often in the most competitive divisions at Worlds. Some highlights have been a sixth-place finish in Senior Small in 2014, a seventh-place finish in Senior Medium in 2016, and a ninth-place finish in 2018 in Senior Small.
They have stayed true to their clean, mature style throughout the years and that has brought them many National Championships, paid Worlds bids, and even more memories. The goal has always been to find their way on to the Worlds podium, and they haven't been shy about making that known. The work that has gone into the rich tradition of this team all culminate in that singular dream. It seemed to finally be happening in 2019 until Lady Respect fell short of the podium with a fourth-place finish.
When things don't go your way, there are two options: two give in, or to forge ahead and keep fighting for what you want. Lady Respect coaches Tammy Skinner and Nathan Dantzler have chosen the latter, choosing to continue to stay positive and to push to continue to earn the respect of the cheerleading community. It's never all about the glory and success of Worlds globes, even if that is a prize that they've set their eyes on. Being a part of Lady Respect means much more than that.
"The ladies that make up this team are very well-rounded young women," Coach Dantzler told us. "To be a Respect athlete, you have to be just that… respectful of all things." At Cheers & More, they strive to make athletes impeccable humans, trusting that athletic success will follow the same lessons.
The 2019-2020 season will be a chance for the ladies of Respect to show the world that they won't stop at anything until they have earned their team name's full potential around the globe.
"Being so close to a globe last year has made the drive to get back there even more intense this year. We will continue to work hard and focus on the details to have another unforgettable season." - Coach Dantzler
For Cheers and More, it's not about the hardware. It's about the years of sacrifice and work culminating in the respect from All Star peers on every level. After 29 years in the game, it's safe to say that Cheers & More does, indeed, have that respect. However, Lady Respect is ready to take that to the next level at The Cheerleading Worlds 2020. Be on the lookout for this clean, power-packed group of athletes, as they tumble towards their first globe.
Just to be sure that we were on notice, Coach Dantzler left with one thought:
"Be ready to be entertained!"
---
Written By: Thomas Parrott