San Antonio Spirit was established in June of 2015 and is now entering their 5th season. The inspiration to start San Antonio Spirit came from the passion to provide a safe space for all athletes.
"I wanted to make sure when athletes stepped into this gym they felt welcomed and safe to be anybody they want to be." – Owner, Nicole Nava.
While the gym is still young and growing, San Antonio Spirit has already made big waves within the All Star community. One of their most prized accomplishments is being the first All Star gym from San Antonio to have teams at both The Cheerleading and Dance Worlds. The program was also recognized in 2018 at the USASF National Convention for their outstanding work towards elevating All Star!
This season, San Antonio Spirit has seven All Star Elite teams, one All Star Novice team, one All Star dance team, and one show team.
"Our summer teams have been exceptional, and our routines are some of the best we have seen!" Shared Nicole. "To be quite honest our Youth program is looking great and we can't wait to see them #aimhigherSA as the season progresses."
Nicole attributes a lot of San Antonio Spirit's success and growth to the atmosphere they've created within their gym.
"San Antonio Spirit, as cliché as it sounds, is no longer just a place where we practice cheer, dance and tumbling," she explained. "It has become a gathering hub for humans of all walk of life. I love that I have built a culture that isn't about winning or how many people are members of our gym. We are constantly pushing the envelope to motivate everyone around us to keep pushing for their dreams and goals."
"When I hear parents bragging and speaking highly of our community, that is a success."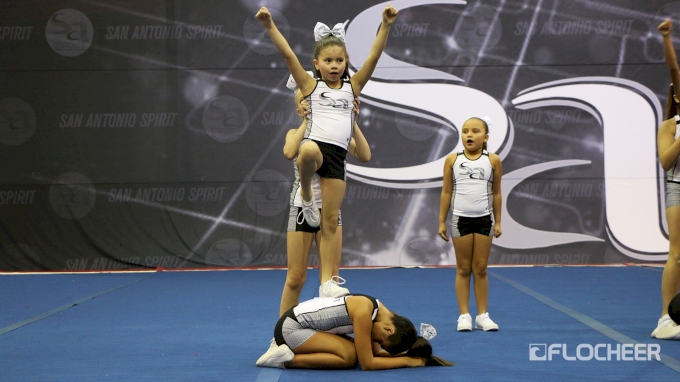 San Antonio is now entering their 5th season and they've got big things planned for the year ahead. The program is planning to release some campaigns within their gym this season to make sure all athletes are empowered and included regardless of shape, size or background.
Be on the lookout for this talented program as they take on a competition near you!
Take A Look Back At These Highlights From San Antonio Spirit's Fall Showcase