Create a free account to unlock this article!
Get Started
Already a subscriber? Log In
It's been about six months since Cheer Extreme Code Black made history by taking title after title and ultimately being named the first-ever International Open Coed Non Tumbling Level 5 World Champions.
The team is now back at home in Raleigh, North Carolina, where they are grinding it out in their brand-new gym to prepare for the upcoming season. After a year of success, this team is on everyone's radar, so we caught up with coach Kelly Helton to hear what the World Champs have been up to in the offseason.
Introducing your INTERNATIONAL OPEN COED NON TUMBLING 2019 WORLD CHAMPIONS: CHEER EXTREME- RALEIGH CODE BLACK #CheerWorlds2019 ? pic.twitter.com/fh17RhUAZF

— FloCheer (@FloCheer) April 29, 2019
"This win was amazing for us as it was the first year this division was offered and there was no 'rubric' to follow in terms of keeping up with the Jones' philosophy," Helton said.
"We set the trend of stunting straight through with no break. We started with jumps and ended with the dance to prove the point that the 'non tumble' division should be renamed 'all stunting.'"
While Code Black is focused on the new season, they made a point to take time out of their practice schedule to celebrate their incredible year with a special ring ceremony.
Cheer Extreme Raleigh was one of two gyms this season to have multiple World Champion teams within the same location, but the gym made it their mission to give each team their own unique ring ceremony, each at a different venue.
"It is my goal for every ring ceremony to have it stand out from the ones prior and have unique elements that are special," Helton said.
For Code Black's ring ceremony, each athlete received a ring box that looked like a red-stemmed rose. At the end of the ceremony, the team listened to their music one last time and was instructed to open their rose at the moment in the music when they realized their individual routine had hit.
"It's a special moment for everyone."
So what have the World Champs been up to since making history in Orlando? Coach Helton gave us an inside scoop.
This summer, Code Black focused on technique and timing at practice and the athlete attendance numbers proved to the coaching staff that this team is ready to work for a repeat.
"The competition was steep," Helton said. "We had quite an overage. We had to narrow down 15 flyers to eight."
A large amount of the World Champion athletes returned to the team for another year, so you can expect some strong veteran leadership as this team grows throughout the season.
"I loved coaching these boys last season so I was thrilled that so many came back. Most of the flyers are also the same...hand-trained by my staff and me for years which always makes a big difference... They can be trusted."
While the team is made up of a bunch of returning athletes, Code Black actually has a handful of new female bases who will be joining the team. Many of the bases from last season have graduated or are now on Cheer Extreme Cougar Coed and SMOEX.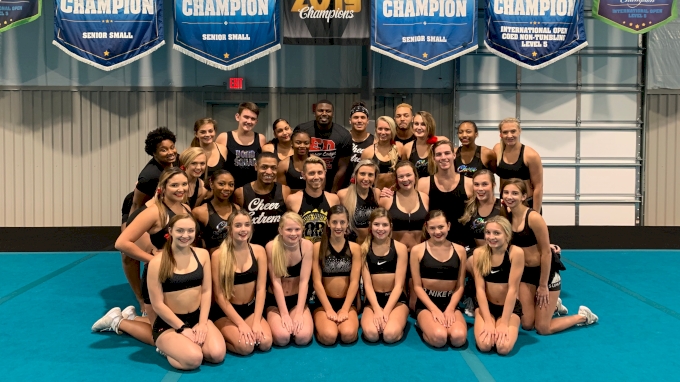 Cheer Extreme Raleigh Code Black 2019-20
As far as skills go, Code Black is stepping up their game to cram more stunts into their two-minute routine.
"We have upped our stunt from 6 groups to 7 in all sections," Helton said. "Which is fabulous as I love having a center! Our baskets are something we really take pride in as well as expecting all of our kids to perform to the 'CEA Raleigh standard.' After being named the first Triple Crown winner for our program, the stakes are high this year. We know that the division will be more competitive and that there are more teams in it so we have increased our skill in all sections from last season to this season. Our pyramid is a huge highlight."
"We can't wait for everyone to see what we've been working on."
Upcoming Performances For Cheer Extreme Code Black
Cheer Extreme Showcase
Date: October 27, 2019
Location: Winston-Salem, North Carolina
All Star Challenge Battle Under the Big Top
Date: December 14-15, 2019
Location: Atlanta, Georgia