Create a free account to unlock this article!
Get Started
Already a subscriber? Log In
Since it's inception in March 2016, Steele Athletics has been a powerhouse gym on the rise in Denver, Colorado. From their Medium Coed Worlds team, all the way down to their Tiny Prep athletes, this program is taking cheerleading to new heights in the Mile High city!
Here are 10 things you didn't know about Steele Athletics:
1. Steele Athletics is in its 4th season.
When the program first began in 2016, they had just 4 teams. This year, they're heading into the season with 29 teams and 400 athletes!
2. The program has expanded to 3 locations across Colorado!
In addition to the first location in Denver, they have also expanded to Colorado Springs & Northern Colorado.
3. Steele Athletics Titanium is the program's Medium Coed Worlds team.
The team is heading into the season with 13 standing fulls & 17 running doubles! Heres a sneak peek of a few of them:
Fulling around with @AthleticsSteele today! 🌀 #Steele2020 pic.twitter.com/ZVlV56mld8

— FloCheer (@FloCheer) October 12, 2019
4. The team is shaking up the Medium Coed division with an "Election 2020" theme this year!
Why? Brent Steele explained that they are still an undiscovered team in the division, so this year they decided to campaign to fans to "Vote for Titanium!"
5. For the first time ever, Steele has not one, but TWO Worlds teams!
The second team, Slate, will be competing in the International Open Small Coed 6 division.
6. Steele Athletics is named after the owner: Brent Steele!
7. All the program's team names are after metals.
Sassy Brass, Platinum, Nitro, and Lady Chrome just to name a few!
8. You'll get to see Titanium compete at JAMfest Cheer Super Nationals.
This is the first time the gym is taking a team to the competition.
9. Every year the program hosts a Penny Wars competition and chooses a different gym in need to give back to.
They have raised money for Woodlands Elite, Midwest Cheer, and this year they are giving back to an athlete from Spirit Xtreme who was diagnosed with Leukemia.
10. Lastly, the gym motto is:
"Good people first, great cheerleading second."
[WATCH] Steele Athletics Titanium - Semi-Finals 2019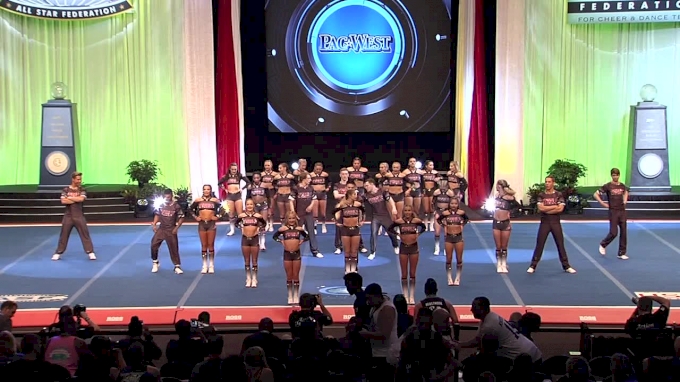 Unlock this video, live events, and more with a subscription!
Get Started
Already a subscriber? Log In