Cheer Extreme Raleigh SSX hit a solid routine in Finals after going into Day 2 of The Cheerleading Worlds 2020 in fourth place.
In Finals, the Sharks were one of only two teams to hit a zero-deduction routine in the Arena. With that impressive hit-zero, SSX was named back-to-back Senior Small Level 5 World Champions!
"This team worked so hard and truly believed it would work out, one way or another," said coach Kelly Helton. "This year our goal is to distance ourselves in as many categories as possible when going against our competitors. Their theme song was, 'If it's meant to be, it will be,' and that's exactly what happened."
"This team was so incredibly close...they believed in each other to the highest extent. They believed in the staff to give them the highest score possible at every event. We worked so well together, especially towards the end. Nothing is more important than the coach-athlete relationship."
While the 2019-20 season is in the history books, the memories made for these athletes will live on forever. The Sharks wrapped up their season with a ring ceremony this summer to celebrate their success.
Cheer Extreme Raleigh was one of two gyms this season to have multiple World Champion teams within the same location, but the gym made it their mission to give each team their own unique ring ceremony, each at a different venue.
"It is my goal for every ring ceremony to have it stand out from the ones prior and have unique elements that are special," Helton said.
At the ring ceremony, SSX had three boxes to unwrap.
"Each layer stood for a different portion of our season in which we reached a turning point and the fact that we have now won three times!" Helton added.
The World Champion rings for SSX featured the team's hidden logo, the heart with wings.
"We spent a lot of time talking about our hidden logo and its meaning," Helton said. "It means the passion for SSX will follow you everywhere. Love is transcendent and when you love something as deeply as SSX, you will make sure that your heart stays that full in all endeavors you encounter past it."
The Senior Small team is now back at home in their brand-new facility in Raleigh, North Carolina, where they are perfecting their routine for the new year.
This season, SSX started with 32 girls on their roster but they narrowed the team down to 22 by the end of summer. With only four seniors on the team, SSX is made up of a lot of young talent that Helton believes is some of the best to come through their program.
"By far, the most talented in every category of any SSX team we've had in the 14 years our gym has been open. It's difficult to keep the expectations we have for performance ability and a high skill level — but these girls have it all figured out."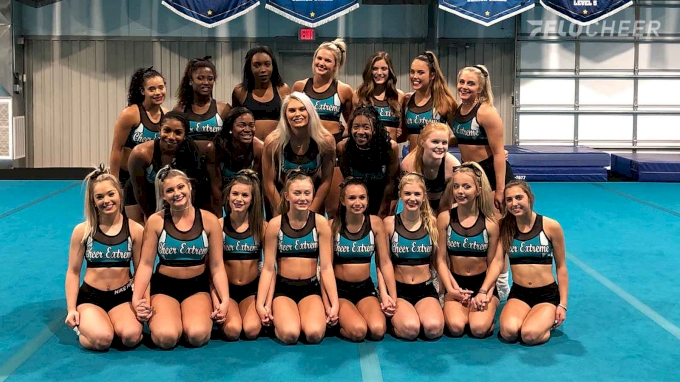 So, what can we expect from the reigning World Champs this season? Big theme? New skills? Coach Kelly Helton gave us the scoop.
Helton: "Our music theme is shark based and sassy as always...lots of girl power with a new element that Patrick and I decided together, which is centered around the legacy and sisterhood of 14 straight amazing years in the small senior division. Our pyramid and stunt sequence are extremely elite. Also, every single girl on the team has a full or better on the floor. First time that's ever happened for us!"
The athletes of Cheer Extreme SSX set a goal to remain undefeated this season.
With the combination of their routine, the 22 talented athletes and their new music, the team is all set up for a season of success.
Upcoming Performances For Cheer Extreme SSX
Cheer Extreme Showcase
Date: October 27, 2019
Location: Winston-Salem, North Carolina
All Star Challenge Battle Under the Big Top
Date: December 14-15, 2019
Location: Atlanta, Georgia