It's time for another check-in with our reigning World Champions! This time we are headed south to Miami to check on the recent graduates, Top Gun OO!
Top Gun's Double O, formally known as OO5, is taking on the 2019-20 season with 12 returners to the team, five returners to the program, and seven brand-new athletes.
So far this season, the reigning International Open Large Coed 5 Co-World Champions are looking more advanced at this point in the year than they have been in past seasons.
The team is working hard each practice, overcoming any and all obstacles they have been challenged with up to this point. This team, like many others, has had to make some unwanted changes. However, those hardships are what's making the team stronger than ever.
"This season, you can expect to see a team so full of heart who is truly bonded and ready to conquer the season." - Coach Jose Gonzalez
Anybody who follows the athletes on Double O knows that bonding is something this team doesn't take lightly. With long, rigorous practices the athletes feel it's important to be friends and have fun together to help make it through those harder practices.
"The vibe of this team is already so good this year and I feel like it keeps getting better every practice. We all get along really well and have a blast together," said two-time World Champion and Double O veteran, Gabi Fuller.
The routine is definitely action-packed, but with a completely different feel to it. It's a fun routine that keeps you engaged from beginning to end.
"The team's goal for the season is to have fun, make memories, and put on a show for the world. It's never been about winning, we just want to be the best Double O we can be and hopefully inspire our fans along the way." – Gabi Fuller
The team is keeping their new choreography a secret for now, but we know one thing you should get excited for: Double O will be having another themed routine!
We won't know what that theme is until we see the Miami team at JAMfest Cheer Super Nationals in January, but we do know that the team is planning to give this theme a fun little twist.
[WATCH] Top Gun OO5's Winning 2019 Routine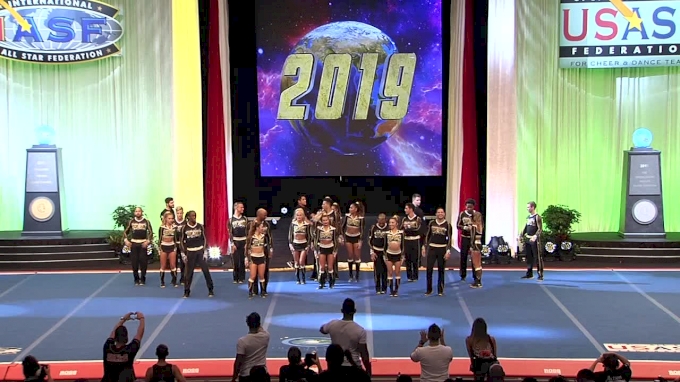 Unlock this video, live events, and more with a subscription!
Get Started
Already a subscriber? Log In
---
Written by Jordan Hearn