It's showcase season, and this past weekend Top Gun All-Stars took the mat for the first time to debut their new 2019-20 routines in front of a crowd of screaming fans, family, and alumni.
While all Top Gun teams never fail to put on a show with their classic TG style, we were most excited to see what the Worlds teams had been working on in the offseason.
One Top Gun team that started their season off on the right note was the 2019 Senior Medium Silver Medalists, Top Gun Lady Jags.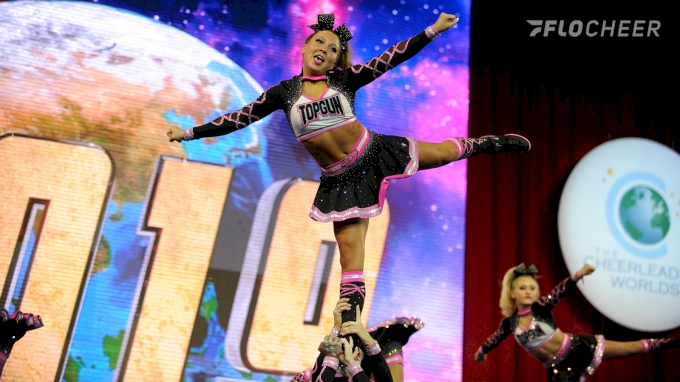 Lady Jags are always one of the fiercest competitors in the packed division. The Miami team is known for their fast-paced routines, in-your-face choreography, and powerful pyramid sections that keep their fans and coaches on their feet cheering for the full two and half minutes of performance.
We talked with one of the coaches of Lady Jags, Jordan Hearn, to find out what she wants the cheer world to know about their new routine.
1. LJ Has A New Style
"It is a different style of a routine than we've done in the past," Hearn said. "We're focusing the routine on the talent of the athletes. This year we've arranged the routine to fit in a squad one to full section and a squad double section which is different than what we've done in the past. We have such a hard-working team this year and we wanted to showcase their talent throughout the routine."
2. More Difficulty Than Ever Before
Hearn told us that the Lady Jags are really pushing their boundaries on skill difficulty this year. The team is putting a lot of focus on increasing their tumbling and stunt difficulty for 2020. LJ opens their new routine with more than 10 standing fulls and their elite section features inverts, high to high tick-tocks and low to high double arounds.
3. Undeniable Swag
"Above all .. it still has the LJ swag that can NEVER be duplicated."
You can see for yourself, watch Top Gun Lady Jags take the mat at their fall showcase.
Lady Jags put on a show at their showcase, and we just can't wait to see how the rest of their season unfolds!