Create a free account to unlock this article!
Get Started
Already a subscriber? Log In
Quest Athletics out of Pine Bush, New York, made history last season as one of FloCheer's first-ever Small Gym September winners.
"Small Gym September was not only an exciting experience for our program, but it was an opportunity for our athletes to feel noticed by the rest of the all star cheer community." - Quest Athletics Program Director, David Kogut
"Oftentimes the larger D1 programs receive a lot of attention throughout the season and rightfully so because their routines are outstanding! As a coach, it was very rewarding to see our athlete's work ethic and passion highlighted in a way that never would have happened without Small Gym September shining a spotlight on all the work we do in our programs," explained Kogut.
Their 2019-2020 season went on to be their strongest year yet as a program!
Generals won their program's first-ever NCA title in the Small Junior 2 D2 division, they earned a Full Paid Bid to The D2 Summit, and received the highest score in their program's history with a final score of 99 from Athletic Championships.
Their Senior Coed Level 4 team, Bomb Squad, went undefeated earning three national championship titles and earned a Full Paid Bid to the D2 Summit.
Sergeants earned two national championship titles and ranked in the top five their first time at NCA All-Star Nationals in the Senior Coed Level 3 division!
Black Ops earned a Full Paid Bid to The Cheerleading Worlds 2020 in the Senior XSmall Coed division and earned 10th place in the USASF Worlds Divisions Points Championships.
Unfortunately, Majors, Cadets, and Tiny Troopers season was cut short due to the pandemic.
This season we Quest Athletics has three full-year Elite teams, two Prep teams, a Mini Novice team, and a half-year team scheduled to start training mid-September.
The All Star program at Quest Athletics is growing and this season they have two new teams: Bombshells in Senior 4.2 and Snipers Junior 2.2!
"Summer practices have been strong!" Shared Kogut. "Things are definitely different, but our athletes and families are very supportive of the temporary system we have set up."
"Our main priority at Quest is to keep our athletes feeling as normal as possible. We understand their worlds have been turned upside down due to the pandemic. Our goal is to provide a sense of normalcy during these crazy times."
Kogut shared that their World's team this season is very special.
"This is basically a new team with only two returning veterans," Kogut explained. "The athletes we have are so eager to learn and the camaraderie is already stronger than it has ever been! We started this season with only six fulls and we now have ten. You can really feel the positive vibes each practice."
This season, the athletes at Quest have some of the strongest work ethic their program has ever seen.
"Our athletes are so determined to achieve every skill they possibly can. You can feel the energy when they cheer each other on and encourage each other. This season is all about heart and expressing our passion for cheer."
We are so excited we had the opportunity to shine a light on Quest Athletics last season and we can't wait to see what their program does in 2021!
Beyond The Gym: Quest Athletics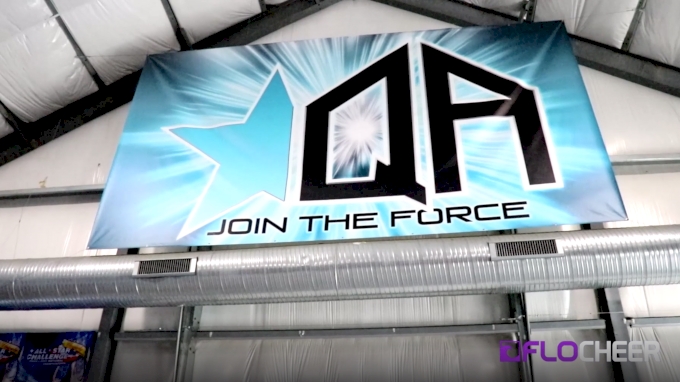 Create a free account to unlock this video!
Get Started
Already a subscriber? Log In
Do you know a small gym that deserves to be in the spotlight?
Share their story and nominate them to be featured on FloCheer for Small Gym September!
Nominations for Small Gym September will start on Tuesday, September 1st, and will conclude on Thursday, September 10th.
The top 10 gyms will move on to a final fan vote. Voting will run from Monday, September 13th to Saturday, September 26th. All Star cheer and dance fans will be able to vote once a day, every day during the voting period so be sure to spread the word!
The top 4 programs will gain exclusive coverage from FloCheer and will be featured on our site throughout the 2020-2021 season!