Create a free account to unlock this article!
Get Started
Already a subscriber? Log In
Alliance Cheer Elite out of Allen, Texas, made history last season as one of FloCheer's first-ever Small Gym September winners.
Alliance's exciting season worth of memories didn't stop in September, the program went on to have an amazing 2019-2020 season!
All 6 of the gym's Elite All Star teams earned bids to The D2 Summit and three of those teams won Full Paid Bids!
Alliance Cheer Elite's Junior Level 3 team, RENEGADES, won their 2nd NCA All-Star title in three years and were again the highest scoring Junior Level 3 D2 team of the entire competition!
The Texas program took eight teams to the 2020 NCA All-Star National Championship and brought home four NCA Championship titles, two 2nd place finishes, one 3rd place finish, and a 4th place finish!
Alliance Cheer Elite also brought three All Star Novice teams to Dallas and they earned a Superior and two Excellent ratings.
The mandated closures caused by the pandemic hit Alliance Cheer Elite pretty hard and they, unfortunately, had to give up the expansion space that they had just completed this season.
However, Alliance Cheer Elite Owner, Lisa Disney Lapensohn, came across the opportunity to take over a program in Mansfield that was hit hard by COVID-19, and now the All Star program at Alliance Cheer Elite is growing and they have two locations!
"While we are still working to regain the enrollments we lost during the mandated closures," shared Lisa Disney Lapensohn. "We are slowly rebuilding in Allen and the program in Mansfield is thriving! We are proud to have a total of 16 Team this season between the two locations!"
Alliance Cheer Elite is taking on the 2020-2021 season with six Elite All Star teams, two All Star Prep teams, and eight All Star Novice teams.
We Are Alliance Cheer Elite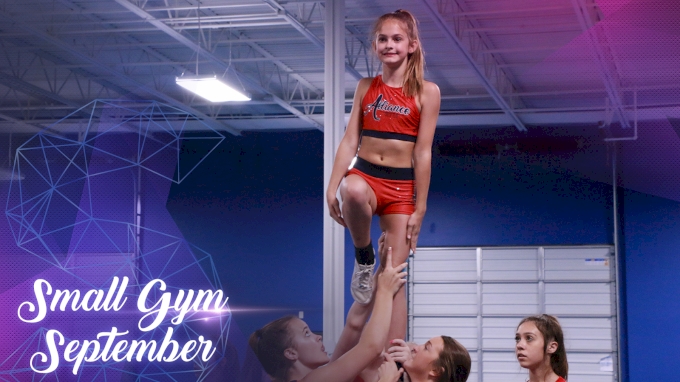 Create a free account to unlock this video!
Get Started
Already a subscriber? Log In
We are so excited we had the opportunity to shine a light on Alliance Cheer Elite last season and we can't wait to see what their program does in 2021!
---
Do you know a small gym that deserves to be in the spotlight?
Share their story and nominate them to be featured on FloCheer for Small Gym September!
Nominations for Small Gym September will start on Tuesday, September 1st, and will conclude on Thursday, September 10th.
The top 10 gyms will move on to a final fan vote. Voting will run from Monday, September 13th to Saturday, September 26th. All Star cheer and dance fans will be able to vote once a day, every day during the voting period so be sure to spread the word!
The top 4 programs will gain exclusive coverage from FloCheer and will be featured on our site throughout the 2020-2021 season!