Pride Month Celebration
Finding Your Way: Tom Parrott
Finding Your Way: Tom Parrott
This June, we are celebrating Pride month on FloCheer by shining a light on the LGBTQ+ community and sharing the stories of icons in the industry.
Jun 29, 2021
by Leanza Pieroni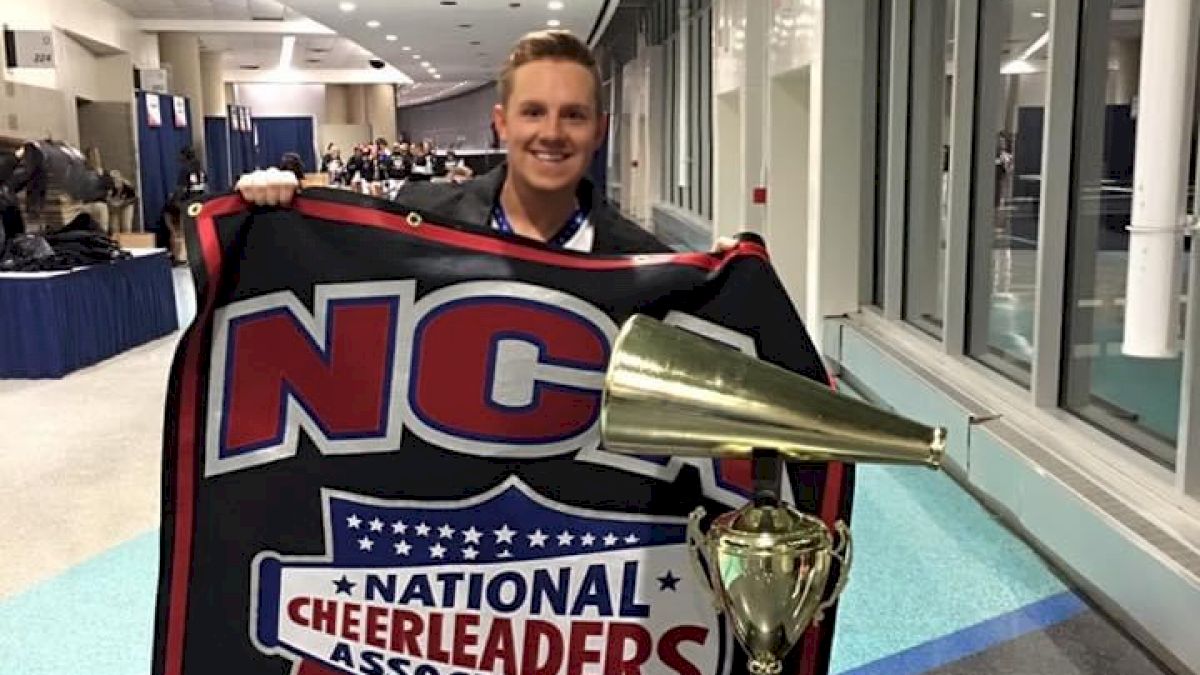 Happy Pride Month!
This June, we are celebrating Pride month on FloCheer by shining a light on the LGBTQ+ community and sharing the stories of icons in the industry including athletes, coaches, and industry professionals.
"I hope that cheerleading is always a place where being yourself is the best thing that you can be. I hope that our differences can be cherished in every aspect of the industry. I hope that we are teaching the youth in the industry that the greatest accomplishment you can achieve in your life is to be remembered as someone who was kind and loving. I hope that cheer continues to be a safe place for everyone." - Thomas Parrott
Thomas Parrott, also known as Tom, is the owner of Sunrise Music Productions and has produced mixes for multiple world-renowned cheerleading teams including the 2018 L6 International Open World Champions, Flyers All Starz Karma.
Before finding his love for cheer and his career in the music production industry, Parrott had always been a supporter of his friends who were on his high school cheerleading team. However, he had never seen real competitive cheer until he got into college. One day, Parrott and his friend were betting on how difficult it would be to make the cheer team at his college, he lost the bet and had to go to the open call tryouts as the consequence.
"I was the only one there who didn't have a standing tuck and the only person who had never cheered," Parrott shared. "I was humiliated, but motivated, and went to a park to teach myself a standing tuck on the lunch break. When we got back, I had it, I made the team, and all of a sudden my life was immersed in cheerleading."
During his time as a cheerleader at the University of Colorado Boulder, Parrott got involved at a local All Star gym, and through coaching at that gym, he got started producing cheer and dance music.
"Getting involved in cheer was never something I planned on, but I am so thankful for every chance circumstance that has led me to my career, my circle, and a huge part of my entire life!"
"When I made my way on to the cheer team in college, I was an extremely insecure, shy, lost person," he explained. "I had a REALLY hard time in high school because I never found anything that fed my soul. So when I went to college, I truly took a fresh start and left everything else behind. Diving headfirst into cheer helped me to become the man that I was supposed to be. It has helped me to become confident, a good teammate, tougher, stronger, and definitely wiser. I went from being a kid who couldn't even call a restaurant to make a reservation (because I was terrified of any form of rejection) to a man who can proudly stand on my choices, my convictions, and my life direction."
As a member of the LGBTQ+ community, Parrott has faced many challenges on the journey to finding out who he truly was.
"I did not knowingly meet an openly gay person until I stepped foot on my college campus," he shared. "So, when I was struggling through high school trying to figure out why I didn't feel the same things that everyone else was feeling, it threw me into a pit of loneliness and despair. I had a wonderful family, great friends, and a life anyone else would be so thrilled to have. But, I had absolutely no idea who I was, and that drove me into a deep depression."
During this time Parrott battled through depression, self-harm, and even suicidal attempts.
"When I woke up, I was overwhelmed with the comfort and knowledge of knowing that my life had a purpose and I was meant to do something more with my life," Parrott added. "I had grown up in the church, but never really understood what was going on there… but at that moment I became a strong believer in God, and I know that He saved me to be who I am now, and who I am still meant to be."
Over the last 16 years, Parrott has actively stayed in the cheerleading community. He's medaled at The Cheerleading Worlds, won NCA All-Star National Championship titles, and produced music for teams all across the world.
"When done correctly, cheerleading can combine hard work, perseverance, creativity, and even art," he shared. "It is a constantly evolving sport, which always keeps it interesting. I stay in it because I know the impact that cheer can and will have on young athletes trying to find their way in the world. I produce music because I know that if I do my job, my mix can breathe life into a routine. I truly believe in small positives making big changes. If a cheer mix I produce can inspire one athlete to be the best that they can be, then I'm doing my job correctly. I am so thankful to the thousands of athletes I've gotten to work within my career, and I hope to inspire thousands more over the years!"
"I think cheerleading has provided a safe place for people to find their way. I can't think of another place in my life where I was able to fully be myself, surrounded by supportive people of all backgrounds. I have been on and coached teams that felt like families where there were straight, gay, bi, trans, all races, all faiths… everything."
Parrott hopes that all athletes in the LGBTQ+ community can find a safe place in cheerleading while on their journey to finding their own way.
"My best advice to LGBTQ+ athletes trying to find their way in cheer is to never let anyone tell you what your journey should be," he explained. "Every single person is going to have a different past, a different present, and a different future. Being who you are means making decisions that bring you the most peace so that you can be a positive light for the world. So, take your time, find your way on YOUR terms, and do whatever you can to find peace and love."
Do you have any advice to members of the cheerleading community that are wanting to become a better ally for members of the LGBTQ+ community?
"My best advice to anyone wanting to be an ally is that a person's sexuality is not the definition of a person. I am a gay man, but that is not all that I am. The best people in my life, many of whom are straight, have never seen me as anything different before and after I came out. Being LGBTQ+ is just who we are, and when you love people and treat them with kindness unconditionally no matter what, THAT is when you are a true ally."