USASF
What We Learned From The USASF Legends Of All Star Panel
What We Learned From The USASF Legends Of All Star Panel
The highly anticipated Legends of All Star panel featured 7 renowned All Star gym owners and industry professionals.
Jul 25, 2021
by Megan Motley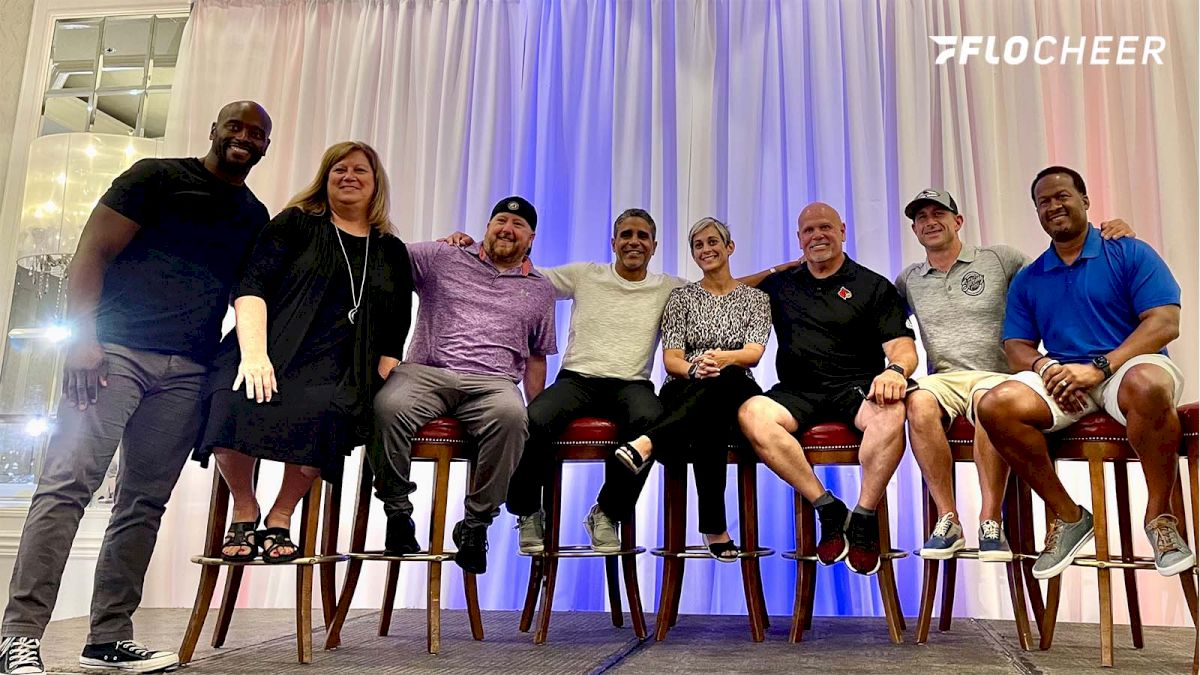 More than 500 coaches, gym owners, athletes, and industry professionals from across the nation came to USASF National Meeting to prepare for the upcoming season, participate in regional assemblies, and learn from the best in a series of classes, panels, and group discussions.
The highly anticipated Legends of All Star panel featured 7 renowned All Star gym owners and industry professionals:
Peter Lezin - Owner, Brandon All Stars
Shea Crawford - Tumbling Director, Brandon All Stars
Kenny Feely - Owner, Spring CDT
James Speed - Owner, GymTyme & Head Coach at University of Louisville
Orson Sykes - Owner, Twist & Shout
Kristen Rosario - Owner, Top Gun All Stars
Victor Rosario - Owner, Top Gun All Stars
The Q&A session led by Kathy Penree, opened up with a few preselected questions for the panel, starting with informally asking each panelist to share something that the room may not know about them. Kristen Rosario gave a short laugh and knowing glance at Victor, and shared one of the most memorable responses.
"It was our first-ever nationals. We had 20 athletes and we spent countless hours practicing on the grass at 2 different parks. We had planned everything for everyone—flights, hotels, registration, you name it—but we forgot one thing.
We forgot to order uniforms. Our original colors were red, black, and white, but it didn't matter at that point. We were desperate. So we reached out to our college coach at Miami Dade and asked to borrow 20 uniforms.
They said sure, but they're not your colors. Theirs were gold, black, and white and all but one said the school's name. The one uniform that didn't, had the name of their mascot 'Jags' across the chest. And that's how Top Gun became the gold and black Jags."
The room erupted in laughter and it set the tone for an open, participatory Q&A session that was equal parts fun and informative. Throughout the hour and a half session, the panel took turns sharing their experiences and insight.
Here are some of the paraphrased highlights from the panelists:
What is one of the most valuable things you've learned?
Peter: As a gym owner, you are not going to make everyone happy. We do our best, but it's always about finding the best possible solution in the circumstances.
James: The relationships matter. I enjoy watching my friends who coach teams that we compete against. I'll be jumping up and down when they win and people will ask me, "Didn't they just beat you? Why are you happy right now?" But the way I look at it is these are my friends and I'm happy for them. It's not always about winning, and I don't believe we ever really lose, we just run out of time to make the changes that we needed to make. But we learned something along the way and I want to celebrate my friends when they succeed.
Kristen: Don't be so worried about the destination that you miss the journey. Don't ask me what years we won and how many trophies, because I don't know. It's a running joke at the gym. But ask me about a certain child, I can tell you a story and a special memory. I used to be so focused on the destination, and when we didn't win it felt empty and I wondered why I was even doing it. But in the last 15 years, I've shifted my mindset to the journey and enjoy it so much more because it's not about winning.
Orson: Learn that kids change and grow, and when they decide to move on, you can't take it personally. It's a part of their story. Growth and change are a part of life and it took me almost 20 years to learn that.
Kenny: Learning how to build fun into everything we do. I'll share a story, so we did 20 routines in 3 days. It was crazy. My wife is so thoughtful and she made a Christmas dinner in July as a thank you to our staff. They were so surprised and it was the best way to wrap up that experience and make it an even better memory. Also, failure is the best teacher. If you can teach athletes to embrace failure, that is the key to everything. If they can be ok with failure, they'll dare to try and it will help them achieve even greater things.
Shea: Sticking with it will pay off. When we moved from Ohio to Tampa, there were 4 of us in a studio apartment. I was doing as many private lessons as I could. I did that for about a year before getting a job at Brandon as the Tumbling Director. Now my wife coaches Brandon Senior Black and 4 other teams, and she won 2 Worlds titles this season. Quitting was never an option.
What do you wish someone would have told you when you first started?
Shea: Feeling more comfortable going up to other coaches to ask for their feedback or thoughts. Reaching out to other people in the industry to learn from them. I used to have a big ego that I could do anything and spot anything, and when I changed that mentality, it has really made me so much better and shaped the coach I am today.
Orson: I wish I had mentors and industry professionals to reach out to back then, but when we first started it was the beginning and we were all trying to figure it out.
Kristen: Communication is everything. I am so passionate and emotional and I take everything to heart, sometimes without giving someone an opportunity to explain. I wish I could tell my younger self to be patient and slow down.
How did you know when you were ready to franchise your program?
Victor: I was so protective about what we made. I was afraid if we franchised that they would not be able to maintain the standards that we built, it was our life's work. But eventually, it kind of fell in our lap, and it started to make sense. Every location is run by someone we've worked alongside us that shares our philosophy, vision, and core values.
Kristen: It's like a baby, you'll never be ready. You learn as you go. Make sure that your main location is stable and can run on its own because your additional locations will need a lot of your attention.
Orson: We had a location that failed, and we learned a lot from that. But it's about having a good support team and system in place. It's a lot of work. Ask yourself, "Is there a need in that area? Can your brand bring something else to that city?" We get lots of offers all the time, but it's not our desire to have a ton of locations. Ultimately, we want to protect the integrity of our brand.
Peter: We never set out with the intention to franchise. In fact, we didn't want to and resisted it for a long time. But over time it all just fell in our lap and we went for it. But you have to be able to have a team you trust that can run it well, it's not just about the main location running smoothly. If the new location needs you traveling back and forth involved in the day-to-day, it's not going to work.
How have you found a home/life balance?
Orson: It's not easy, I can't say I've mastered it. Set boundaries early. I try to take days off to unplug and be at home with my family but it's a constant battle.
Peter: I've gone through it in the last 4 years, our wife and I were both coaching and our daughter was essentially growing up in the gym. One time, my wife was up at the gym coaching and I was giving my daughter a bath. I had to call my wife and interrupt her at practice to ask her how to wash my daughter's hair. It was embarrassing to have to do that and I immediately made a change. Now I only coach one team and I make it a priority to be home for dinner. I'm a dad now, I can't be the same guy I was back in 1997.
James: One of the best things I've ever done was bring Missy in, she is just as passionate as I am but I needed help and I needed a partner. She is incredible, she does it all and I'm so grateful for her.
Shea: For many years, I was in the gym 7 days a week, opening and closing the gym. When I became a dad, I didn't want to travel all summer and not see my son. A few years ago, I was traveling for work, and I got a text from my wife with a video of my son's first steps. I sat there with my eyes watering wondering what I was doing. I started focusing on how I could spend my time doing the things that actually generated revenue and using my time more effectively. I haven't been to the gym on a Saturday in 2 and a half years because I made that change.
Kristen: I have a different perspective because we work with our family. My daughter, who at the time was 7 years old, kept trying to tell a story to Victor and he was too busy with formations so he didn't hear her. By the fourth time she tried to get his attention, I lost it. I was like we have to make a change. We've made a lot of changes since then. We don't fight about anything normal married couples fight about, but we fight about cheerleading nonstop. So we implemented a buffer where we call each other on the drive home and we get it all out. When we get home, we hang up, and then it's time to spend time with my husband, and not my business partner.
What has been your favorite change in All Star?
Victor: How we've created a level playing field that allows for more athletes to participate and do what we do. Now, any kid that walks into the gym, there's a place for them.
Peter: Honestly it's the USASF. I'm not just saying that. It was the wild, wild west before we had a governing authority. Every competition had a different set of rules, you didn't know how long your routine needed to be, what athletes could be on the team. I'm a big proponent of whatever we're a part of, I want it to be legitimate. When a stranger on an airplane would ask what I do, it used to be that the more I talked about it, the dumber I sounded. Now that we have some direction, it makes it easier to explain it to someone who isn't familiar with All Star.
Kenny: We work with teams all around the world. When we travel, all the federations are aligning around the world which creates so much consistency and legitimacy. The USASF had a huge role in that. When things go wrong, everyone loves to blame an easy target, but so many great things have been put in place by USASF that they might not get the credit that they deserve.
How do you keep up with difficulty, rules and continue to innovate?
Kristen: It's hard, I sometimes have a hard time understanding all the nuances with the rules. Good coaches, no matter what the changes are, will always be able to coach. Because they never stop learning and growing. The day I think I know everything about cheerleading is the day I need to retire. For example, I learned from a 7-year-old. She taught me that kids had a hard time learning from me because I wasn't getting on eye level with them. Now I always am very intentional about getting down on their level when talking to them.
Victor: I had to realize I can't worry about the score sheet or what judges think about our routine. The only thing I worry about is "What does Victor think about this routine?" I don't want to lose my identity and be pigeonholed into what someone else thinks cheerleading should look like. When you see a Top Gun routine, you're seeing what I think All Star cheerleading should look like. Not to say that someone else's vision is wrong, but I think those differences make the sport better.
Shea: I look outside the world of All Star for inspiration. Dance, movies, music, it's everywhere. One time I reached out to Cirque du Soleil and I got a call back from their creative director. They were so gracious and took my call and answered a lot of my questions. They don't have some of the same problems we run into in terms of building a performance or executing skills because the rules are different, but it was a great call and something I'll remember forever.
Kenny: My passion is trying to find an easier way. There's no best way, every kid learns differently. So having as many tools in my tool belt as possible to help the athlete. You can teach technique, grips, body positions—but you can't teach consistency and you can't teach confidence. But you can make it easy for them and those things will follow. The joy of making something easier for someone and then the look on their face when they finally get that new skill they'd been working on—that's why I do it.
What is your hope for the future of All Star?
Peter: I want the sport to be legitimate. I think the Olympic announcement is the first step in that direction. I hope we use that and look to that as an example. One saying I love is "show me your friends and I'll show you your future." Surrounding ourselves with other industry professionals with the same goals and making connections will empower us all.
Shea: I'm proud of how All Star has become more regulated and prevented so many injuries. Cheerleading got a bad rap for being a dangerous sport, but I don't think it's that way anymore. I look forward to the future of cheerleading and parents feeling excited about putting their kids in All Star.
Victor: Continued growth, we're making the right decisions. I've loved watching the past 28 years and now there are so many gyms out there. Now there are so many resources, social media, and other things to help it continue to grow.
Kristen: Whether you're a large gym or small gym, we have to make decisions that are good for our industry and athletes, but not for ourselves. Even if it hurts us. If it's good for our kids, that's what we need to do.
James: Synergy between high school, college, All Star, STUNT, and Team USA, so we're creating more opportunities for these athletes. I want my athletes to be able to participate in every facet of cheerleading. Every one of those things is a different experience that is valuable for them, and I'd love for them to do as much as they can.
Kenny: I'd like to see less of the cattiness and pettiness between programs. We have to set an example. Athletes are looking to us as mentors. They're going to follow our lead. Before we post anything or say anything, we have to wait and think it through. Think about it 3 times and look at the words you're using. We have to model respect and show them what is appropriate because they're looking to us.
Orson: I want to see All Star continue to grow. I believe we have one of the best sports in the world. When I see kids playing soccer instead of doing All Star, I wonder why. I think All Star gives them better opportunities to grow, develop, learn and become leaders. It offers more athleticism and discipline. I'd also love to see it become more diverse. I think there is a whole group of people who have been left out because it's expensive. I think this recent Olympics announcement will introduce more kids to All Star not just in America, but worldwide. USASF has taken big steps to draw more athletes into what I think is the best sport in the world.
If you didn't have a chance to attend the 2021 USASF National Meeting, you can register and access a digital library of the classes here.