2021 Small Gym September
Meet The Gym: Dazzle U Allstars
Meet The Gym: Dazzle U Allstars
The voting is over and now it's time to get to know the 2021 Small Gym September Champions! First up is Dazzle U Allstars from Harrisburg, Pennsylvania!
Oct 8, 2021
by Leanza Pieroni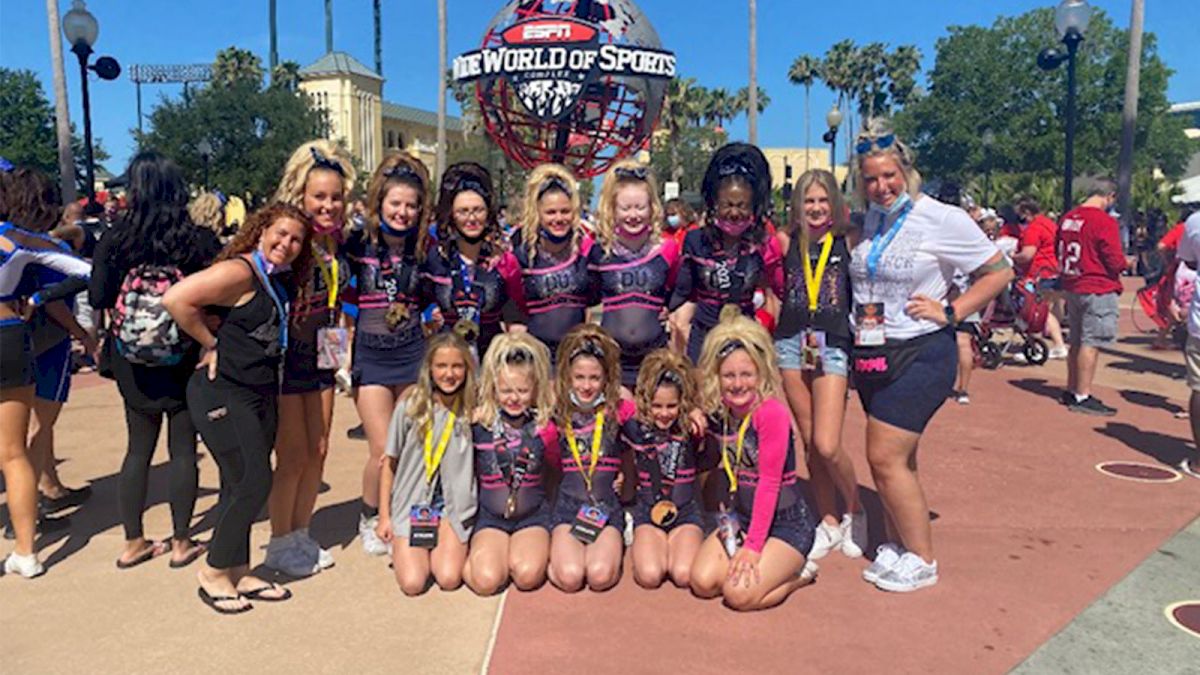 Small Gym September was EPIC and YOU chose four incredible programs to be featured on FloCheer this season.
The voting is over and now it's time to get to know the 2021 Small Gym September Champions! First up is Dazzle U Allstars from Harrisburg, Pennsylvania!
Dazzle U Allstars became a program back in 2005 and started with around 15 kids. Six years ago, Dazzle U took over new ownership and the program moved into their own facility in Harrisburg, PA, where they began to grow drastically.
While training the sport of cheer is very important to Dazzle U, the owners believe the life lessons they teach have become their best motivation.
"We strive for sportsmanship, respect, and commitment. Over the seasons our gym has not only grown in numbers but into a family," shared Coach Leeann Foust. "Our coaches all work full-time jobs outside of the gym and look forward to coming to the gym every day directly after their jobs to do their second full-time job, coaching. We are truly here for the athletes and live to see their progression and competitive drive. I can truly say our family is like no other and we are very proud of our gym, our athletes, our parents, our coaches, and our supporters."
"We want to be sure our athletes know what it takes to become a champion on and off the competition floor. We have so many all star cheerleading gyms in central PA that we feel it is important to show great sportsmanship as we all love the same sport."
Over the last few years, Dazzle U has had some impressive championship success. For the past three seasons, the Pennsylvania team has earned multiple bids and taken all of their elite teams to The D2 Summit in Orlando, Florida.
Top Moments From Dazzle U Allstars
The gym now holds over 50 national champion placements from the last two seasons.
In 2020, Dazzle U Allstars was ranked 2nd amongst D2 gyms for the most bids to The D2 Summit.
They've been named a Finalist for FloCheers' Small Gym September two years in a row.
Their Level 3 Junior team placed 22nd at The D2 Summit 2021.
Their Level 6 Junior team placed 2nd at The D2 Summit 2021.
Their Level 1 Youth team tied for 2nd at The Regional Summit 2021.
Their Level 1 Youth team advanced to Finals and finished 16th at The D2 Summit 2019.
In 2020, Dazzle U took home 3 national titles from Spirit Cheer out of their 6 teams. They also ended the event with one 3rd place and two 2nd place finishes.
---
Dazzle U Allstars takes pride in being a small gym.
"Our athletes need to be strong and ready for anything that's thrown their way," added Foust. "We have 70 athletes which doesn't always leave a ton of room for "fill-ins or alternates'" so we take pride in making sure our athletes are growing and ready."
"It's important for us to put small gyms on the map and show what our little gym out of Harrisburg PA is able to accomplish year to year."
What can we expect from Dazzle U Allstars this season?
"Our athletes are truly ready to come out hard this season," shared Foust. "COVID took A LOT from our athletes and even though we are still dealing with a pandemic they are ready to conquer and show what Dazzle U has been working on. We are ready to come out strong at our showcase in November. Our kids are excited to get back on the road and compete in person. We expect nothing but success from our athletes and that's success in so many ways."
Want to know more about Dazzle U Allstars? Click here to follow them on Instagram!