2021 Small Gym September
Meet The Gym: Flipping Out Tumbling
Meet The Gym: Flipping Out Tumbling
The voting is over and now it's time to get to know the 2021 Small Gym September Champions! Next up is Flipping Out Tumbling located in Mechanicsburg, PA.
Nov 18, 2021
by Leanza Pieroni
Are you still dreaming of Small Gym September? So are we! This past September, YOU chose four incredible programs to be featured on FloCheer throughout the 2021-2022 season.
The voting is over and as the competition season begins, it's time to get to know the 2021 Small Gym September Champions! Last but not least, let's meet Flipping Out Tumbling from Mechanicsburg, Pennsylvania.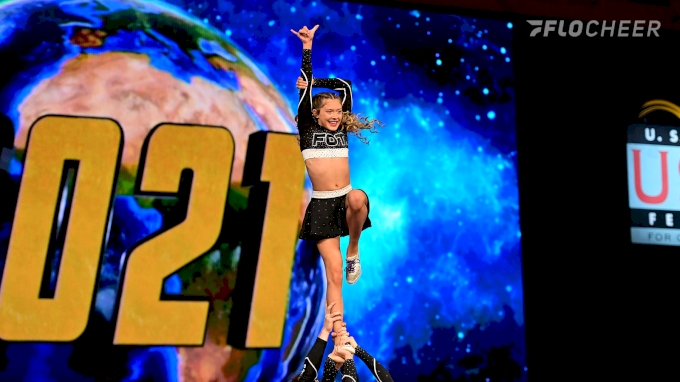 Flipping Out Tumbling started mainly as a social media platform in October of 2017 for owners Liam Delaney and Donald DeSanto (DJ) to share videos of their athletes, tumbling drills, and tumbling edits. In January of 2018, FOT launched their official clothing brand which rapidly grew across Central PA.
Shortly after, Liam and DJ decided to take FOT full time and started traveling to do camps, clinics, and classes at other local gyms. FOT grew so fast that it only made sense to start Central PA's first strictly training facility in March of 2019.
In the first year of being open, FOT offered tumbling classes, FLYht Club classes for stunting, open gyms, private lessons, and more. Liam and DJ realized quickly how much they missed coaching all star cheerleading and decided that they would start their own program at FOT for the 2020-2021 season.
Flipping Out Tumbling kicked off their inaugural season with 75 athletes and six teams! The gym now has 115 athletes and eight teams for the upcoming season!
In their inaugural season, Flipping Out Tumbling earned 14 national championship titles during the regular season. All three of their Summit teams received bids to The D2 Summit and their Level 6 team, Double or Nothing, earned a bid at CHEERSPORT to The Cheerleading Worlds 2021. Their L2 Junior Small team, Hearts, made Finals at The D2 Summit, and their L1 Youth team, Aces, placed 2nd at The Regional Summit.


Last year was a year of firsts for Flipping Out Tumbling and every moment felt like a big moment for their staff and athletes.
"One of the best moments for our program last year was our showcase," shared FOT Owner Liam Delaney. "Navigating the COVID-19 pandemic was challenging for everyone; yet, we rallied together in partnership with our friends at DazzleU and welcomed our parents and supporters to watch and cheer for every single team! It was the most "normal" competition-like atmosphere last year and also one of the highest energy showcases we have ever experienced! While watching every team, fans felt like they were sitting at Worlds with the amount of energy both programs brought to the event. It was a special memory for everyone involved and we are so excited to host our 2nd annual showcase on November 21st!"
Flipping Out Tumbling's gym theme is "All on Red." With team names such as "Roulette", "Aces", and "Chips," FOT puts everything they have on the table and that's exactly their plan for the upcoming season.
Delaney shared that fans can expect clean, fast-paced routines with a high degree of difficulty and creativity across the board!
"To quote one of our coaches, Katie Ahrensfield, "If you don't give it all, you don't get it all."

 - Liam Delaney
Flipping Out Tumbling strives to create an environment where every athlete matters.
"Our culture encourages a supportive environment in which all athletes love and empower one another regardless of skill level or age. Our older athletes are implemented strategically throughout our program and serve as role models to the younger generation. This fosters a family atmosphere and helps to build lifelong bonds throughout the gym, even beyond individual teams."
You can keep up with Flipping Out Tumbling this season on Instagram @flippingouttumbling.