Create a free account to unlock this article!
Get Started
Already a subscriber? Log In
Rockstar Cheer held their 2017 Showcase this past weekend in Greenville, South Carolina, and FloCheer got an inside look at what you can expect from this program on the mat this season.
No. 1 The Wiggles Are The Cutest Team Ever!
The Wiggles won the hearts of everyone on social media this weekend, and they are sure to win over the judges at competition. Mini world champs in the making? I think so!
Rockstar Kiss Is On Track For A Rocking Season!
Kiss got their first hit zero of the season at practice Friday and delivered another awesome performance during the showcase. This Junior 3 team is made up of 20 girls that all have the determination to be the best.
Their elite sequence features which features lib to lib low full arounds, but the highlight of Kiss's routine is their pyramid. The top girls of each stunt group know how to work the air and perform to the crowd from start to finish.
Guns & Roses Is The Top Team To Watch
Large Senior 4 squad, Guns & Roses, put on one of the best performances of the day at the 2017 Rockstar Cheer Showcase. Their routine was electrifying and the crowd response during their elite was everything you hope for as an athlete.
After a solid routine, Gun & Roses dynamic dance was the cherry on top of a great first performance.
Golden Focus From Rockstar Beatles
The Beatles have their sights set on gold this season, and they are ready to put in the work to make it happen. We spoke with Beatles Senior Kennedy Thames the night before the showcase to hear how they plan to make their dreams a reality this season. For a full Beatles routine breakdown, click here.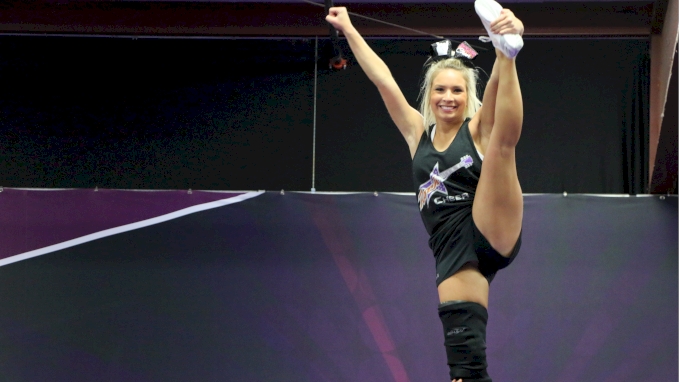 Create a free account to unlock this video!
Get Started
Already a subscriber? Log In
The Stones Are Rolling To The Top In 2018
The Rolling Stones are feeling prepared as they still have a few weeks before taking the mat in their first competition of the year.
From start to finish, the Stones' choreography will keep you entertained for the entire 2:30 minutes. Keep an eye out for the exciting bounce back tumbling pass to start their dance.