Watch the most prestigious competition of the season... The Cheerleading Worlds. Live stream available in the U.S., UK and Canada.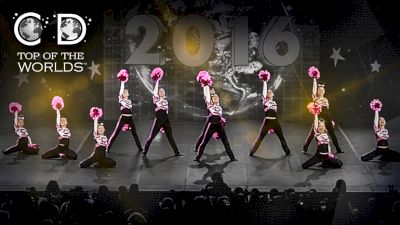 Top of the Worlds: Pom Division
Nov 15, 2016
Who's on Top of the World?
It's hard to forget winning a World title, but we're going to take you back to Orlando in April to relive every unforgettable moment. Top of the Worlds is a new weekly series on FloCheer that features the top 10 team routines from every division at the 2016 Cheerleading and Dance Worlds. Every week, we highlight a different division!

Our experts break down the Pom division. Major props to all the hard work that got them here, but now the question is - who's taking home the title in 2017?

Next Tuesday, we're diving into International Open all girl level 5 routines -- check out the full release schedule here!


FloPRO subscribers see it first!
Join FloPRO now to get exclusive access to the premium Top of the Worlds release every week before it's available to the public.

FloCheer is headquarters for year-round coverage leading up to The 2017 Cheerleading and Dance Worlds and the only place to watch all the action LIVE from Orlando this April.