Find Videos
Filter Videos

718 Videos

Division

Small Senior Hip Hop

70

Open Pom

67

Junior Dance

46

Small Senior Pom

44

Open Open

43

Senior Small ContemporaryLyrical

41

Small Senior Jazz

40

Open Jazz

38

Open Coed Elite Hip Hop

35

Open Elite Hip Hop

32

Open Coed Premier Hip Hop

27

Senior Large ContemporaryLyrical

25

Open Coed Jazz

22

Senior Large Hip Hop

22

Open Premier Hip Hop

21

Senior Large Pom

19

Small Senior Coed Hip Hop

18

Senior Large Coed Hip Hop

17

Senior Large Jazz

15

Open Coed Pom

13

Open Kick

11

Open Male Hip Hop

8

DanceAbilities

3

Open Contemporary / Lyrical

1

Open Hip Hop

1

Round

Semifinals

379

Finals

247

Prelims

26

Program

Energizers

15

Strut Performing Arts

13

Champion Legacy

11

Pittsburgh Poison All Stars

11

Velocity Dance

11

Dance Dynamics

10

Legendary Athletics

10

Mt Eden Ballet Academy -

10

Atico Ballet Danza

9

Foursis Dance Academy

9

South Coast Freestyle

9

5678! Dance Studio

8

Adrenaline Allstars

8

Dancer's Edge Studio

8

Dollhouse Dance Factory

8

Music City All Stars

8

PowerWorx Dance

8

The Vision Dance Center

8

Ultimate Dance & Cheer

8

Dance Factory -

7

Dance Mania

7

Dancin' Bluebonnets

7

Next Level Dance Co

7

RSD

7

The Brand Dance Company -

7

Angels Dance Academy

6

CFU Ukraine -

6

Centro Artistico Yesenea Mendoza

6

Dancin Bluebonnets

6

Dancin With Roxie

6

Skill

Level

Content Type

Performance

655

Highlight

21

All Access

19

Full Replay

6

Show

6

Interview

4

Preview

4

Training

2

News

1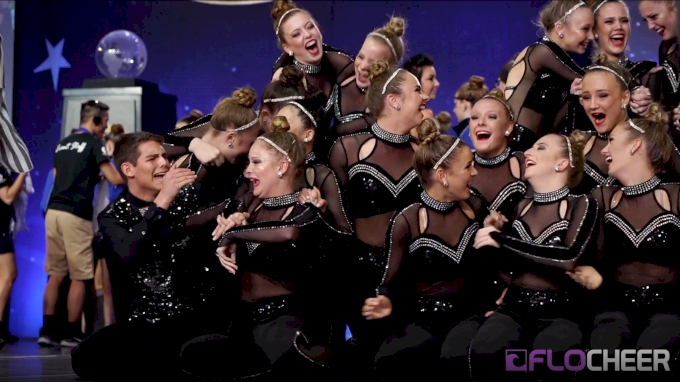 Create a free account to unlock this video!
Get Started
Already a subscriber? Log In
Back To Back Senior Large Pom Champions: Champion Legacy
Jun 3, 2019
Champion Legacy took the top spot in Senior Large Pom two years in a row at The Dance Worlds.
The studio lost 8 seniors after their win in 2018 but the young team never gave up and their fight to stay at the top was unmatched.
Congratulations to the back-to-back Senior Large Pom World Champions, Champion Legacy!
---